How to SPOT FAKE Prada Sunglasses and Glasses



This guide provides detailed information about genuine Prada glasses and sunglasses and how to avoid the counterfeit versions.
Eyewear Clearance Limited has over 20 years experience in the eyewear wholesale industry. We want to help buyers avoid being ripped off with counterfeit Prada glasses. Over the years we have come across many fake Prada sunglasses so we know what you should look for to determine the authenticity.
Fake manufacturers are incorporating more features within their frames to make them look genuine, so don't think that if one of the tips below is present in the frame that it is authentic, a genuine frame should show several of the signs below.
Genuine Prada glasses are supplied with :



Genuine Prada sunglasses are supplied with:

Prada box - Dark grey shoebox style with Prada logo in middle on lid. All barcodes are on the bottom of the box.
Prada case - Leather outside, suede inside with logo, flips open, Prada logo debossed on top of case.
Prada cloth - Black microfibre cloth, debossed Prada logo in middle and jagged edge.
Prada certificate - Plastic authenticity card in gloss white. Comes in small prada envelope.
All Prada glasses and sunglasses have the following letters in the model number :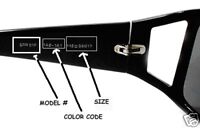 e.g. Prada SPR 01F Sunglasses
Prada Sunglasses - model number starts with 'S'
Prada Eyeglasses - model number starts with 'V'
The S or V is then followed by numbers and a letter at the end.
The colour code and frame size are also stated next to the model number.

All Prada eyewear is manufactured in Italy. On the inside of the arm you will find 'Made in Italy'

Here are pictures of 2 FAKE pairs of Prada sunglasses we came across in May 2006.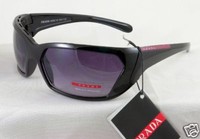 The White Prada sunglasses easily look fake due to the sticker on the lens in the middle. Authentic Prada sunglasses have a small sticker normally at the bottom. Also on the arm of the White pair, you can see the Prada logo is slightly different to the original Prada logo that we are used to.

The fake Black pair of Prada sunglasses above is a convincing fake due to the detail and the sticker looks like the real one too. So how do we know it's fake by looking at the picture? The size measurements on the inside are too big. Also look at the Prada tag, the Prada logo on it looks really big when compared to original Prada tags. The string is frayed and the hole for the string is really big too. Normally Prada sunglasses don't have a string and tag attached to them.

GENERAL BUYING TIPS:

a. Check feedback comments. Past buyers comments are an invaluable tool for determining if the seller has ever sold fake goods. Read comments from as far back as possible.
b. Where is the seller based? If the Sellers location is China and you are buying designer goods, there is a very high chance it is a fake as China is the world's biggest exporter of fake goods. (No disrespect to the genuine sellers in China).
c. Check the sellers other items for sale, if those look fake then you are taking a risk with the item you are interested in.
d. If the price is too good to be true then ask yourself why? Why would any honest business man or woman sell an item for way below its RRP price? A price which is similar to other sellers is usually a good sign.
e. If the pictures are copied from the manufacturers website or brochure then ask why is the seller not providing pictures taken by themselves. Is there something they don't want you to see?
d. Money back guarantee. If this is provided, then great, if not the seller is not allowing you to return the product which you are legally entitled to do under the distance selling regulations act.
Thank you for reading our guide. We hope it helps you to buy genuine Prada eyewear with more confidence. If you still need advice, email us and we will be glad to help.Please vote for this guide if you found it helpful.

Thank You
The Eyewear Clearance Team