Aynsley China , Portland Works, Longton, Stoke on trent. Written by Authorised Aynsley Stockist
The following guide was produced for the benefit of Sellers and Buyers on ebay and local auctions and china retailers.
The buyer:
Factory Seconds v 1st Grade quality pieces - Don't pay 1st quality prices for Factory Seconds
There are different grades of quality within individual pieces and these are usually marked in some way by the manufacturer on the base. Known as base stamps the main three markings to watch for and if not stated by the seller should be asked before bidding:Pieces with the following quality marks would be regarded to the collector as less value compared to the first grade quality which will have none of the following markings:
1) Red letter S or Non glazed S - The piece maybe functioning perfectly but there is a likely to be a glaze fault or some error in the manufacture. Pieces that have failed are given a Seconds mark. Collectors avoid them like the plague and are worthless to them. New collectors may not be aware and a common problem with sellers who don't know what the S mark means.
2) Scored Crowns - If a piece at the factory failed at the final glaze stage or gilt tage, faults such as black spots and runs and bubbles would be recorded by Aynsley with a scratched crown. The crown is defaced with scored lines through the top glazed layer of the base stamp image. Look for the cross on the aynsley crown a small drill hole is a second.
3)Blue letter A - This means acceptable but not a grade 1 piece there is likely to be some blemish or firing failing before the final glaze stage or transfer stage. It does not stand for Aynsley A stands for acceptable. But it should be interpreted as a factory second
Other Green stamps add rarity to pieces but not always value, collectable other colours may include pink.
Seller:
To maximise the value for your piece/s at auction it is always wise to list in small groups or individually for rare pieces the more information you can provide will help avoid questions later. The size and the quality mark are very helpful to the buyer. Include a picture of the back stamp when ever possible. Failure to state base mark quality control marks in your description could result in your buyer requesting a return because your description would fail if your describe as perfect when it has a fault mark recorded. There is a difference between quality marked pieces and condition. You may have a factory second piece but the condition is perfect unused like new. But don't mislead in your desciption. It is important state your piece is 2nd marked even if the piece condition is like new.
Price or value:
In recent years the new and used china market in the UK has declined and what was bought 20 or 30 years ago would have expected to increase in value the market has shrunk and the value has dropped. It is now a good period to buy while the values are low. Please note that the rare pieces do become available and they continue to rise in value. Orchard Gold 1940's hand painted versions remain healthy priced. Gold embossed patterns e.g. Tableware - Empress Cobalt and Georgian Cobalt in the top range command good prices even in a shrinking market.
It is very difficult to establish a value on a piece when there are many or few interested buyers. The price reached in auction could be record breaking one week but the following week the same piece may only achieve a lower value expectation.
The original 1930's Butterfly cups and saucers still command a top value as do the AD coffee cans mounted in solid silver holders.
A fair formula for buying used is to add £1 per inch and if the piece is rare the ebay auction market will add its premium and if it is rare a collector will add more value.
Also establish the value when new and divide it by 2 will give you a trading price.
Starting price if set too high will result in no bids and no sale. The common pieces command lower values. The rare ones can achieve their maximum if there is a market.
Sadly the date of piece does not always reflect a higher value.
For a better image of the base stamps check the Aynsley Collectors' Society web site aynsley.info
Establishing a date for an Aynsley piece:

No crest or crown simple upper case letters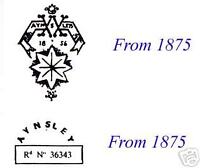 Pattern number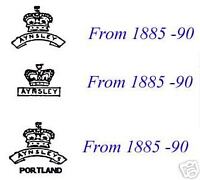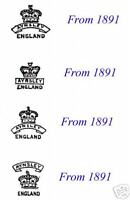 Moved the scroll above crown

Scroll disapears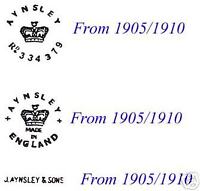 & Sons included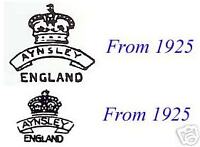 Variations to the scroll & size of stamp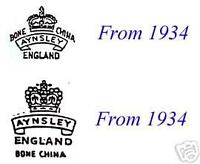 Bone China wording introduced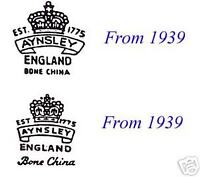 Established year
Electrical Lamps and shades
Buyers and sellers be warned.
If a seller sells a electric table lamp that has not be modified to the latest health and safety regs if a buyer gets electricuted or cause damage with a lamp fire. The seller in law would be responsible for a compensation claim. Aynsley strongly recommend that used table lamps and shades are not sold but are tested independently by a qualified electrician before offering for sale. The seller can no longer sell a lamp as scrap and be exempt from responsibility.
Lamp shades also have to conform to new July 2006 EEC and DTI standards.
Aynsley New lamps and lamp shades comply with the switch fitted on the cable instead of at the base of the bulb.
It is strongly recommended to buy new not used Aynsley electrical lamps or shades from authorised stockists. Aynsley warranties are covered on their new products.