Aynsley pottery was founded in 1775 by John Aynsley, and it remained a family business until 1970, Aynsley was taken over by Belleek Potteries in 1997. Anysley's Cottage Garden as a new pattern started in 1972 so it's thirty four years old this year 2006. The pattern is still produced today in the Aynsley's Portland Works area in Stoke-On-Trent, UK. Over the past thirty-four years of Cottage Garden there has been many new aditions to the collection and many giftware and tableware have been deleted.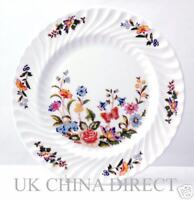 In the latest 2006 catalogue 16 new Cottage Garden introduction giftware pieces were added.
Deleted in 2006:
The 9 inch bowl, 4.5 inch charm box, 6x4 oval photo frame, 7 inch high cascade clock, 5 inch jug, trumpet rimmed 6.5 and 8.5 vase, 6.5 plant pot, 3.5 dia trinket box round, were deleted from the collection.
The portland tableware with the swirl relief was deleted in the 80's also the smooth version in the late 90's.
Currently in production:
The Cottage Garden Oban teacup and saucer, teapot round (4 cup), sugar and cream, tea for one are produced under the time for tea collection. The collectors cups and saucers and sweet plates of Oban colbalt, mill green, pink, red, turquise, and yellow are produced to order.
The Aynsley giftware catalogue supports 75 pieces of cottage garden. They are still available today and are still manufactured at the Portland Works, stoke on trent.
Links to Cottage Garden Giftware
Links to Time for tea & collectors teacup and saucers - Cottage Garden
Cottage Garden Giftware:
There must be nearly 1000 designs of Cottage Garden giftware produce by Aynsley since 1972. Working from old catalogues we should be able to establish the extent of the collection. Identifying the 1972 pieces will be the greatest challenge and which pieces were deleted in 1973 or added to. Once I have completed my research into these first pieces I will be able to establish which pieces in the Cottage Garden Giftware range are rare.
Green base stamps would be likely to be the earlier pieces.
Cottage Garden Tableware:
The main two collections would be the Portland swirl and the Smooth York both now deleted.
Rare pieces cover Soup Tureens, Gravy boats and stands, Fish plates, Covered Veg dishes, 15 & 13 inch platter oval, 12inch service plate, open veg dish in both York and Portland. Green stamps also likely to be earlier pieces.
Please Note: We need your help for extra information on the Cottage Garden pattern we are looking for the 1972 Aynsley catalogue so that we can publish here. Any information that is Cottage Garden related. Please contact phpnukes.