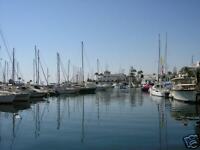 After a few years in the trade and since then enjoying holidays abroad I thought a few insider tips may help any of you holiday hunters in the quest for a good priced break. Firstly even though lots of companies advertise on the internet and have pretty good web sites I personally still get as many brochures as I can and sit with a coffee to peruse destinations to start with. Everyone has their own idea of what makes a good holiday, some like to be busy, lots of nightlife, with our family we like a quiet ( ish ) resort where you can chose how busy you like to be or not.
I try to find a nice resort then take a look at the properties and price range available, When I have picked a hotel or apartments I then look for any customer reviews I can find on the internet ( holiday watchdog )on this site it also tells you which tour companies book the hotel you are interested in, and once satisfied that people who have stayed there are giving good reviews I start a price hunt.
First in line are the internet tour operator web sites,Price all of them.Do not be satisfied with the cheapest price you get.
Then ring the local travel agent and give them your chosen holiday details and also your cheapest pricing.
Also ring the cheapest tour operator direct and tell them you got a price which is approx £100 cheaper then their internet price but you would rather book with them and ask them if they can better that price.
Sit back and wait for the prices to come back to you. We are already pricing for next year 2007 and so far we have got the price down from £3250 at the most expensive quote down to £2300 at the cheapest. I am still not happy that I have got the best price out so will wait and keep going through the routine until we get a price that we are happy to pay.
You are in the driving seat, so Drive a hard bargain, takes some time but will save you lots of money.
VERY IMPORTANT.. MAKE SURE THE COMPANY YOU ARE BOOKING WITH ARE BOTH COVERED BY ABTA AND ATOL...
PROTECT YOURSELF AND PAY FOR ANY HOLIDAY WITH A CREDIT CARD, IF ANYTHING DOES GO WRONG YOU ARE FULLY COVERED AND WILL GET YOUR MONEY BACK.IF YOU PAY BY DEBIT CARD OR CHEQUE ,BANKS ARE NOT BOUND TO REFUND YOUR MONEY EVEN IF YOU HAVE BEEN TAKEN IN BY FRAUD.