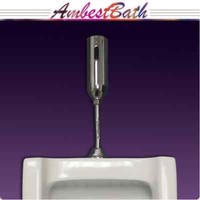 BENEFITS OF INSTALLING AUTO FLUSH URINALS
The use of auto flush urinals makes it easier to maintain the sanitation of public toilets.
Instead of looking at it as a liability, business owners should consider the end benefits of
modern toilet flushing systems on their maintenance and utility bills. And there are many benefits
of installing auto flush urinals that should be considered.
Public toilets are way harder to maintain compared to residential toilets.
For one, a great number of people use these every day and that means more urine deposits.
If you're using ineffective flushing systems, the most likely your toilets are going to stink and the
more your employees have to double their efforts in keeping everything up and running properly.
The great thing about auto flush urinals is that they keep fixtures presentable and cleaned at the
right moments. These automatic flushers are fitted with infrared passive sensors that recognize
if someone is currently using the urinals before the system sets off the flushing system.
In this way, the urinal is cleaned without wasting water.
Auto flush urinals are not just sanitary, they are also very economical. Since your initial investment
on automatic flushing units only involves the initial purchase cost, And the pricing of it in the market
had already come from more than US$150 for well-known Brands for Sloan, Majestic and Zurn,
down to some good new Brand as Ambest for only around US$50 a set.These are all designed to
consume less energy and water with its 1.0 gpf/3.8 Lpf, and with built-in low battery indicators.
Plus, there's no need to replace any parts of your existing flush valves.
You could install these units as quickly as 1 minute or just by two simple installation steps -
that means you don't need the expertise of a professional plumber to do all the job for you.
When it comes to the sensor flush valve maintenance of battery-operated automatic flushers,
it takes about approximately three years or 30, 000 flush cycles before the batteries will require
replacement.
Automatic flushing units prolong the lifespan of your urinals. Sanitation is always the concern of
many health conscious customers. You couldn't really blame people if they're hesitant to touch
manual flush handles. It is a common practice for some to kick the flush handles, which could
really crack or damage your urinal units. That's why manual flush handles are not always the
effective choice for your urinals.
Normally, the more hi-tech the features of the product the higher the price would be.
However, the price is fairly compensated because hi-tech manufacturing on certain developing
Countries had been tremendous developed and cost down. So, before making your final purchase,
make sure that you have properly researched the auto flush urinals and weighed the pros and cons
of the product.
Hereby AGAIN we, Ambestbath, would like to recommend you an effective ones -
Automatic Urinal Flush Infrared Sensor Valve Controller - for your choice. More detailed
description and price offer , please kindly check us on eBay for sure OR please send your inquiry
to our daily business email : sales@us.ambestbath.com for further details.