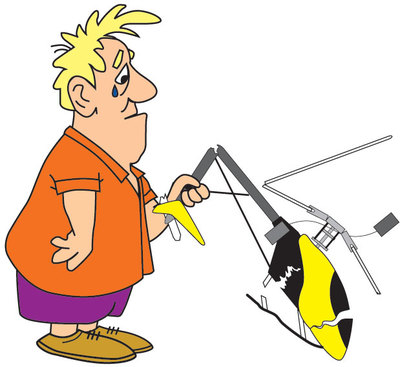 Here is a list of things you should know from a seller:
1. Why are you selling?
2.Do you have proof of purchase?
3.Has it been modified and why?
4.Has it been crashed?
5.Do you have build experience and how long?
6. Are you a BMFA member?
7. Can you have a test flight?
1. Reason for sale could be genuine but assume underlying reasons if helicopter sales is not their main market.
2.If they don't then the machine could have been built by anyone and you have to be prepared to re-build for safety reasons.
3. modification is not a problem if the work is carried out properly but would be better if the machine is purchased from a DEDICATED builder or in standard form.
4.Unfortunately most people will not own up to this 'grey' area as they want to make a sale and a new purchase using your money.
5. Anybody can buy a kit, take it home and build it. The real question is,was it built properly. Unfortunately private sellers have no way or very little in demonstrating the quality of a build without you parting with your money first. Catch 22? Correct. or purchase from a dedicated supplier.
6. Club members tend to be reasonable people (at times) who have the support of others with more or better knowledge than their selves so tend to have the support to rectify and build machines properly.
7. Genuine sellers should have no problem arranging for you to see the machine fly.
Excuses like "it ent ready mate", "i have nowhere to fly it", "take it or leave it" are not acceptable answers and you should take your time and efforts to a dedicated supplier who will give you the time and care for your expectations..
DO NOT BUY BECAUSE YOUR MATE HAS ONE AND SAID THEY ARE GREAT. GET THE RIGHT ANSWERS AND THE RIGHT SELLER.