Introduction
The Nurburgring Nordschleife is possibly the ultimate motorcycling experience. The thrill of piloting your bike through its fiendish corners, along its flat-out straights and over its blind crests, is like nothing else.

With twenty years of experience of the 'Ring under my helmet, I thought I'd take some time out to write a guide for people thinking about their first trip to the legendary 13-mile circuit.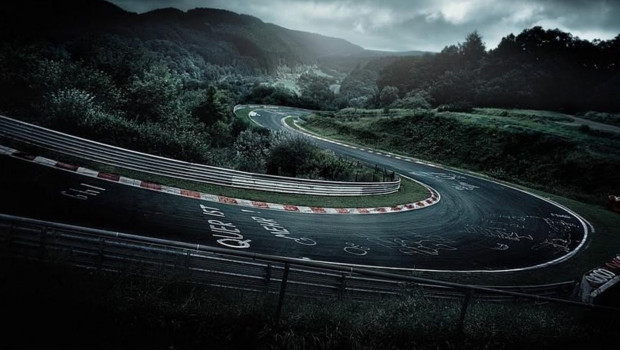 Some things you need to know
OK, let's start with the negative. A strange place to begin our journey perhaps, but I think it's important to draw your attention to an important fact: The Nurburgring is a dangerous place. People can and do die there. There are no official figures but some reports suggest that up to ten people a year never come back. Many more leave in an ambulance.
There are various things that can go wrong and I've listed some of the most important ones below:
There are many, many blind corners
There are lots of blind crests at the end of flat out straights with challenging corners immediately after them
The surface is not always as grippy as you might think
You will be startled by 'Ring experts on fast bikes who will appear from nowhere
You will be competing for space with people in cars with downforce and semi-slick tyres who know the circuit. Being overtaken by a V12 Ferrari with open exhausts doing 170mph, while you're doing 50 trying to work out which way the circuit goes next, is distracting to say the least
Cars (it's mainly cars) frequently drop oil and coolant on to the circuit. I know someone who spent four months in hospital after losing it on a sump full of oil that had been depositied on the circuit by an exploding Porsche
It will probably rain
You may now be thinking "Why would anyone want to go there?" None of the above is meant to put you off - the 'Ring is a wonderful, unique, fascinating and thrilling place. I just want you to go with your eyes wide open, be aware of the dangers, and ride accordingly so you have a great time. Read on...
Getting there
The 'Ring isn't far away from the UK. Once you're on the mainland, it's half a day's ride away from ports like Zeebrugge and Rotterdam. It's a couple of hours further from the Channel ports.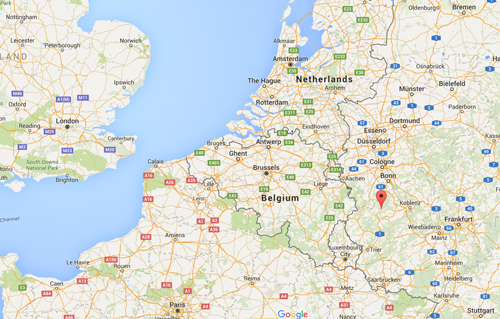 The best way to get to the 'Ring is to find the E40 and head towards Koln/Cologne. Pick up the A61 at Keupen, and head south towards Koblenz. You'll see signs for the B257 or B267 - these are great bike roads that sweep through the countryside and they're a great preparation for what's to come. They're also a welcome relief after miles of motorway.

On the way back, head East on the B412 or Northeast on the B257 and then follow the signs to Koln/Cologne. Keep an eye out for the E40 and use it to head towards Brussels.
What to Take/Leave at Home
The weather at the 'Ring is notoriously changeable. You may be lucky and enjoy your whole trip in glorious sunshine. More likely, half the time it'll rain. Wear your leathers and take a waterproof oversuit with you.
Personally, I like to travel light. For a five day trip to the 'Ring (including two days transit time) I usually take:
A pair of jeans
Five T Shirts
Five pairs of socks and underpants
Travel wash (for clothes)
Deodorant, tooth brush and tooth paste
Phone (with satnav app)
Phone charger and lead
Puncture kit
Travel documents
A base layer that I wash at the end of each day
There's no need to take towels or soap/shower gel as these are always provided in your hotel/B&B and on the ferry.
The above should weigh no more than a few kilos and can be easily carried in a tail pack on your passenger seat. Alternatlvely, a specialist bike rucksack can be used.
Keeping weight to a minimum will mean your bike still handles properly on the fantastic roads close to the 'Ring. If you fit some of our
carbon fibre parts
, you're bike'll be even lighter!
What to Expect at the Circuit
When you arrive at the gates, turn left in to the car park and look for the bike parking area.
You'll need to buy a ticket before you venture out on to the circuit and you can do this at the office near the entry barriers. As of March 2016, the pricing structure is:
1 lap / 29 €
4 laps / 105 €
9 laps / 220 €
25 laps / 550 €
Season ticket 1,900 €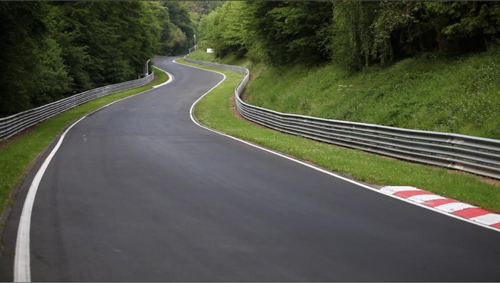 If you're going to be there for a full day, I'd suggest buying a nine lap ticket. You'll probably find there are frequent temporary circuit closures due to accidents and breakdowns. Anyone used to racking up the laps on a track day is going to be surprised how many laps you can realistically expect to do at the 'Ring. Add in a rain shower or two, and you'll find the time just gets eaten up. If it's an evening session, go for a four lap ticket.

Once you've bought your ticket and you're ready to go, approach the barriers. Press your ticket up against the reader and the barrier will open. Draw a deep breath because all hell is about to break loose!!!
Circuit Guide
I'm not going to attempt to provide a corner-by-corner guide to the Nordschleife - It'd be pointless unless you were able to stop to read it before each bend. Instead, I've written about some notable parts of the circuit that you should have some knowledge of before venturing out on your own.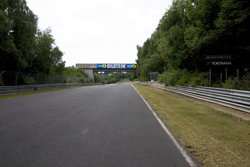 Antoniusbuche
As you move on to the track, you'll have to navigate some tightly arranged cones that are there to stop people doing full-throttle launches away from the barriers. If you are a novice, once you've joined the track itself move over to the right and stay there. If you do overtake anyone, do it on the left - remember, German traffic law applies.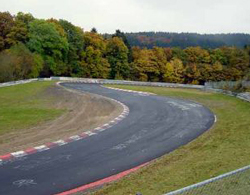 Adenau Forst
This is the corner (or combination of corners) that's most likely to catch you out. It's a tricky left/right combo that's on a flat section at the top of a slight incline. Because of this, it's impossible to read until you're right on it. Take it steady on the entry and be prepared to turn hard.

Not easy but great fun once you get the hang of it.
Bergwerk
A great, slightly uphill right hander that's well surfaced and smooth. Leads on to a left that takes you on to Kesselchen.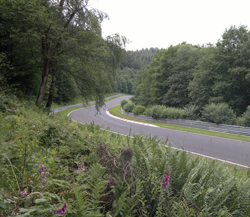 Kesselchen
A fast exit from Bergwerk will set you up nicely for this long straigt(ish) section of track. It's an opportunity to really open your bike up at the start of an absolutely thrilling fast section - my favourite part of the track.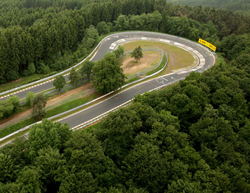 Caraciola-Karrussell
One of the most famous corners at the 'Ring due to its unusual banked nature. It was named after racing driver Rudolph Caracciola who had the idea of using the banked drainage section on the inside of the corner instead of using the flat asphalt around the outside. It's a bit un-nerving the first time you tip into it but you'll find your bike will almost steer itself around with very little input from you.

On the way out, your bike will naturally wheelie over the join between the banking and the "official" track.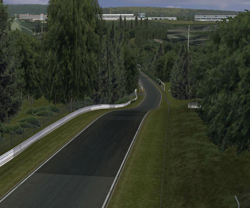 Flugplatz
The hill above this section of track used to be used to launch gliders. The literal translation of the name is "Flying Place" which is the feeling you'll get as you ride through it. A great section of track.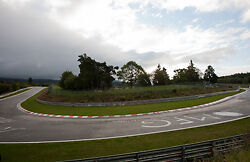 Kleines Karusell
In English, the "Little Carousel" - a smaller version of Caraciola's and also with a concrete inner section that you should use.
When it Rains
As far as the circuit is concerned, if it's wet, stay off it. There are approximately fifteen different types of surface on the 'Ring with varying amounts of not very much grip in the wet. Add to that oil and coolant deposits, and you have a recipe for falling off.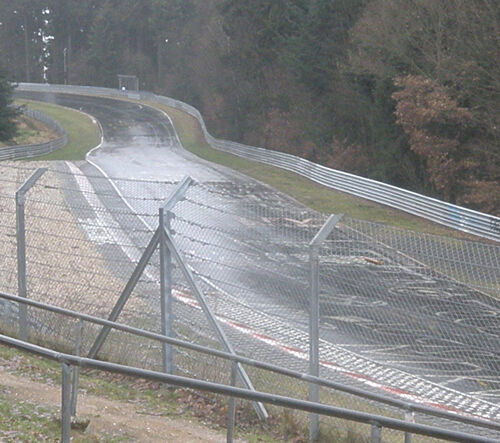 If you can't go out on the circuit, there are lots of other things to do. For example...

'Ring Museum
This is well worth a look even though it's heavily car biased. Anyway, at RSR Moto, we're not prejudiced - we like a nice car too.

Nurburgring Carrera Slot Car Track
A miniature 'Ring

The Kartbahn
The Official Nurburgring Kart track

You can also go for a ride on the local roads - you don't have to pay to use them and some are almost as good as the 'Ring itself. A good one to start with is the B258 between Nurburg and Blankenheim - this is a truly incredible stretch of road and as much fun in the wet as the dry. Stop in one of the little cafes in Blankenheim for a cup of coffee and a smoke.

There are lots of roads to ride - just have a look at the map and avoid the major routes. Virtually all the roads in the area are mega. Have some fun exploring and watch our for the rozzers.
Learning the Circuit
At the 'Ring, circuit knowledge is (almost) everything. The best way to learn the track is to ride it. Sadly, that's not always possible - so what about some alternatives?
Games Console
This seems like an obvious thing to do and there's certainly some merit in putting in the laps. Modern racing games are almost photo-realistic and using one will help you gain circuit knowledge.
There are some issues to be aware of though:
The 'Ring looks pretty much the same all around - just crash barrier and trees. Don't trust your memory of the game too much when you're out on the real thing
Games can't show the severity of the elevation changes you will experience. These will make some of your braking distances much further than you think because of the momentum you'll be carrying in the downhill sections.
YouTube
It's easy to happily while away the hours watching videos of the 'Ring. This is particularly useful for getting an idea of the correct line and generally familiarising yourself with the circuit. As with the games console though, be careful - the elevation changes don't come across properly on screen and they can easily catch you out when you're on track for real.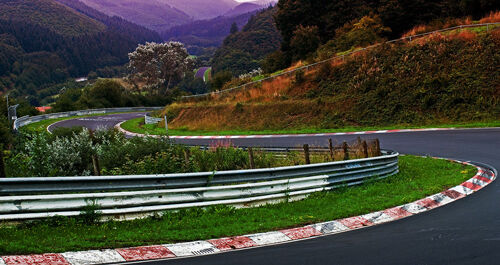 Where to Stay
There's lots of good value acommodation near the 'Ring but it tends to get booked up quickly. Plan your trip well in advance to avoid disappointment.

Here are some of the places I've stayed and would recommend.

Hotel zur Burg
This is my personal favourite. Situated in the village of Nurburg and a short ride from the circuit. All the rooms are named after famous racing drivers, and there's a cool collection of racing memorabilia (with a car bias) in the dining room. The beer is great and there's a a good value restaurant serving a range of typical german dishes.

Hotel Blaue Ecke
Situated in the quaint town of Adenau, the Blau Ecke is a great venue. The breakfast is excellent and the staff helpful and friendly. It's also close to a wide choice of bars and restaurants.

Hotel an der Nordschleife
Owned and run by 'Ring legend Eddy Mathey, the an der Nordschleife offers traditional hotel rooms in the main building and a choice of apartments next door. Situated next to the Breidscheid Bridge, you're right next to the circuit. The lively bar/restaurant that is the "The Cockpit" is right next door.
Important advice
The 'Ring is classified as a public highway and German traffic law applies - make sure your insurance covers you
Have a good breakdown insurance policy and make sure it includes the 'Ring
Anyone riding a bike abroad should have medical insurance. Take an EHIC card too - they're free and entitles you to basic medical care in the EU. However, it won't cover you for medical expenses and these can quickly mount up e.g. airlift by helicopter to a hospital in Cologne
If you cause the circuit to close, you'll be liable for lost revenue. You'll also have to pay for any damage to crash barriers etc
If your bike has a loud pipe, consider putting the standard one back on. There's a noise limit at the circuit and people do get refused entry
Remember to warm your tyres for the first few kilometres
The 'Ring isn't open every day. Check out the official site to make sure it's going to be open when you're there
Until you have learned the circuit, treat the Nurburgring as if it was a trip down your favrourite road with no speed limits and nothing coming the other way. Don't ride like you're on a track day - apart from a few places, there's no run off at the 'Ring
Build your speed gradually as you get to know where you're going
Until you're going fast enough to keep up with the general pace of other riders/drivers, stay on the right of the circuit. Doing this will help keep you out of the way of faster people by keeping you off the racing line, thus stopping you becoming a mobile road block
Keep looking in your mirrors so you get plenty of warning of other faster 'Ring users
Forget about lap times. As a German friend once said to me "There are no prizes at the 'Ring. Only a golden banana." Let the thrill come from mastering the track, and the speed will follow naturally. If you start to feel out of control, back off. After a few laps, you'll start to get the hang of it
Remember, the point is to have fun and come back safely.
OK, there you have it. A brief guide to the Nurburgring - the most insane place on Earth.
Take care and have a great trip!
Paul, RSR Moto Ltd
Disclaimer: The 'Ring is a dangerous place. You go there at your own risk and I/we will not be responsible if things go wrong.