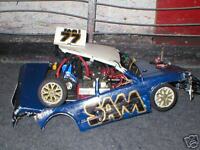 Hi, we run a 1/12th oval club in Essex using the Mardave V12 car, the formulas are mainly Bangers & we was the first club dedicated only to 1/12th Bangers since 1997. The club meets every other saturday night & the venue is St. Margarets Church Hall, The Green, Stanford-Le-Hope, Essex, SS170EP. The track is a 34' long oval & is the only track with post & wire fences, the club also has it's own amb lap counter.
Formulas raced are V12 Bangers, basic Mardave V12 kit with limited modifications which are available from mardave themselves, cars are fitted with a banger style bodyshell which must be of any old/classic type car available from Kamtec. This is the most popular formula & can attract around 40 to 50 cars on a saturday night & is full contact racing.
New for 2008 is the historic f2 stock cars, also based on the v12, fitted with front & rear bumpers, side nerf bars & a historic f2 type shell, model y ford, ford pop, topalino, these run on 4 cells with manuall or esc speedo, with mardave rubber tyres on the rear for closer racing.
Mini/Retro Stox are the Mardave Mini Stock/R12 & Manic Mini, the cars have a fibre glass chassis also with limited modifications, an electronic speed control (esc) can be fitted, front & rear bumpers & shells permitted are the Mini, Anglia, Moggy Minor, Mk1 Escort, Hillman Imp, racing is full contact.
3 Wheeler Reliant Robin & Regal racing, cars are based on the 'Pinky Cooper' kit and also the kit available from ebay user dntworibhapi who makes the most reliable & up to date 3 wheeler kit around.
BMBSCC/HQ now has the figure of 8 centre, the racing is cheap and a lot of fun, we hold banger races with Vans, Team racing, all Rovers, Hearses/Limos/Yanks, Vans & Caravans, Chained Pairs, Pre '68 Bangers aswell as the major championship meetings.
Thanks for viewing we hope you enjoy your racing - bmbscc.piczo.com & kamtec-bangers.piczo.com