BMW Isetta
This is one of many illustrated classic car guides I've created for the community. I hope you enjoy it. If you wish to find out more about the classic bubble and micro car art featured in this guide please click here.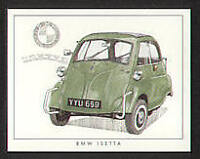 In 1955 Rennzo Revolta sold the manufacturing rights of his unsuccessful bubble car to BMW, and the rest as they say, is history. BMW replaced the two-stroke with their own 247cc single-cylinder 4-stroke. A 295cc engine came in 1956 for export, with different trim and sliding windows. The forward swing door enabled front on kerb parking. Production continued of this popular model, four-wheel for export and three-wheel for home used until 1962.
If you would like to see more guides on bubble and micro cars please click!
Thank you for reading my guide and I hope you found it interesting!