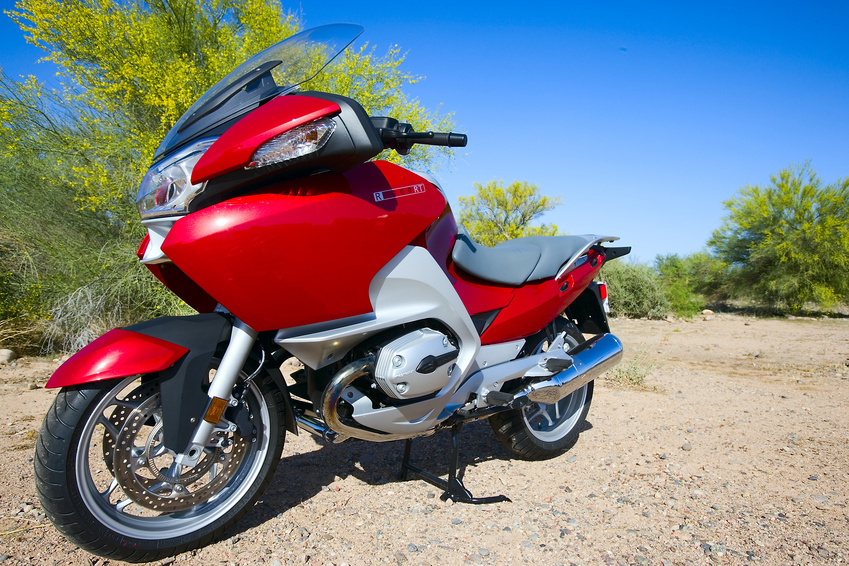 Travelling on the open road on a BMW motorcycle is a uniquely thrilling experience. BMW motorcycles are easy to store, versatile, and a joy to ride. When compared to traditional routine maintenance and services for an automobile, motorcycles need to be cared for in a similar manner. Informed motorcyclists know that during the lifetime of ownership, the wheels and rims, along with other parts may need to be replaced or upgraded.
When choosing the proper BMW motorcycle wheels and rims, one should refer to the manufacturer's guidelines for size specifications before shopping for wheels and rims. It is important to note that the tyre and rim sizes are two different measurements. Moreover, shoppers are encouraged to consider if aluminum or stainless steel is the better option. If unsure about which to choose, buyers should contact the closest BMW dealer or the manufacturer for clarification and assistance when determining wheel and rim dimensions. A popular source for BMW motorcycle wheels and rims is eBay.
Types of Wheels and Rims
BMW motorcycle owners who want to replace the wheels and rims must first choose between a solid or spoke rim. Solid rims are always cast from a single, unified piece, and are typically made from aluminium. As one piece, solid rims are characterised as strong, sturdy, and less likely to suffer material failure. Moreover, solid rims allow for additional detailing and customisation, such as a chrome coating, if desired.
In contrast spoke rims differ from their solid counterparts by being made of multiple pieces. Initially cast as a single piece of aluminium or steel, spoke rims are finished with several thin, metal spikes filling the interior of the rim. The spokes allow for wheel and rim flexibility, and the look is a classic one. However, the thin metal spokes are capable of breaking or popping out of the rim. However, should one break, replacement is easy.
The following chart lists the various types of rim constructions available.
| Rim Construction | Description |
| --- | --- |
| | Solid rim; carved from a complete block of aluminium; allows for creative, detailed patterns; bespoke designs can be pricey. |
| | Solid rim, formed within a mould; allows for simple design work in the centre wheel or edge; typically found on stock motorcycles. |
| | Spoke rim, made of aluminium or steel with a clockwork metal spoke pattern; provides flexibility and often found on sport bikes. |
When choosing rims, shoppers must consider the style and the material of the rims. Though aesthetics is often a primary consideration, budget is also another deciding factor.
Wheel and Rim Materials
Motorcycle wheel and rim materials have not changed much over time. Most wheels and rims available for BMW motorcycles are made of steel or aluminium. Steel is a relatively inexpensive, durable option that remains stylish if the goal is an economical wheel and rim. On occasion, aluminium alloy is used, which is a mixture of aluminium and various other metals, such as copper, zinc, or magnesium. Aluminium alloy has similar properties to standard aluminium, although there is a slight difference in the lustre of the metal. Aluminium, however, has remained the most popular material choice, due to its affordability, strength, and resistance to rust.
BMW Stock and Custom Options
A BMW motorcycle owner has two options when it comes to choosing replacement wheels and rims: stock design or custom design. Stock wheels and rims are also referred to as manufacturer selected or manufacturer preferred. Stock items are readily available, depending on the bike's model year, and stock items are commonly considered the most economical option. Stock wheels and rims are favoured by motorcycle owners wishing to replace damaged parts, restore the motorcycle to the original design, or stick to a budget.
Custom wheels and rims are available for the motorcyclist who is not restricted by a budget and seeks to express his or her style and personality. Motorcycle owners who prefer custom wheels and rims are looking for a unique, individual touch that sets their BMW motorcycles apart from all others. Custom-designed wheels and rims can often increase the value of the BMW motorcycle, as well as enhancing the overall look.
Both stock and custom rims are available in standard, as well as distinctive finishes and colours, with the most popular finishes and colours being chrome, silver, or black. Additional wheel and rim finishes like polished, matte, or flat options are available to achieve the desired look.
Accessories for BMW Wheels and Rims
BMW motorcycle owners can accessorise the wheels and rims instantly with the addition of distinctive wheel valve caps and wheel reflective tape. Wheel valve caps are quick and simple to install and change if desired. Wheel valve caps are considered an inexpensive and creative way to accessorise a motorcycle's wheels.
Reflective tape is a clear tape that goes along the side of the wheel and rim.. This tape shines intensely when it reflects the headlight or taillight of another motorist nearby. Nearly invisible during the daylight hours, reflective tape is beneficial for motorcycle owners who enjoy night rides. Considered a safety accessory, reflective tape is a must-have for all safe cycling. Minor alterations such wheel valves and reflective tape, can go a long way to create a finished and appealing look for the motorcycle.
Installing BMW Wheels and Rims
A few basic tools are all that is required for motorcycle owners to change the wheels and rims at home. In most cases, no experience is necessary, but practice over time speeds up the process. The chart below lists the tools needed for a home installation.
| Tool | Purpose |
| --- | --- |
| | Small, electric-powered device used to add compressed air to the tyre once it is attached to the rim. |
| | Folded piece of aluminium with a slit on one end, used primarily with spoke rims; clips and holds the tyre bead in place while sliding in the tyre bead on the opposite side. |
| | Pry bar with a flat and pronged end; used primarily to remove the tyre from the rim; as many as three may be required to do the job. |
| | Resembles a standard metal pen with a valve pin on one end and meter to gauge air pressure on the other; used to measure proper tyre pressure. |
| | A lift designed to support and hold the wheel in place while making adjustments; can be modified to suit the stature of the user. |
| | Resembles a standard metal pen, only larger in diameter with a small punch on one end; used to remove and install valves on a tyre. |
BMW motorcycle owners who are a bit hesitant to attempt an install of the wheel and rim at home can always contact an expert for assistance. In most cases, owners can purchase the wheel and rim, bring it to the dealer or a preferred motorcycle mechanic, and quickly have the wheel and rim installed for an agreed fee.
Wheel and Rim Maintenance and Cleaning
Careful and routine wheel and rim cleaning ensures long-lasting satisfaction with the wheel and rim purchase. BMW motorcycle owners can choose between various standard wheel and rim cleaning products or use specified cleaners made specifically for each type of wheel or rim. Recommended cleaning products can be more expensive than generic cleaning products, while offering very similar results.
On average, the best wheel and rim cleaners are degreasers that repel dust and add shine. As a tip, only clean the wheels and rims when cool to the touch and use a soft bristle brush to scrub debris. If unsure which cleaning product to use or the best cleaning method, contact the closest BMW dealer or manufacturer for clarification and assistance.
Restoring BMW Wheels and Rims
In the event of a minor scratch or scrape, the wheel and rim may not need to be replaced and can easily be repaired and restored. There are masking products available for minor scuffs and to perform a quick appearance fix. Buffing kits are also available that are effective at smoothing scratches on the wheel and rim. If the damage is deep, refinishing of a wheel and rim may be necessary in order to restore its looks.
Refinishing the wheel and rim restore the finish, so maintaining the value of motorcycle. If applicable, contact the wheel and rim seller first, as the seller may have an incentive in place or a specialist in mind for immediate referral. In most cases, a local vendor offering wheel and rim repair can be contacted if the damage requires expert attention.
Buying BMW Motorcycle Wheels and Rims on eBay
Have the make, model, and year close at hand when shopping for BMW motorcycle wheels and rims on eBay. Also, knowing the size of the desired rim and wheel is also beneficial. Remember that back and front wheels are not interchangeable as they are different sizes. Adding a few descriptive words, also called keywords, to your search query can help you optimise the search results. For example, if you have a certain material in mind, be sure to include keywords such as 'BMW steel rim' or 'BMW aluminum rim'. Should your search query return no results, remove a few keywords and try again.
Know Your Seller
When picking out aftermarket BMW wheels and rims on eBay, be sure to take a few moments to get to know your seller. Check out the seller's eBay history to see how he has conducted past business transactions. Trustworthy sellers have a long history of positive feedback comments and high approval ratings.
Conclusion
Motorcycles require the same routine care and upkeep that traditional vehicles require. Over the length of ownership, BMW motorcycle owners need to anticipate the need for potential repairs or upgrades. The more the bike is taken out for joyrides, the more often maintenance needs to be performed. Fortunately, a patch is often a sufficient method for repairing a tyre. Shoppers are encouraged to buy a lasting set of rims. Though the initial costs may be high upfront, prolonged use makes them worth the extra expense.
Unique wheels and rims can add personality or enhance the overall appearance of the motorcycle. After selecting the type of wheel and rim desired, one should consider the option of a custom design. Custom wheels are a sensible way to add value to the BMW motorcycle and an attractive set of wheels and rims can also set a motorcycle apart visually from all others. Motorcycles enthusiasts can browse a variety of listings for motorcycle wheels and rims on eBay.