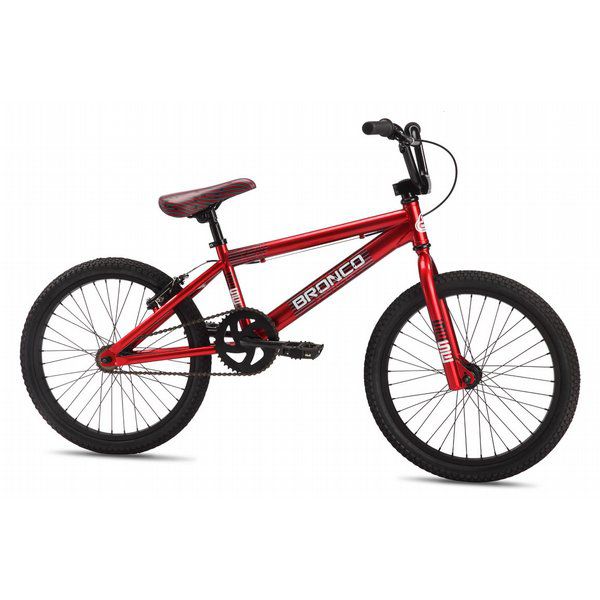 BMX riding has been around for nearly four decades, and has its origins in early 1970s California. In recent years, the activity has gained in popularity and become increasingly mainstream, especially now that it's an Olympic sport.
BMX track racers face unforgiving conditions, with eight cyclists competing on a course nearly half a kilometre long, complete with jumps and potentially treacherous embankments. Machines have to be able to cope with a brisk pace and turn quickly, while bikers have to be unfailingly accurate in their rider. Such riding is impossible without the right equipment.
As arguably the most important piece of kit a rider has at their disposal, few things are more crucial to ride enjoyment and bike performance than BMX tyres. Every BMX biker must be equipped with the tyres that are right for them and their machine and their riding style.
After all, as with all bikes, they are the single direct point of contact a bike has with the riding surface. And the feel of tyres has a direct impact on how the cyclist feels when they are out on their bike. A rider can have all the expensive equipment in the world – but with the wrong tyres for them, their body, riding style and machine, that investment can become redundant.
In general terms, BMX tyres typically look very different to their road bike counterparts, being wider, and usually quite knobbly and chunky.
Like the versions on mountain bikes, BMX tyres often have to be up to working in some extremely demanding conditions. While BMX tracks are certainly challenging, tracks don't have the same obstacles, like rocks and roots, which mountain bikers face.
It's important to understand is that different kinds of BMX tyres are intended for different styles of riding, and will be varied for racers, jumpers and freestyle riders. The first thing a BMX rider needs to do is decide on the type of riding they'll be focusing on. Using the wrong ones for the riding style being undertaken could lead to slipping and skidding.
Another consideration is that a rider should understand their frame size, as this will also be a factor in tyre choice.
BMX bikes come in four main sizes:
The junior and mini models are generally for much younger riders under the age of 12. Regular BMX wheel size is 20" diameter – much smaller than other types of bicycle. Therefore, 20" tyres are needed. The children's versions will have 16" and 18" wheels.
Tyre Size
Tyres have their size printed on them, so it's easy to find out what size a bike currently has. As well as diameter, a key measurement is how wide the tyres themselves are, so both measurements are needed.
Riders who aren't sure what size tyre their BMX bike takes can check their bike's manual, or look it up online by going to the website of the manufacturer of their machine. Alternatively, cyclists can measure their tyre rims themselves.
To get the most accurate reading, measure from to rim-to-rim, which will give the full size, or double the measurement of the distance between the axle and the rim. If a tyre fits the rim diameter, it's typically possible to have a range of widths with that same diameter.
Broader tyres offer enhanced stability, thanks to their increased contact with the riding surface. Especially where ground is uneven, these kinds of tyres also provide better traction.
Wider tyres can sometimes make it trickier to clean the bike frame or brakes, and the ride may feel a little slower.
Narrower tyres have less contact with the road and so help increase speed. The greater air pressure required can make for a slightly harder ride. Equally, wear and tear can take place more quickly, while these tyres may also be more prone to sidewall damage.
Understanding Pounds per Square Inch
Pounds per square inch, also known as pound-force or pressure per square inch, or simply PSI, is a way of measuring pressure. It expresses how much pressure results when a single square inch of a tyre has a force of one pound applied to its area.
PSI measurements are usually to be found on the edge of the tyre wall.
Jump Riding BMX Tyres
Jump riding tyres will be thinner than the ones freestyle riders use. One rule of thumb is to choose a wheel width of between 1.9 and 2 inches for those riding a pro-style frame, and slightly slimmer (say 1.6 inches) for those using expert frames.
Look for a tyre tread that's deep and knobbly. The chunkiest treads are needed for this style of machine to grip the ground safely and tightly on landing.
For jump riders, tyres should have a PSI of up to 70, but at least 40. Again, this helps give riders a smooth landing.
Racing Tyres
Racing tyres tend to be thinner than for jumping models. Aim for around 1.75 inches on pro frames, about a quarter of an inch slimmer on expert machines. For the junior and mini models, tyres generally come in standard widths.
Look for finer treads, which still have a decent grip, but without very knobbly, deep grooves. Speed becomes more important for this sort of riding, and so traction is required without resistance to keep up the miles per hour.
Higher tyre pressure will allow a BMX bike to move at a higher speed, and so most BMX racers will be looking for a PSI of around 100, or higher than for jumping machines.
Freestyle BMX Tyres
Freestyle riders who use pro-size bikes will generally be well suited to freestyle tyres of around 2.125 inches in width. This greater width allows for greater control and balance, important given that freestyle riding focuses on performing stunts. The other standard sizes are:
1.17 inches for expert freestyle frames
1.3 inches for junior frames
1.1 inches on mini frames
Think about the sort of terrain generally covered, as this will assist in determining the sort of tread required. For riding on demanding ground in towns, or parkland, a stronger grip is needed to stay in control of the bike.
For riding a bike mainly over concrete, a smoother tread will give a faster ride, and a very bumpy tread won't be needed.
For freestyle riding, a good PSI offering a cushioned ride will be anywhere between 40 and 70. Riders who like doing spinning tricks may want to opt for a PSI that's at the higher end of the scale.
Other Considerations
Weight
Generally speaking, only riders competing at the very top levels will worry too much about the weight of their tyres. In any event, most BMX tyres fall within similar weight categories, so most riders are more concerned with the performance and durability of their tyres.
Durability
While most BMX biking takes place on smooth tracks or bike parks, where there is less chance of encountering obstacles that could cause punctures, some riders will wish to spend a few more pounds on a longer-lasting, puncture resistant model.
One feature to look out for is Kevlar reinforcement, which provides additional protection against punctures, and hundreds if not thousands of miles of trouble-free biking.
Different Parts of a BMX Tyre
A BMX tyre is made up of the following components:
Rubber – Once a tyre has got its essential shape thanks to the cloth fabric, a rubber coating is applied to safeguard it from damage
Fabric – The body of the tyre is made from cloth fabric, woven between both tyre beads. One of the most commonly used materials is Nylon Cord
Bead – This keeps the tyre on the rim, and is its support structure. Kevlar is gaining popularity, but most beads, especially on BMX bikes, are constructed from steel.
Buying BMX Tyres on eBay
Online auction site eBay.co.uk has an extremely wide range of BMX bike tyres for sale, in many different sizes and to suit a number of varying riding styles, however seriously you take your sport. And for clubs and families wanting to kit out several bikes at once, eBay offers an affordable one-stop-shop solution.
All the major brands and manufacturers are covered. And shopping online in this way (at a time and place to suit you) could not be more straightforward.
You can quickly refine any search with keywords. Simply type the words to do with your specific item into the search box to find the listings best suited to your specifications. For guidance on shopping using keywords, go to eBay's Search tips page. If you can't find precisely what you need, visit eBay stores.
Searcy by:
Colour
Condition
Price
Size
Ask a seller a question about their product if you have any queries – many offer free shipping, and local eBay vendors may get your tyres to you more quickly.
Finally, thanks to eBay's payment partner, PayPal, you can shop in security and with complete peace of mind.
Conclusion
BMX tyres are one area of their kit where most riders don't want to compromise. Riders need to spend some time understanding how tyres work in different conditions and for different types of BMX riding, and find the pair that's best suited to the kind of biking they do, and that suits their budget.
If funds are limited, it may be worth considering compromising on other areas, since having the wrong or inferior quality tyres on a machine will affect ride performance and enjoyment considerably.