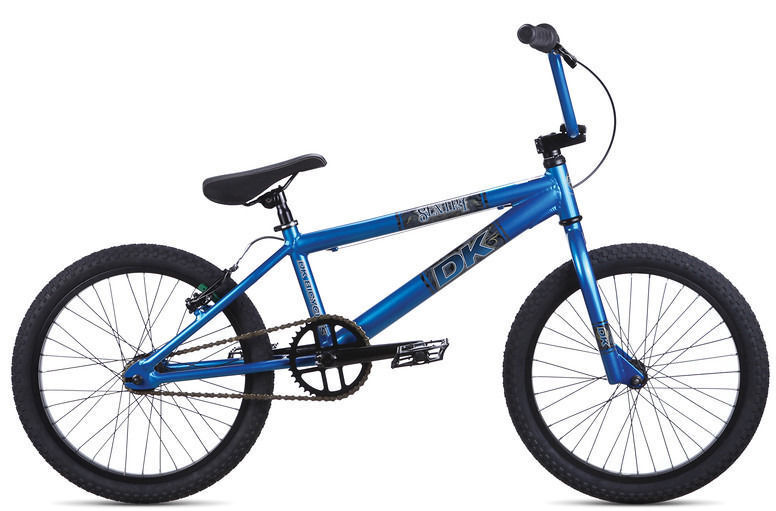 BMX racing is a fast and furious affair, and a highly competitive activity, and, particularly since it was named an Olympic sport in 2008, it's become increasingly popular.
It has its roots in late 1960s and 1970s California, as young riders used their pushbikes to copy motocross riders using pedal power. (The term is short for Bicycle Moto Cross.)
Racing routes tend to be quite smooth, with heats generally last between 30 seconds and a minute. The courses also usually incorporate banked corners or berms and jumpers, and are designed for up to eight riders at once.
Given the demands on these machines, BMX racing bikes, also often known as "classic" BMX machines, have quite specific requirements. They need to be:
* Lightweight
* Robust
* Strong
Frames in particular need to be hardwearing, while the 20-inch wheels mean these machines are not as big as road or mountain bikes, giving maximum manoeuvrability.
Essentially, there are two kinds of BMX bikes - freestyle, or street riding, with very durable wheels and rising handlebars (for stunts and jumps on flat ground rather than riders competing against each other in races) and machines which are intended to be raced.
With the speed and greater potential for impact, it's important to get a BMX bike which has been built well.
Equally, it's important to remember that one size will not be suitable for all riders and that buying the right size of bike is essential - get one that is too big or small and poor machine control can be the result.
It's true that the sheer volume of choice from an array of different brands can seem overwhelming. Just as when buying any other kind of cycle, riders will tend to pay more for lighter weight and greater strength, and the main factor determining choice should be how often the cyclist will be using the machine, as well as what for.
The eBay buyer doesn't have to be a committed racer to benefit from the lighter weight, and excellent speed of these machines.
For longer rides, weight will be more important factor. If the buyer is only an occasional Sunday afternoon rider, price may be the main priority. Or some riders may have set their heart on a particular or fashionable brand.
The good news is that, with so much choice on eBay, there's a BMX bike to suit everybody.
How BMX Racing Bikes are Designed
They may look similar to their freestyle counterparts, but actually BMX race bikes are quite different. And, in fact, they are the least common of all the varieties of BMX machine.
BMX Racing Bike Frames
Racing bikes for BMX are typically more rigid and built with pace in mind, and their frames are generally made of aluminium for a ride which is more lightweight, stiffer and more responsive, allowing for greater speed rather than performing tricks. While steel would provide greater strength, these bikes are not built for the demands of freestyle BMX - they're about being faster than the other riders.
The other advantage of aluminium is that it is rust-proof and so never needs to be touched up if it gets scratched, which can happen in the rough and tumble of BMX racing. For younger riders in particular, they may find an aluminium machine provides easier handling.
Sometimes the frame incorporates extravagantly shaped tubing, or oversized tubes.
For serious racers, a compound frame provides a stiffer, speedier and very sensitive ride. There will be less strength than with a pure steel BMX frame, but for racers, pace is usually the most crucial factor.
The more expensive models will have frame reinforcements in the form of welds between joints at points of maximum stress.
Other Design Features
Bigger gearing (there is just one high ratio gear) allows cyclists to reach speeds of up to 35 miles an hour according to how old and experienced they are, and the conditions of the ground they are racing on.
There is no need for suspension, and so they don't have any. Neither are there any gyros or stunt pegs.
Tyres are thinner than on freestyle versions, although they are usually knobbly, and there's a just one "V" type linear pull braking system at the back.
Finally, the eBay buyer has the option to race with clipless pedals if that suits their riding style better.
BMX Cruisers
BMX cruisers provide a scaled-up version of riders' racing machines of choice, with their defining characteristic being the 24-inch BMX wheels. Although they are not currently widely available, that could change in the future, and it is always possible to find plenty of choice for the more specialist kinds of BMX frame on online auction sites like eBay.
BMX Racing Bike Sizing Chart
Industry-wide, frame sizes are generally standardised across the various brands:
| | |
| --- | --- |
| Height | BMX Size |
| | = Micro-mini |
| 4'0" - 4'6" | = Mini |
| 4'4" - 4'10" | = Junior |
| 4'8" - 5'4" | = Expert |
| 5'4" - 5'10" | = Pro |
| 5'8" - 6'0" | = Pro XL |
| 6'0" and over | = Pro XXL |
| 4'0" and under | = Micro-mini |
| 0" - 4'6" | = Mini |
| 4'4" - 4'10" | = Junior |
| 4'8" - 5'4" | = Expert |
| 5'4" - 5'10" | = Pro |
| 5'8" - 6'0" | = Pro XL |
| 6'0" and over | =Pro XXl |
There will be some variations in the height of the cross bar and the bottom bracket, as well as the general geometry of the racer, although these are more important factors when fitting a very young rider's bike.
As a general rule of thumb, any rider over the age of 12 will need a "full size" or "pro" frame, and those who are younger should use a smaller one.
For adults, these differences have more to do with personal preference and differences in riding style than the biker's height or size. The handlebars and the saddle can be altered forwards or backwards, and buying a higher seat post is always another option, so actually the kind of BMX riding you are doing is the most important factor.
To get the fit right, the best place to begin is usually the top tube, usually measuring between 19 and 21.5 inches. For racing and jumping, many find longer top tubes are best, and give increased comfort and a more relaxed ride.
It's surprising how much difference even a quarter or half an inch can make when it comes to bike fitting, so it's worth being sure so that you can get the size right.
BMX Wheels
The wheels on BMX racing bikes are 20" diameter, and there are 36 spokes, as opposed to the 48" of a bike designed for tricks and stunts. There are also upright handlebars and crossbars, small saddles, and long cranks.
On a racing bike, the wheels tend to be lighter on BMX racing machines than other models like jump bikes or freestyle ones, to help acceleration at the start of a race. This means that the wheels will not be suitable for ramping or jumps.
It's important to choose wheels made from high quality materials which are extremely hardwearing. Riders should bear in mind that, with BMX racing, the pressure they will come under is quite unlike any other kind of riding.
Again, aluminium is often the best material because it is durable as well as being light in weight.
BMX Racing Bikes Brands
There are many different brands on the market. Mongoose, for example, no longer focuses exclusively on racing, but you may find an excellent value older model on an online auction site like eBay. Redline is another producer of racers, as is Schwinn, both with widely available replacement parts and upgrades and high quality components, while Diamond Back is another established and good quality brand.
Buying BMX Racing Bikes on eBay
You will find a vast range of highly affordable and outstanding quality BMX racing bikes on eBay, with many vendors very happy to offer free shipping. And shopping at a time and a place to suit you couldn't be more convenient.
If you can't find exactly what you are looking for, try searching using keywords to quickly narrow down any search. You just need to type the words related to your specific item into the search box to track down the listings that are a match for your specific requirements.
You can also visit eBay's search tips page for further hints on searching using keywords. Another idea is to go to the eBay stores page if you still can't find exactly what you want.
Conclusion
BMX racing has got more competitive and serious in recent years, and, if you are serious about this activity, you need a machine that is up to the job, and that will give you years of riding and racing pleasure. eBay can help you find the quality you need at a price you are happy with.
Choose a machine that's right for your body size and riding style, and, by shopping at eBay, you will also have ready access to everything else you need for BMX-ing. Equally, if you are buying bikes for your family or a club, you'll find all the machines you'll ever need all under one virtual roof.