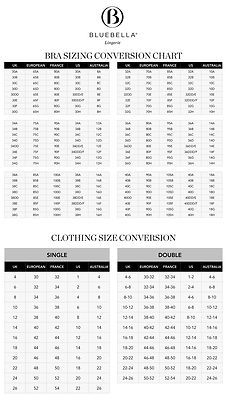 Finding The Perfect Bra Fit

We always recommend having a proper bra fitting, but if you want to measure yourself at home, here are 3 simple steps to sizing yourself up:

1. Measure below your bust (to get your band size).

Using a soft tape measure, measure in inches very snugly around your rib cage, just underneath your breasts. Make sure that the tape measure is level around your back. Take care not to hold your fingers inside the tape measure. It should feel tight around your rib cage, so don't be afraid to, pull it in as far as it will go! Make a note of this measurement (you will need it for step 3). If the measurement you get is even, add 4 inches, if it is odd add 5 inches. The result is your bra back band size.

2. Measure around your bust and back (to get your bust size).

Pass the tape measure around your back and your bust (at it's fullest point, usually the nipples). Again make sure that the tape measure is level, then begin to loosen it gradually until it is at the point where it slips off (you want a loose measurement here!). Make a note of this measurement.

3. Do the math.

Work out the difference between the measurement you first took in step 1, and the bust measurement you took in step 2. The difference between these two measurements will determine your cup size, as shown below:

Under/Full Bust Gap = Cup Size
5" = A
6" = B
7" = C
8" = D
9" = DD
10" = E
11" = F
12" = FF
13" = G
14" = GG
15" = H
16" = HH
17" = J

Finding The Perfect Lingerie Size

Looking for a stunning overbust corset, body, or teddy? Work out your overbust and body measurements here:

1. Measure above your breasts (to get your over-bust size).

Measure snugly around your rib cage above your breasts and under your arms keeping the tape measure level all the way around. Make a note of this measurement.

2. Measure around natural waistline.

This is usually just at the top of your hips but you can be sure by bending over in front of a mirror to see where your waist naturally bends. It should feel tight, and be sure that the tape measure lies straight all the way around. Make a note of this measurement.

3. Measure the widest point of the hips.

This is usually around 4 inches down from the navel, and again the measure should feel tight. Be sure that the tape measure lies straight all the way around. Make a note of this measurement.

4. Measure the torso.

Pass the measuring tape through your legs and up over the apex of the breast to meet the other end of the measuring tape at the top of the shoulder. This measurement is your body length.

How To Fit Yourself Into A Bra

Be honest, how much of your lingerie really fits you? We can all confess to owning a few bras that don't fit us correctly and understandably so when our breasts increase and decrease with our cycle, weight changes and crucial life stages such as pregnancy and nursing. Also, it's important to identify the reasons behind our bra purchases, of course sometimes we may buy a bra that's just for show....it won't be staying on that long anyhow, right?! But when it comes to the lingerie we wear every day, to work and going about our lives it is crucial to wear a bra that fits to improve our posture, create the right foundation for our outerwear, and even for our health!

Believe it or not, getting the right bra fit is not all about tape measures, you can start simply by putting it on and checking for a few key features that will help you determine whether your bra fits, or it's time to embark on a little lingerie shopping.

The Band

The band is the part of the bra that wraps around your back and usually fastens with hook and eye clips. This is the first and most important thing to get right with a bra as believe it or not, the whole support of your bra comes from here, not the straps! The bra band should sit in a straight line across your back, a 'rainbow curve' is a clear sign that the back band is too big. If you experience this, you likely need to try a size or two down in back measurement. A snug fit is what you are looking for, your two index fingers should be able to wiggle the back band out a little and nothing more.

Expert tip: Most women need to go down in back measurement and up in cup size!

Straps

Straps are a secondary support. If your back and cup size (see below) are correct, they will not dig in. You should easily be able to remove the strap without leaving an indentation and have enough room to slide your two index fingers under your strap where it sits on your shoulder.

Cups

The bra cup should encase your breast with no overlapping or under-filling. You'll be able to tell if the cup size is too small by whether the central gore sits flat on your chest. If it does not it means your breasts are pushing the wire outwards because they don't have enough room.

Expert tip: the centre gore is the small panel of fabric at the front of the bra that connects the two cups. It should always be sitting flush against your skin.

Underarm

The wire of the bra cup should never sit on your breast tissue, but most definitely around it. This is vital for your breast health as it prevents damaging your breast which can lead to further complications. It also ensures a more comfortable fit.

It's always recommended to get a professional fitting but do bear in mind that fit will vary depending on the aforementioned factors, and even style. A plunge bra for instance, may require a slightly different size to a full cup bra.

Why not spring clean your lingerie drawer using our easy self bra fitting tips? We recommend you also check out the fabulous Bluebella range of attractive, well-fitting bras for all occasions.