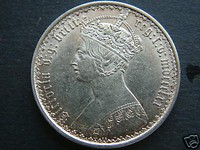 COIN COLLECTING IN 2010
2010 started off well with many auction houses and fairs reporting good solid trade. The year has started to highlight more problems with locating better quality specimens. As eBay offers a free listing facility for some sellers who don't sell their coins first time around, we have noted that there appears to be a plethora of poor quality coins being uploaded almost on a weekly basis. We aim to promote the sale of good quality, collectable specimens although feel that with eBay's lack of any input just about any old Tom, Dick or Harry can list anything. For years now numsimatists have been pushing the cause to have a good on-line coins site where genuine buyers and sellers can come together to enjoy the hobby. The 'on-line coins' site remains as the only site to offer this facility but, sadly, even that has suffered as the same dealers keep re-listing their stock. There are too few private sellers on this particular site.
It has saddened us to see that SPINK have decided to reduce the frequency this year of their CIRCULAR magazine to just a mere five editions each year. We feel that in today's strong market that this is a backward step. Their new 2010 edition of the 'Coins of England & the United Kingdown' has shown some marked increases with the Victoria 'Gothic Head' florin series showing a massive 25% increase over the 2009 values. The Victoria 'Young Head' halfcrowns in top grade are also showing good increases of 15-20%. Many rarities that were unrecorded are now listed and with Michael Gouby's new book on the bronze 'bun head' penny being released we are pleased to say that documentation is better than ever. At £25 the SPINK book has proved to be excellent value too.
Gold has continued to remain very strong reaching £725 per Troy ounce in early 2010 (February). Bullion dealers are now well stocked on krugerrands and sovereigns (in 2009 stocks had run out completely). We see the metal consolidating in 2010 with the dollar strengthening. This will encourage US buyers to spend more on UK coins being sold over here which can only help to boost the market.
There still remains a distinct shortage of top quality Britsh copper and bronze on the coin market since 2008. This suggests that many collectors are holding on to their quality pieces awaiting to see how the market performs. As a result, pieces which do come on to the market, either via ebay or the auction houses are fetching huge premiums. Victoria 'Bun Head' pennies in choice UNC are still holding their value well and, of course the tough dates sell for top money. The June 2009 sale of an 1864 penny in UNC with a little lustre made just under £2,000. In 2008 an all-time record was achieved for the sale of an 1863 die number 5 Victoria Bronze 'Bun Head' Penny of just over £20,000 (including commission). The coin is, as far as we know, unique. Late last year an 1863 'slender 3' penny was sold by Steve Lockett's London Coins for an amazing £20,000 also (there are just two known).
A very worrying development last year was the emergence of a factory in China producing huge quantities of fake British and foreign coins working from fake dies. We have managed to track down information on the internet showing what is happening in much greater detail.
If you 'google' the words 'Chinese-Counterfeiting-Ring' this will send you to a link - click on 'Enter Gallery'
There are several unscrupulous sellers on eBay from China pretending to sell 'genuine' British coins when in fact they are fakes. What is most worrying is that the quality is very good and it is hard to distinguish them from the real thing. We have noted that one seller does actually stamp the wording 'REPLICA' on the obverse although cannot understand why anyone here in the UK would wish to purchase a piece of metal?
The coin book publications such as 'English Silver Coinage' by P. Alan Rayner (known by collectors and dealers alike as ESC), despite not having been printed since 1992 continue to assist the buyer or seller with rarities. However, almost 20 years later, it is now showing anomalies and the coin market clearly needs an updated version of this book.
We would be very keen to hear from other coin collectors on this fascinating and rewarding hobby and welcome any comments on the article above.