PROBLEMS FOR BUYERS DUE TO COMBINED BRANDS IN LISTINGS.
There appears to be some 'confusion' about the two brands, Build-a-Bear and Bear Factory on Ebay - with a number of sellers mistakenly believing that they are one and the same thing and advertising them as such. BUILD-A-BEAR WORKSHOP is in fact a totally different make of bear to BEAR FACTORY and at NO TIME have Build-a-Bear produced Bear Factory bears. There is no such thing as 'Build-a-Bear Factory' bears!
A lot of sellers do not seem to even know/care that, to conform with Ebay rules in fact bears should be listed under their correct brand. In this case this is either Build-a-Bear (or more correctly, Build-a-Bear Workshop) OR Bear Factory. Misleading listing titles with the words Build a Bear Factory cause much waste of time and immense irritation if one is looking ONLY for Build-a-Bear Workshop bears/clothing and I know of a number of American Build-a-Bear Workshop collectors who will no longer look for items on Ebay UK at all because of the practice of combining the two names. This is losing honest sellers who describe their items accurately potential sales.
The number of listings that have 'Build a Bear/Factory' in the title but 'Bear Factory' in the body of the listing is growing by the month and one has to read listings very carefully now to be sure what is what. In the main, Bear Factory does NOT command the same prices that Build-a-Bear Workshop products do, however, joining up the two brand-names is an extremely annoying way to attract people to a listing through the search engine. I have even taken the trouble to WRITE to a seller to ask which brand something is, only to receive the reply that they are one and the SAME brand and for the seller to publish this entirely WRONG answer under the listing for all to see! I have then written BACK to the Seller to explain the situation only to find that the Seller CONTINUES to advertise the item as 'Build-a-Bear Factory' when it had nothing to DO with Build-a-Bear Workshop. The ONLY other action one can take when this happens is to write to Ebay to complain. In this particular case a friend of mine wrote to Ebay to complain, the listing was removed, only to REAPPEAR with the same misleading information some hours later! Just today I have written to a Seller to ask if a bear is BABW OR BF because both are in the listing and it cannot be both - and they wrote back to say yes, they know they are two different brands and it is a BF bear but they have chosen to list it as Build-a-Bear! This is dishonest to say the least... and yes, I can report it to Ebay as it's against their rules but the fact is that there are simply TOO MANY people doing this now for one person to report. Sadly it's a sign of the times that Sellers care so little for their Buyers that they will resort to this behaviour.
TO CLARIFY THE DIFFERENCE BETWEEN THE TWO BRANDS:
Bear Factory was part of an acquisition in 2002 of the English Teddy Bear Company by Hamleys, the famous London toy store (who are, in turn, owned by Baugur, who are being hit badly by the 2008 credit crunch and may be bought out....) - whereas Build-a-Bear Workshop is USA owned/operated and was started by Maxine Clarke in 1997. Bear Factory traded mainly on the traditional image of the brown teddy bear with clothing to fit, while its USA competitor, Build-a-Bear Workshop sold a more colourful range of teddies (+ other animals) and a wider range of compatible merchandise.
In October 2003 Build a Bear signed a franchise agreement with Amsbra in the UK to open and operate Build-A-Bear Workshops in the United Kingdom and Ireland - the first location was in November 2003 in Sheffield. In May 2006, Build-A-Bear Workshop Inc. received clearance from the United Kingdom Office of Fair Trade for a $41.4 million acquisition of both the loss-making Bear Factory and the franchisee, Amsbra Ltd.
At NO TIME did Build-a-Bear Workshop produce the line of bears known as Bear Factory. They REPLACED the Bear Factory stock with their OWN products which are completely different. There are many collectors of the Build-a-Bear Workshop brand and indeed there is a special collector's book available (sadly this only includes bears and other animals up to the end of 2005 but it's still worth having if you are a serious collector).
If you are in doubt which make a bear is - write and ask the Seller what is written on the TAGS on the bear. Build-a-Bear Workshop bears should have TWO tags - a small yellow paw-print tag on the side of the leg and a larger cloth tag on its' rear with the brand name etc. Bear Factory bears have only one with the brand name.
Despite the above, there seems to be some 'confusion' about the two brands, Build-a-Bear and Bear Factory on Ebay - with a number of sellers mistakenly believing that they are one and the same thing and advertising them as such. BUILD-A-BEAR WORKSHOP is in fact, as can be seen from the above, a totally different make of bear to BEAR FACTORY and at NO TIME have Build-a-Bear produced Bear Factory bears. There is no such thing as 'Build-a-Bear Factory' bears!
A FEW NOTES ON BUYING BUILD-A-BEAR WORKSHIP BEARS AND COMPATIBLE CLOTHING/PINS ETC
Buying from the USA
Unfortunately, many of the earlier bears, which are very desirable for collectors, are ONLY available from the USA and many USA Sellers refuse to sell to UK Buyers. If a Seller does ship to the UK, ask if they are willing to ship via 1st Class International, preferably using a light, soft padded bag.
Many USA Sellers will tell you that they HAVE to use the expensive Priority Mail to be safe and that PayPal/Ebay insist on it. I wrote to Ebay & PayPal who say that the choice of method of posting is COMPLETELY up to the Seller and they do not insist on ANY particular method of posting. However one USA Seller admitted that she only uses Priority Mailing because she gets the packaging free and they will pick up parcels from her home using this method whereas she has to 'wait in line at the Post Office' using 1st Class International shipping; of course this makes Priority Shipping a much more attractive proposition for a lot of Sellers but makes purchasing impossible for a lot of UK buyers!
1st Class International is MUCH cheaper than the much used Priority Mail and in fact insurance CAN be purchased on it, VERY cheaply (just a dollar or two) if the Seller wishes to be obliging but wants to also be safeguarded. The USA Ebay calculator often quotes high fees of over $10 for very small items and if a Seller will take an item to the Post Office to be weighed, a VERY different charge is often given. As an example - I recently enquired about posting for a very small item as the calculator quoted $10.30. The Seller decided it could NOT be right, charged me $4 and ended up giving me a Refund on THAT because when she went to the Post Office it was only $2.20 (a credit to Ebay)!
I have bought over 50 bears for my collection from the USA via 1st Class International mail and ALL have arrived perfectly safely and in good condition, many in the cheaper soft mailing bags rather than the more-expensive-to-send boxes and without any harm coming to the contents at ALL. I'm on a limited income so I now try to avoid sellers who will not use 1st Class International unless the bear/clothing itself is VERY cheap!
Collector's items.....
SOME Build-a-Bear pins are becoming very collectible. These can be incredibly cheap when bought from the official BABW site but have been seen listed at around TEN times the original price even when they are STILL available from the Build-a-Bear website. There is one set of pins (Reading a book, #NO1 Bear, Keep Fit (dumb-bells) and holding a Globe) which are given FREE by Build-a-Bear shops to children who undertake certain tasks and then apply for the pins with proof of the completion of the task, though I have known a number of these pins who have been given to adults free of charge by the shops. Pins from locations are usually ONLY available from those locations and some are fetching ridiculous prices on Ebay, many many times their original cost (often this was around £2.50 or, in the USA $2!). The lanyards with two cards & a starter pin are usually still available from BABW shops and from their site on-line for only £4.50 and are only worth paying more for if they have older, more unusual card tags attached.
Sadly the collectability of some of the BABW pins (but by no means ALL) means that it is also becoming common for some sellers to buy the limited edition bears with a pin attached and then remove the pin and sell it separately. This is perfectly allowable on Ebay of course and is up to the seller of the bear & pin - but if you interested in collecting and are buying a 'limited edition bear with its' original tags' - it is better to wait for one that has NOT had it's pin removed if possible as this is PART of what makes it a 'limited edition'! After all - it IS one of the original 'tags' that came with the bear; these tags are NOT complete without it. If you are after a 'limited edition' bear be aware too that sometimes these are listed at over 3 times the on-line price at the Build-a-Bear website when they are STILL available there by mail order! So it's always worth checking the official BABW site before paying inflated prices.
Vouchers....
The most important thing to note is that if the voucher has the words 'Non-transferable' it can ONLY be used, according to the regulations stipulated, by the original recipient of the voucher and while Ebay themselves do not enforce this regulation it is known that Build-a-Bear are aware of and looking into the sales and use of vouchers/coupons sold to third parties on Ebay both in the UK and the USA.
Some sellers do not actually sell the paper/card voucher but only off an electronically delivered code. This is against Ebay regulations but these listings do occasionally slip through the net; some sellers have even been known to sell the same code over and over again! If you do purchase one of these electronic codes and it is not delivered or you have problems using it, it is NOT covered by any guarantees at PayPal.
If you do decide to buy paper vouchers, despite the 'Non-transferability' regulation that governs them, be aware that paper vouchers can have strict time limits/may be subject to other restrictions e.g. you can only use one voucher per visit to BABW. If you see £8 vouchers on a listing be careful!- these are usually only usable if you organise a Build-a-Bear PARTY! These are NOT redeemable against goods in store! Some vouchers are also for use ONLY in the USA or UK or may be restricted to on-line sales from the BABW site in one or other of these countries.
Although they are rare, Bear Factory vouchers also occasionally appear; these can NOT be exchanged in Build-a-Bear shops though I believe that ones issued by Hamleys can still be used in their London store. I would recommend that you check exactly where any Bear Factory vouchers can definitely be used before purchasing them as this firm is now defunct.

STUFFED or UNSTUFFED.....
Watch out for the way a bear is stuffed. Bears can either be soft-stuffed or firm-stuffed. A number of the bears I have had from America, I find, were very soft-stuffed and floppy. I've even had them sent so poorly stuffed that I have had to take them to the local Build-a-Bear shop to be re-stuffed because the skin was literally hanging loose (fortunately BABW shops are very obliging about this as long as the bear is one of their products - they do NOT restuff Bear Factory bears).
Bears can also be stuffed in a standing or sitting position and it's almost impossible to make a well-padded standing bear sit down, so if you want it to sit on shelves etc, make sure it is stuffed in a sitting position or, if it is pictured in a standing only position check with the seller that the bear will sit easily if required.
Some sellers do sell UNstuffed bears and it's possible to take these to any Build-a-Bear shop to be stuffed free of charge and this can and SHOULD cut down the amount of postage needed considerably, especially from the USA (I have had bears sent by 1st Class International from the USA, UNstuffed for as little as $6!). If you are unable to go to a Build a Bear shop locally, make sure that you know that the bear is stuffed to your liking and/or needs before purchase, by writing to the Seller to ask.

SIZES of bears and clothing....
Make sure that the SIZE of the bear is noted on the listing. There are a series of bears that were given away by the McDonalds food chain that look LIKE a lot of the regular sized 12-15 inch bears but in fact are very small and simplified replicas.
Build-a-Bear Workshop name some of their bears 'cubs' - these bears tend to be smaller than the regular bears and are around 10 - 11". This may not seem like a huge difference but they can be harder to clothe.
In the USA Build-a-Bears are sold by a number of NFL/Baseball teams and some of these are given away free to supporters under 14 at the first match of the season. These are known as SGAs (Stadium Give-Aways) and are totally different to the bears sold at the Baseball Grounds in their shops as official team merchandise! A friend of mine bought one of the official baseball bears from Ebay and it was a regular size (12" sitting/15" standing) bear. I also bought a 'baseball team' Build-a-Bear from Ebay USA but the size was not mentioned & I assumed that it would be around the same size. When it arrived it was tiny - only about 10" tall, very thin and almost impossible to clothe and I've since been told it was probably one of the free SGAs. So do write to the Seller to CHECK any bear that does not have its size noted clearly on the listing.
Some of the earlier Build-a-Bears are VERY big. The Polar Bears I & II and the VERY rare Hug Me bear are around 22" and the Dimples, Centennial Bear IV and Maple bears are around 18" (as is the new Hannah Montana bear - she has longer legs than usual which means that a lot of the skirts/trousers available are actually very short on her). The height of the bear makes a big difference when trying to find clothes to fit, which rarely seem big/long enough. Two of the older Build-a-Bears, namely the Grizzly Bear 1 and the rare and delightful Chubby Cub (IF you are lucky enough to find one) are VERY big around the hips (the former can actually wear a UK size 8 pair of human panties comfortably with the waistband turned over!) and it is hard to find trousers or jeans to fit these. As a tip here: some of the jeans intended for the Build-a-Dino range by BABW fit the Chubby Cub better than the bear ones. Below is a picture of the two extremes of size within the Build-a-Bear Range from my collection - the 21" Hug-Me bear from October 1997 and the tiny Pittsburgh GA Bear - the most common size of bear, however, is 15".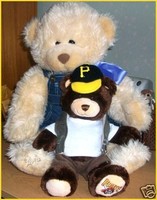 When it comes to clothing,- although much (but not all) of Bear Factory clothing etc IS compatible with Build-a-Bear bears it is NOT the same brand and the range of sizes available for bear clothes is HUGE. I find that Bear Factory clothes are often too small/short for my Build-a-Bears though many ARE compatible. I have even bought sunglasses made by Build a Bear and Bear Factory - and although the styles look almost identical, the Bear Factory ones are only a FRACTION of the size of the BABW ones! It would be VERY helpful if sellers would actually put some measurements of items on their listings or show the items ON a Build-a-Bear 15" bear but most don't - so do write and ASK if you are not sure if the item will fit your bear - particularly ask about the total length of dresses and trousers and the width around the chest/waist. I have been caught out MANY times by buying Bear Factory clothes for my collection of Build-a-Bears (listed as being 'suitable for 12-15 inch bears' when in really I find that they are much too small) - so if I'm not sure I now ask!
If you buy clothes that are NOT by one of the main bear-clothes makers (BABW, BF, Teddy Mill, PawsnClaws, Animaland) - be careful that you don't buy doll's clothes by mistake. Whilst some of these WILL fit bears, many do not - they are not made to go over the wide heads of bears and they don't fit around the bear's necks, which need a neck-line at least twice the width of most dolls. I learned this lesson the hard way when I bought two dresses that were advertised as being suitable for up to 16" bears and indeed, they were even pictured on one... however they would not fit over the head of ANYof my collection of over 60 bears, including those made by Build-a-Bear, Bear Factory, Steiff, House of Fraser and a number of others. Knowing they would not fit any of my collection, the Seller still refused to give any Refund simply because she had found one bear they WOULD fit and I had to take the problem to PayPal to be resolved, as did another buyer. NOTE: Dresses that are listed as originally intended for small-size/prem human babies are usually fine for bears and can be a GREAT buy (though they are occasionally a little bit long, depending on the bear - for 15 - 16 inch bears they are fine) and there is one Seller on Ebay who sells a beautiful range of these at great prices!
Cleaning Build-a-Bears/their clothing....
In the USA BABW sells cleaning fluid for bears but unfortunately, like a LOT of Build-a-Bear merchandise it is not available in the UK (WHY I wonder?). Some bears, especially the white ones, do start to look dirty very quickly & easily, even when they have only sat on a shelf for some years.
It is possible to clean these bears by making a lot of suds with a liquid detergent and using the foam ONLY (not the water) to rub into the bear's coat - drying the bear thoroughly afterwards in the sun, near a radiator or with a hair-dryer. However, it's worth noting that my best pal, who also collects Build-a-Bear, has actually put two of the bears she bought on Ebay in the washing machine, on the 'delicates' wash and this has worked perfectly, with neither bear coming to any harm. Of course this should NOT be done to any bear that has a SOUND CHIP and I'M NOT GIVING ANY GUARANTEES or taking any responsbility by telling you this!
As a cautionary tale.... I once received a bear from an American seller which was, frankly, in a disgraceful condition. I wrote to the seller but when they didn't reply for a week, I cleaned and repaired the bear to the best of my ability. I then, finally after 9 days, received a reply from the seller - who offered either a full refund if I sent the bear back (at my OWN expense to the USA!) or a mere pittance in partial-refund - which didn't even cover the cost of the cleaning materials I had used (let alone the trip to BABW to have it restuffed etc). I did not feel inclined to send the bear back after spending so much time and effort on it - but I felt that I was due a reasonable partial-refund which was refused. I ended up going to PayPal to ask them to deal with it and was told that, because I had 'restored' the bear the seller was not obliged to offer me anything because it was 'changed' from its original purchase state! PayPal say they cannot enforce decent partial-refunds, nor can they force a seller to offer the costs of returning any items, even if they have ripped you off! So if you receive a bear in this type of condition, do NOT attempt to clean it if you are going to complain to the Seller or ask for any kind of refund. Also - you must give the seller at least 10 DAYS to reply before PayPal deems it an unreasonable length of time to wait. Fortunately these things rarely happen.
When it comes to clothing, some items of bear clothing on Ebay are, sadly, NOT laundered or ironed before sale even though they need it - I've had some sent that are REEKING of cigarette smoke and this wasn't declared on the listing either. It is perfectly reasonable to ask for a refund under these circumstances - unless the listing states that they are marked or dirty of course - but at least they are usually easy to wash. I put my bear's clothing into a net bag intended for socks and other small items (also purchased very cheaply on Ebay) and put them in with the normal wash. This has worked very well indeed.
SELLING YOUR BUILD-A-BEARS
If you have Build-a-Bears to sell - CHECK before you list them which edition they are and what they are worth. Many are sold at give away prices to people who then immediately re-list and get a HUGE profit, when with a little research the original seller could have received a much fairer price for their items themselves.
If you have a number of bears to sell, try to either get hold of the BABW Collector's Guide (though sadly this only goes up to the end of 2005) or look through the USA Ebay listings to get some idea of their true worth. Build-a-Bear have been going longer in the USA, so the older, rarer bears turn up there more often and there are more examples to compare your sale item to.
The best way is to describe your bear as accurately as possible in the search line and then check the Completed Listings on Ebay UK and USA to see what the average selling price is for the bear you are selling. Prices for bears and clothing differ a great deal on the two sites so it is worth considering which is the better place to sell the item.
Condition matters a LOT. If a bear is a limited edition, then whether it has the tags AND pin still attached affects the value a great deal, especially to collectors and resellers.
Whatever you do - PLEASE DO NOT COMBINE BUILD-A-BEAR AND BEAR FACTORY NAMES AS 'BUILD-A-BEAR FACTORY' - it's either one thing or the other and using Build-a-Bear if the bear is Bear Factory is AGAINST EBAY REGULATIONS.
A PLEA TO SELLERS REGARDING BUY IT NOWS'!
Because I am a 63 yr old collector on a low pension I cannot afford many of the bears advertised on Ebay. On a number of occasions this year though, I have asked a Seller for a Buy It Now price to be added to the listing and after some negotiation we have agreed a price I can afford. However, the Seller has not asked me when I will be around on the computer and as a result has added the BIN price when I wasn't on-line & able to purchase. I have lost at least three bears this year alone that I have negotiated a fair BIN price for - all to the same Ebay dealer - who relisted them a couple of weeks later at a price I couldn't afford! This can get pretty upsetting when it keeps on happening!
PLEASE Sellers - if you are asked for and are able to agree a BIN price for someone - make sure your purchaser is THERE to buy when you add it to the listing!
Despite all the problems above, I have nevertheless managed to collect over 80 different Build-a-Bears and my best pal has a similar number (see pic below of mine - though this is only a portion of my collection).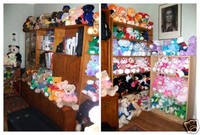 We are always on the lookout for ones that we haven't managed to buy yet and would love to hear from other serious collectors. We are particularly looking for a stunning rainbow coloured Build-a-Bear which we got outbid on on Ebay USA recently (both of us want this!) - in good condition and at a fair & realistic price! It was made (according to Build-a-Bear USA who are very helpful in identifying rare bears I find....) as private corporate bear to support a drive for Immunization in the USA and is therefore pretty rare. We are also looking for the rare Mink-Look Bear from 1997 and the Big Brown Bear (a giant at 28 inches") from 1999. In fact I would love to hear from any other serious collectors of Build-a-bear bears to compare notes! :-)
Ask EBAY!!!!
As a final note - Ebay USA has a separate Build-a-Bear category you can search - which sadly Ebay UK does not have, despite repeated requests for its inclusion. Ebay's reply on every occasion has been to ask me to make complaints about specific sellers/item numbers who are mis-advertising one brand as the other in this way before they can take action. I contend that we, as buyers shouldn't HAVE to do this - particularly when the offending listings are SO easy to find because they are so numerous. However, neither should potential buyers have to go through listings with a fine-tooth comb to find out what the brand of an item IS; it should be made CLEAR in the listing title.
Perhaps other Build-a-Bear collectors would like to write to Ebay to comment on this problem because until they create separate categories for Bear Factory and Build-a-Bear Workshop, I fear that the 'confusion' between these two brands of bear is going to continue and the extremely irritating time-waster of having to plough through a lot of listings which are entitled 'Build-a-Bear' or 'Build a Bear Factory', when they are in fact Bear Factory, is going to continue. If someone listed a Casio Watch on Ebay as an Rolex/Casio watch, Rolex buyers would be justifiably annoyed - but this is unlikely to happen because each brand has its' own category. Listing Build-a-Bear under Bear Factory as a Category is JUST as wrong however but they just will not listen to requests for two separate categories - YET!!!! If enough of us put pressure on by complaining though - maybe we can alter the situation?
I hope that this article has been of interest and/or will be of help to you - if it has, please register your vote. If it hasn't helped you find out what you wanted to know, you are very welcome to write to me and if I can help, I will! Thank You!
Beary warm wishes, Cecilia