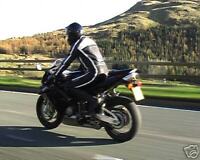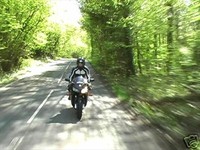 HONDA CBR600RR 2003/2004 (Stills taken from the video road test)
MY VERDICT:
For:
Excellent build quality and reliability
Still fast
Elegant and simple (in black anyway)
Moto GP heritage, Unit Pro-Link, Mass Centralisation
Against:
Not cutting edge anymore, 2005 model has radial brakes and upside down forks
Easy to stall
Peaky engine
Uncomfortable, as per all sports bikes
Poor fuel economy and range, one of the worst of the 600's
Snatchy fuel injection
Tank slapper prone
INTRODUCTION:
The CBR600RR was introduced in 2003 and was a real departure from the 'do anything' nature of CBR-F's. Much more radical and performance oriented they sold along side the F and are used widely in production racing. It's design was based around the RC211V, Honda's GP bike and utilised 'Mass Centralisation' theory and a 'Unit Pro-Link' rear end.
WHICH ONE TO GO FOR:
For the 2003/2004 models the only choice is colour. The red/black and all black ones are the most popular. USA imports don't have HISS but this affects the insurance premiums less than a replacement HISS key. 2005/2006 models had upside down forks, radial brakes and a revised engine management and porting, which improves the midrange slightly but hardly affects the handling.
Many CBR600RR's get raced, it should be obvious if they have but check anyway and it means lots of standard parts like bodywork, indicators, lights, exhaust and shock absorbers etc can be found very cheaply.
There are plenty about so be picky, don't pay any more for a UK bike as you won't get it back.
RELIABILITY AND COMMON FAULTS:
Reliability is generally very good, although there have been reports of smoking engines. As with the new Fireblade, some early tank covers left the factory without being lacquered and even jeans will mark them. This can be sorted under warranty in many cases. The rest of the finish on the bikes is better than all the other 600's, with fasteners, paint and alloy parts all lasting very well.
It's rare for them to do high miles so reliability should continue to be good.
MODEL HISTORY:
As I've already said, it's design is based on the RC211V Moto GP bike. Launched in 2003 it was Honda's answer to the rest of the Super sport 600's moving their game on and it's a real departure from the CBR600F which is still sold along side the RR.
Honda had a re-design for 2005 to compete with the radial braked, upside-down forked competition. The only useful update was the revised engine porting which helped the midrange without losing the addictive much top end rush.
HOW TO AVOID BUYING A LEMON BY USING MY BUYERGUIDE BELOW
Before seeing the bike:
If it is a private sale make sure you view the bike at the sellers premises - this will help determine if the seller is genuine
Always ask the seller to make sure the bike is cold when you come to view it - warm engines can hide a multitude of sins
Find out whether the bike:
Has got an MOT certificate, is it taxed and for how long?
Has got a race can fitted and if so is the original included?
Has it ever been crashed?
Has got a current V5 and is registered in the sellers name?
Is there any outstanding finance, if you're in doubt buy a HPI report or similar?
Does the bike still have both original keys and the toolkit?
Does the bike have a service history, and if so is it a main dealer one?
How to check the bike:
On liquid cooled engines check for a film of oil in the radiator header tank before warming the bike up - the presence of oil would signify internal engine leaks or a blown head gasket.
Make sure the oil on the dipstick or in the sight glass is smooth and has no bits in it or milky scum - again this could mean internal engine leaks.
On starting from cold make sure the engine does not turn over sluggishly - this could mean a worn starter motor and/or a defective battery.
Check for oil leaks around the engine and on the ground where the bike has been stood - any leaks could indicate expensive oil seal replacement or crash damage.
Check all the lights work and that both levers activate the rear brake light.
Run a finger up the fork stanchions and check for oil and rust - leaking fork seals are fixable, but it will cost you if the forks need re-chroming, also sometimes dismantling forks will damage the fork bushes and they'll need replacing.
Check to make sure the rear shock isn't leaking oil and that any shock linkage is moving smoothly.
Find out how old the tyres are regardless of their apparent wear - some old tyres can appear fine until the conditions get slippy. If in doubt, factor in replacement.
If the bike is a European or American import check to see if the headlight has been altered for UK use.
Check the brake disks for obvious signs of wear, hairline cracks between the vent holes can indicate critically thin disks. Check the brake pads to make sure they still have plenty of material left.
If possible spin each wheel off the ground and check for damaged rims and worn wheel bearings.
With the front wheel off the ground carefully move the steering left and right of centre and feel for any notches in the head stock bearings
Check the Engine and Chassis numbers match the V5, sometimes, especially on imports there will be no engine number on the V5 but this does not necessarily mean a problem, it's optional when you are registering the bike in the UK.
Check the sprockets to make sure they're not 'hooked' and check the chain is not at the end of it's adjustment.
Check behind as many panels as possible for signs of repair. They may point to more serious accident damage, the quality of bodywork repair should indicate the quality of any other repairs. There's no substitute for orginal panels.
Check for bent levers, scuffed mirrors/bar ends/indicators for signs of a drop.
Road testing the bike:
Make sure the bike starts and idles easily, the tick over may have been set high to cover up idling problems or a rattly clutch basket.
Check for smoke on start up, a bike in good condition that has been run regularly should be smoke free, unless it's a 2 stroke of course.
Make sure the brakes do not bind and feel for pulsing through the brake levers, this indicates a warped disk.
Make sure you can select all the gears easily and that you can find neutral when you come to a stop.
Check for a slipping clutch by accelerating hard in top gear from a lowish speed.
Finally, trust your instincts about the car and the seller and do not let your heart rule your head - if you are not happy just walk away!!
Is the CBR600RR the best 600 Supersport or has it been overshadowed? Can you live without radial brakes and upside down forks or will you be too ashamed to be seen on it? How fast does it go and how far on one tank of fuel? What it's really like to ride and live with in the real world? You can see the CBR600RR in action (warts and all) in our comprehensive and fully independent video road test - simply click on the link below: