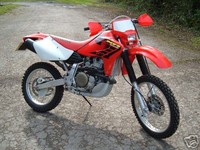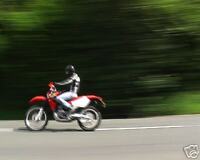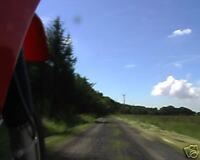 HONDA XR650R 2000 - 2006 (stills taken from video road test)
MY VERDICT:
For
Proper Enduro tool
Great Honda build quality
Easy to get parts for
Quality suspension components
Easy to de-restrict
Reliable for a competition machine
Against
Not road oriented
Very high and hard seat
Kick start only
Very small fuel tank and range
No key
USA spec has poor lights and no road kit
Impractical
INTRODUCTION:
The Honda XR650R was introduced in 2000 to replace the ageing XR600R. It was much more up to date with an alloy frame and liquid cooling as well as high tech suspension components and more modern styling.
WHICH ONE TO GO FOR:
There are two basic specs, the USA spec which has a lower output alternator, small plastic headlight, no speedo (just a mileometer), no indicators, no rear mudguard subframe and no switch gear. The European spec machine had all these things and was much more road biased as a result. The USA ones were also restricted, but this can be un-done easily. However the European ones came with a competition baffle as well as the standard one and while loud do unleash those last few horses.
Unless you are only going to use it as a competition machine, go for the European spec one as they are more useful on the road, although they still don't have an ignition key.
Many XR owners have added supermoto wheels, it's much cheaper to buy one already done as it can cost well over £1000 to convert one yourself, just make sure you get the off road wheels too.
RELIABILITY AND COMMON FAULTS:
Mechanical reliability is excellent for what is essentially a competition bike. However, Honda expect you to treat it as such, i.e. Oil changes after every event or every 1000 miles if it's just used on the road or for gentle green laning. That may sound excessive but, with that small tank and hard seat you won't rack up large mileages.
Hot starting can be tricky, especially on de-restricted bikes. If the bike goes on it's side you may as well find something else to do as it's not going to start again for a while. There is a technique in the handbook and it works so read it!
Finish is generally to the usual high Honda standard, but the anodised finish on the engine casings will wear off within 100's of miles, this is quite normal.
Tyre/Chain/Sprocket wear is always high on big powerful singles. I've seen motocross rear tyres rendered entirely useless in less than 100 miles.
If the bike's been used in competition, make sure it's properly maintained.
MODEL HISTORY:
Launched in 2000 to replace the steel framed XR600R. It featured an all new Liquid cooled SOHC competition derived lump. It also sat in a pretty light aluminium frame. Cartridge forks, two decent sized radiators and brand new bodywork complete the picture.
Don't confuse the XR650R with the XR650L, the latter being a road biased steel framed air cooled fatty. The two are entirely different bikes.
The R has not been changed, barring graphics since it's launch. Although in competition terms it has been superseded by the much more able CRF range.
HOW TO AVOID BUYING A LEMON BY USING MY BUYERGUIDE BELOW
Before seeing the bike:
If it is a private sale make sure you view the bike at the sellers premises - this will help determine if the seller is genuine
Always ask the seller to make sure the bike is cold when you come to view it - warm engines can hide a multitude of sins
Find out whether the bike:
Has got an MOT certificate, is it taxed and for how long?
Has got a race can fitted and if so is the original included?
Has it ever been crashed?
Has got a current V5 and is registered in the sellers name?
Is there any outstanding finance, if you're in doubt buy a HPI report or similar?
Does the bike still have both original keys and the toolkit?
Does the bike have a service history, and if so is it a main dealer one?
How to check the bike:
On liquid cooled engines check for a film of oil in the radiator header tank before warming the bike up - the presence of oil would signify internal engine leaks or a blown head gasket.
Make sure the oil on the dipstick or in the sight glass is smooth and has no bits in it or milky scum - again this could mean internal engine leaks.
On starting from cold make sure the engine does not turn over sluggishly - this could mean a worn starter motor and/or a defective battery.
Check for oil leaks around the engine and on the ground where the bike has been stood - any leaks could indicate expensive oil seal replacement or crash damage.
Check all the lights work and that both levers activate the rear brake light.
Run a finger up the fork stanchions and check for oil and rust - leaking fork seals are fixable, but it will cost you if the forks need re-chroming, also sometimes dismantling forks will damage the fork bushes and they'll need replacing.
Check to make sure the rear shock isn't leaking oil and that any shock linkage is moving smoothly.
Find out how old the tyres are regardless of their apparent wear - some old tyres can appear fine until the conditions get slippy. If in doubt, factor in replacement.
If the bike is a European or American import check to see if the headlight has been altered for UK use.
Check the brake disks for obvious signs of wear, hairline cracks between the vent holes can indicate critically thin disks. Check the brake pads to make sure they still have plenty of material left.
If possible spin each wheel off the ground and check for damaged rims and worn wheel bearings.
With the front wheel off the ground carefully move the steering left and right of centre and feel for any notches in the head stock bearings
Check the Engine and Chassis numbers match the V5, sometimes, especially on imports there will be no engine number on the V5 but this does not necessarily mean a problem, it's optional when you are registering the bike in the UK.
Check the sprockets to make sure they're not 'hooked' and check the chain is not at the end of it's adjustment.
Check behind as many panels as possible for signs of repair. They may point to more serious accident damage, the quality of bodywork repair should indicate the quality of any other repairs. There's no substitute for orginal panels.
Check for bent levers, scuffed mirrors/bar ends/indicators for signs of a drop.
Road testing the bike:
Make sure the bike starts and idles easily, the tick-over may have been set high to cover up idling problems or a rattly clutch basket.
Check for smoke on start up, a bike in good condition that has been run regularly should be smoke free, unless it's a 2 stroke of course.
Make sure the brakes do not bind and feel for pulsing through the brake levers, this indicates a warped disk.
Make sure you can select all the gears easily and that you can find neutral when you come to a stop.
Check for a slipping clutch by accelerating hard in top gear from a lowish speed.
Finally, trust your instincts about the car and the seller and do not let your heart rule your head - if you are not happy just walk away!!
Want to see if the XR650R is for you? Is it practical for the road, or will it scare the trousers off you. What is it really like to ride and live with in the real world? You can see the XR650R in action (warts and all) in our comprehensive and fully independent video road test - simply click on the link below: