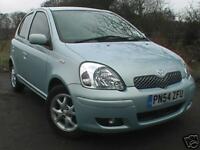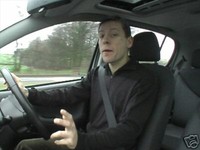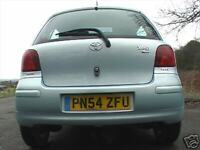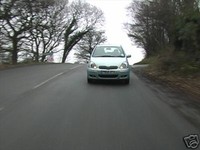 TOYOTA YARIS (1999-2006) (stills taken fron video road test)
MY VERDICT:
For:
Great driving position and view of the road

Good image

Holds its value well

Legendary Toyota reliability

Spacious and clever
Against:
Noisy on the motorway
Not much of a drivers car
Digital dash is not for everyone
The first thing that hit me with when driving the Yaris was the eighties style digital dash (Atari space invaders anybody?) - although this funky addition does set it apart from many other superminis it really is a case of love it or hate it.....i didn't like it, and passengers can't see what speed you are doing either. And whilst i'm moaning, it a bit noisy at motorway speeds as well. But thats as far as my moaning goes because the fact is this a clever and well thought out car.
The interior space belies its small exterior and this translates into class-leading headroom and legroom. The elevated driving position is spot on as well, and this coupled with the excellent visibility and airy feel of the cabin really does make for a relaxing drive. So why is it so clever? well, all the controls are light and precise (making town driving and parking easy), its got a sliding rear seat (so you can choose between boot space and rear legroom), and its got a button that instantly locks all the doors (for when you are driving through dodgy areas).
In summary the Yaris is a well thought and well built car that won't break the bank ( to buy it or run it) - and it holds it value really well in the unlikely event that you will want to sell it.
WHICH ONE TO GO FOR:
If you prefer petrol engines the 1.3 is the best all-rounder as the 1.0 is left wanting when you get out of town. If you like diesels then the 1.4 is sprightly, refined, and returns an average of nearly 70mpg. 5-door models are better as this makes using the ample rear legroom alot easier. The Yaris 'verso' is supposed to be a high roof mini MPV type thing but in reality it doesn't know what it is - unless you have a penchant for top hats then its not worth the compromise in both looks and handling. The sporty 1.5 vvti is the Yaris attempt at a 'hot hatch' but frankly it's more luke warm than hot. If you are wanting something that is proper sporty you are better off looking elsewhere.
RELIABILITY AND COMMON FAULTS:
Toyota are famed for there reliability and for good reason, so there should be few problems with the Yaris. One thing to look out for is the oxygen sensor - check that the engine management system light comes on with the ignition and goes off a few seconds later. If the light does not come on it may be hiding bigger problems. If the light stays on its usually the oxygen sensor at fault which will cost approx £200 to fix.
Known recall issues are rear wheels locking under hard braking (cars built between 01/01/1999 and 31/01/2000). Rear brake pipe concern (cars built between 11/3/2002 and 10/10/2002). Check that these recalls have been carried out on relevant cars.
SAFETY:
Euro NCAP say that the Yaris is a safe and strong small car with a good all-round performance. It scored a better than average 4 stars (out of a possible 5) for occupant safety and a 2 stars (out of a possible 4) for pedestrian safety.
MODEL HISTORY:
Introduced in 1999 as a new model for Toyota and promptly won 'car of the year'. When launched it was offered with the 1.0 vvti and 1.3 vvti hatchbacks (3 and 5 door). The vvti stands for Variable Valve Timing Injection which is claimed to give more power over more of the rev range. The Verso estate was launched in 2000 and the sporty 1.5 vvti was launched in 2001. The 1.4 diesel was launched in 2002. All models were face lifted and rebadge in 2003. Replaced by all new Yaris in 2006
HOW TO AVOID BUYING A LEMON BY USING OUR BUYERGUIDE BELOW.........
An old wise man with a strange hat once told me "time spend on reconnaissance is time seldom wasted" - which when translated into buying a used car means "a little preparation can save you a lot of money and frustration". Seriously, if you are spending thousands of pounds its worth following a few simple points to help you avoid being dissapointed with your purchase......so i hope you find this buyerguide useful.
Before seeing the car:
If it is a private sale make sure you view the car at the sellers premises - this will help determine if the seller is genuine
Always ask the seller to make sure the car is cold when you come to view it - warm engines can hide a multitude of sins
How to check the mechanics:
Before the car is warmed up check for a film of oil in the radiator - the presence of oil would signify internal engine leaks or a blown head gasket
Make sure the oil on the dipstick is smooth and has no bits in it or milky scum - again this could mean internal engine leaks
On starting from cold make sure the engine does not turn over sluggishly - this could mean a worn starter and or starter motor.
Check for oil leaks around the engine and on the ground where the car has been stood - any leaks could indicate expensive gasket replacement
Body and interior:
Worn drivers seat, pedal rubbers, and a shiney steering wheel all indicate a high mileage car - check these appear consistent with the indicated mileage
Evidence of scratches or tampering around the speedometer is a dead giveaway that the car has been 'clocked' and the mileage is not genuine
Check that the tyres have 1.8mm legal tread depth and the exhaust is silent when you cover the end with a cloth whilst the car is running - both can be price negotiating points of replacements are needed
Check that everything works such as switches, heater, a/c, windows, mirrors, stereo, interior and exterior lights - fixing any of these things can be a real pain
On older cars check for rust on the sills and floorpan (prod carefully with a screwdriver) - unless you are friendly with a welder rot can be expensive and messy to fix.
Check all body panels are consistent in colour and fit - if they are not it is likely that the car has been in an accident and has been repaired poorly
Road testing the car:
With the handbrake firmly on try to set off in 1st gear. The car should stall instantly - if it does not it is likely that the clutch needs replacing
After driving for a short while floor the throttle - a could of blue smoke out of the exhaust indicates worn bores or valve guides both of which are expensive to fix
The car should accelerate smoothly accross the rev range - flat spots or hesitation may signify fuel injection and /or computer problems which are notoriously hard to diagnose and fix
The car should pull away smoothly from a standing start - if it judders this may indicate oil contamination of the clutch plate and a new clutch will be needed
take the car to at least 70mph. The car should drive straight and not pull to one side. If there is significant vibration this may indicate any one of a number of hard to diagnose problems. Do not let the seller fob you off with "its just the wheels that need balancing".
When the car is stopped with the engine running turn the steering wheel from full lock to full lock - rough operation or hissing indicates the power steering is faulty
Finally, trust your instincts about the car and the seller and do not let your heart rule your head - if you are not happy just walk away!!
I hope you found this information useful. For a more comprehensive appraisal of the Toyota Yaris you can download our full video road test. Want to see how easy the seats fold down? how much boot space there is? what the interior is like? how much leg room there is? what its really like to drive and live with in the real world?..... then just click on the link below.