Hi There
I am here to help you all who are interested in buying a lace front wig online. There is a surge in the selling of lace front wigs lately as we all want to look like the fabulous celebrities or simply to look more naturally beautiful than we feel at times. Lets be honest most of us wished we looked different had longer hair better complexions, less fat or more and lets not forget bigger or smaller breasts.
There are lots of retailers and manufacturers willing to sell you a "CUSTOM MADE LACE FRONT WIG" But very little guides are online instructing you on how to purchase and what to NOT purchase, what questions to ask and what answers to look out for. Ok from here on in I will be listing all the Do's and Don'ts in buying wigs online and in particular lace front wigs.
DO..
Measure the circumference of your head before you buy ANY wig. This is done simply by using a tape measure or a piece of string and a mirror. Place the tip of it on you forehead whilst looking in the mirror, then wrap the rest of it around your head until it exactly touches the other end. Now see how many inches it reads, this is your CIRCUMFERENCE. see illustration below. (piece of string users simply measure the lenght of the string on a tape measure or ruler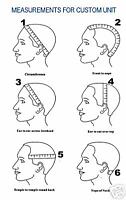 Look around online for other people that have bought lace front wigs and ask their advice before you buy. Many hair forums will have people who are all too happy to shout about the wonderful wigs they bought and how natural they look.
Try to look for a company that is well established with a proven track record in trading quality goods. Has Official seals of approval that secure your money and your rights to a refund or exchange until you are happy, most wont refund due to hygiene reasons but dont let them force you into taking a credit note, if they are willing to take the wig back they should be willing to give you your money too, either way they wont be able to us ethe wig and neither will you.
Ask a lot of questions and send pictures of the colour/style you want if you are having a custom made design.
Make sure you keep all correspondences if you are buying from abroad emails, telephone logs and phone bills etc..Ask for names and keep them for future reference and times you spoke to those people.
Be prepared to spend closer to £700 for a REALLY good LFW ( now the price has dropped so you can expect to pay around £250-300 in some cases)
Know that to get a good product you have to spend money, the stars know this and they spend in the region of £4-5,000 on each unit, you get a bargain if you spend £1000, But Lace Fronts are now getting more into mainstream so you can reasonably expect to pay upto £400. This does not take into account the maintenance and aftercare services.
Check out local retailers at least you can get a good chance of being protected by law when you part with your money, buying over seas is very risky, even though it can be successful and you are 100% happy it is slimmer as people are trying to cash in on the latest craze.
Ask for previous customers that are happy to be contacted ( ask for this when you call to surprise them and see what they say) if they dont be weary dont fall for the " our customers dont like people to know they wear wigs" or " we actually dont know anyone who is happy to do that" most reputable companies make a point of getting permission from their customers especially returnees. before and after pictures are also a must.
Look for pictures that are not too glamourous or staged.
DON'T...
Be lured by pictures of celebrities endorsing the product
FACT: most celebrity pictures that are being used are done so without their managements knowledge and can be prosecuted for doing so if a celebrity endorses a product or gives permission for their pictures to be used you will see official statements and links to their official websites.
Be fooled into thinking you are getting a bargain, lace front wigs are extremely expensive to make even for the average low paid worker in china or india you will not get a quality wig that can be worn daily for less than £400, for theatre you may get one for an average of £300 but we are talking Shakespeare here not Rapunzel.
FACT: Beyonce, Ciara, Kelly Rowland and many other famous faces who wear LFW are wearing wigs that cost ££££'s 0r $$$$'s (thousands) NOT £££'s or $$$'s (hundreds), dont let them kid you into thinking your wig will look like theirs, Looking that good takes alot of money.
Rush to buy the first wig you see thinking its a bargain. Take your time and dont buy one last minute before a big event or social gathering, it may arrive late or when it does it may be not what you asked for or expected.
Assume adhesive is NOT included in your purchase unless stated that is.
To be honest if it sounds too good to be true it probably is.
IF IN DOUBT CHECK IT OUT
Good luck xx