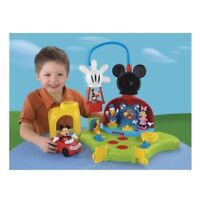 My Son is mad on Mickey Mouse and wanted the playset for his birthday, I did not expect the difficulty I came across in purchasing one, the ones I did find that were UK sellers wanted £65 for the Mickey Mouse Suprise playset. As I have purchased from America before for my older boys power ranger items I was very suprised, amazed in fact that I could get the same item with postage for approximatly £50.
I recommend to anybody looking for hard to find items- look abroad, America seems to be so much cheaper and more to choose from than the Uk sellers. As this certain toy is rare in the UK it seems to be selling for alot more than it should be.
Power Ranger toys are another thing I have had to find after not being able to find the current series toy, again American sellers have come to my rescue and two jungle fury megazords arrived a week before christmas. These toys now selling in UK shops for £45. per toy. I paid £65. for the two items and postage.
Excellent communication and helpful sellers have made my boys Chistmas and birthdays requests possiable, Im sure you will find the same with a bit of digging and looking about.