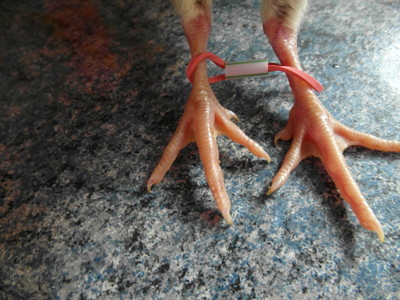 my baby turkey chick hatched with splayed legs and could not walk as this was my first attempt to hatch turkeys I had never had this happen before ,after searching many sites I found this quick fix which only takes a few seconds to do.
first you get a drinking straw and cut a
5 mm length and then find the smallest elastic band you can and thread it through the straw
place the band over the chicks legs as shown in the photo and leave on for 24 hrs the sooner you do this the quicker the legs will straighten up all should be fine, in 24 hrs remove and watch the chick walk for a while if the legs are still splayed replace band for a second 24 hrs all should be well after this. you will have one happy chick . the chick can get around OK with the band on so don't worry. also found that if your chick has bent toes all you need to do is to cut a small sticky plaster (the kind you put on a cut) place half under the toes while holding them straight then bring the rest of the plaster over the top this needs to be left for around 5 days while the chicks rubbery bones get stronger , then all should be well I removed one after 3 days and the young chick 's toes are fine and walking well.