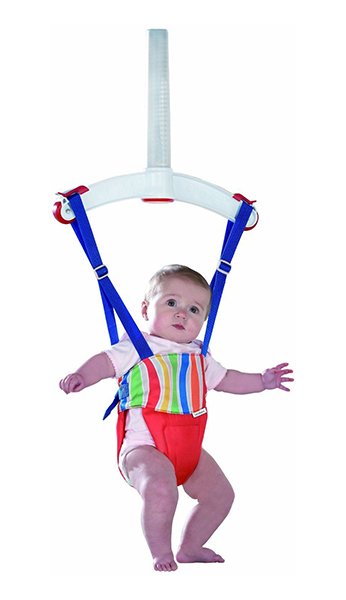 A baby door swing or baby bouncer is a toy or seat that can be hung from the centre of a door. The swing is used to entertain and stimulate the baby while allowing him or her to see and experience the house away from the crib. Usually the swing is very small and lightweight and shaped similarly to a baby swing with a cup and harness that keeps the baby inside.
Some baby door swings also include elastic straps and allow the baby to bounce, sometimes going all the way down to the floor. Bouncers are more entertaining and stimulating, while swings can be more relaxing or better for entertaining very young children without allowing them too much activity. Buyers who are purchasing a baby door swing should consider the weight of the baby, the baby's activity level, the swing's benefits, and if there are any suitable doors for such swing in the home.
Baby Door Swing Benefits
A baby door swing is beneficial to a baby for many reasons. Most parents find that a door swing allows babies to develop muscles in their legs by bouncing. This allows babies to strengthen their legs without the risk of falling that they might have when trying to walk. Most babies use baby door swings to jump, allowing them to safely experiment with movement.
Another benefit of the baby door swing is that it is light, portable, and easy to move from room to room. Parents can simply un-clasp the door swing and move it to the nursery, kitchen or the living room, depending on where they want to stay. Taking the swing to a friend's house, to a baby shower, or even to let the baby meet friends and family are also possible. Best of all, the baby can also sleep in the swing, so it can be considered as a good alternative to a living room cradle or crib.
Baby Door Swing vs. Baby Bouncer
A baby swing hangs from a doorway and allows the baby to move about and play within the area. A baby bouncer is usually more of a crib-like structure with either mechanical or spring bouncing options. Each of these items has its unique advantages and disadvantages, and most experts cannot decide between purchasing one or both. The swing can be slightly more versatile, especially if it includes bouncing options or other features such as the ability to add a small table or to remove the frame for a larger child. Considerations include that the bouncer is likely to be lighter and more portable, while the baby door swing is more interesting for the baby.
How a Baby Door Swing Works
A baby door swing features a closing spring clasp shaped in the form of a rectangle. The buyer should pull the spring apart and clasp it over the door where, if the door is sturdy enough, the mechanism keeps the swing and a certain amount of weight up. It is important to check the weight limit for each swing as this is usually dependent upon the strength of the spring clasp. If the weight is too heavy, the swing can slide down the door or release its hold, thus causing the swing and any child inside to fall.
The straps usually clip or clasp onto the door swing harness and can generally be adjusted to allow the baby to reach the floor or not. Other common adjustments include changing how far the baby can jump and even control the speed that the baby can move at. These are each very important for safety as some babies are more active than others.
Baby Door Swing Special Features and Options
Depending on the baby door swing, there might be a variety of different features. A basic baby door swing includes nothing more than a hook with straps that descend down to about halfway down the door. The baby can be inserted into the pouch or frame designed for holding him or her. Some baby door swings have advanced options that can include a removable tray to place food or toys, or adjustable straps.
Musical swings or swings that make noise can sometimes be purchased as well. Some swings come with multiple tracks that play through to entertain the baby or make him or her sleepy. Music and audio tracks are not available on all swings, so buyers should check before making a purchase.
Baby Door Swing Weight Limit
Any baby swing has a weight limit, especially if it has a spring closure to go over the door. Buyers should check the limit on the individual swing and then weigh the baby. Most baby door swings can support anywhere from 6.8 to 11.3 kilogrammes, so it is important to check. A swing that supports more weight can be used for longer, making it more versatile for longer periods of time. Buyers should consider how long they want to use the swing, as well as how long the baby might be interested in the swing. Choosing a larger capacity baby swing is likely to also increase the safety and reduce the risk of falling should the baby outgrow the swing.
Baby Door Swing Budget
Any baby door swing is a limited use item because it cannot be used once the baby becomes too heavy for it. However, some buyers may purchase the swing with the intention of using it again in the future, and others might want to resell it to other parents. Buyers should consider that very cheap items are likely be less safe and more likely to rip or tear during the three to nine months of use, but it can also be difficult to pay more money for an item that will not be used for a long period of time. Most buyers should balance budget vs. quality and choose a reasonably well built and durable item at a price they can afford.
Baby Door Swing Safety Considerations
Finally, every buyer should consider the safety of the baby door swing before making the purchase. If there are no sturdy door frames in a home then the baby door swing will not be safe for the baby. Buyers should check the frames and, if they are loose or might need reinforcement, do so before purchasing the frame. A loose piece of wood or loose screws can be dangerous for the baby, not only because the baby might fall from the swing, but because the door frame could fall on the baby. Buyers who live in solid or new homes should not have to worry about this problem.
Buyers who plan to purchase a frame to hang the swing on should look for very solid and sturdy frames with a wide base of gravity. This allows the baby to bounce and move without upsetting the balance of the swing. Buyers should check the options on the swing as well to ensure that there is a full harness that can keep the baby in the swing.
Last but not least, buyers who are purchasing second hand items should check for wear and tear including worn straps, ripped areas, and sharp metal that could contribute to the door swing being unsafe. While most swings should be in good condition, it is important to check to ensure that they do not have issues that could endanger the baby or weaken the swing.
Buying a Baby Door Swing on eBay
eBay is a great place to purchase a baby door swing because the store offers access to hundreds of styles, patterns, and colours. You can also choose to purchase a baby door swing in new or used condition according to your budget and preference. Options include a variety of styles, adjustable options, and specific features such as musical bouncers.
Buying on eBay is relatively simple so long as you read the description, take the time to contact the seller with any questions, and ensure that the swing will be delivered to you on time. Purchasing from local eBay sellers who can ship faster or allow you to pick up the item might also be a good idea if you need the swing for a specific event such as a baby shower. Finally, look at pictures and make sure you know what you are getting before you make the purchase. Mammas & Pappas have a great range of baby door swings to offer on eBay.
Conclusion
A baby door swing is excellent for allowing babies to exercise and develop their leg muscles, but it can be difficult to purchase one without proper research. Important considerations include how much weight the swing is intended to hold and any straps or safety features present on the device. Buyers looking for second hand or used swings should check for any wear and tear that could take away from the sturdiness of the swing as well.
Buyers can look on eBay,, in children's furniture stores, and a variety of similar infant and baby supply stores to find and purchase baby swings. Swings are priced differently, depending on quality, on brand, and also on features, which range from a music box to the ability to place a tray for food or toys on the swing. Setting a budget, knowing the weight of the baby, and checking to ensure that door frames are sturdy are each important steps to take before making a purchase.