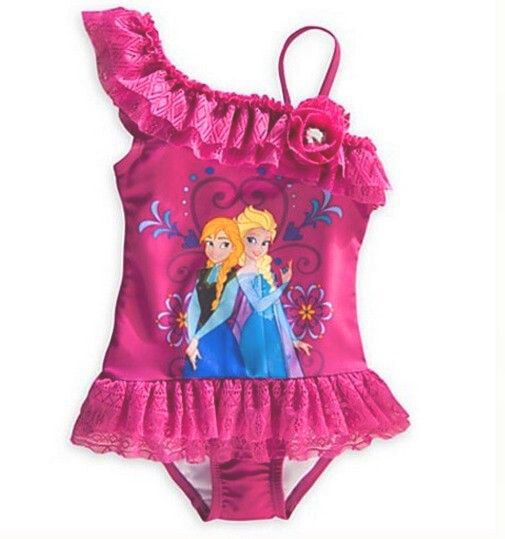 Watching a baby grow is an exciting time for parents. It is fun to take a baby to the beach and pool to create new memories playing in the water. Before taking a trip to the pool or beach, appropriate swimwear is necessary to keep any baby girl safe and comfortable. The most important factor when purchasing swimwear for a baby girl is safety and shielding her from UV rays. While umbrellas and sunscreen are also important for any outdoor activity with babies, a baby girl still requires swimwear for any water activity. Babies have much thinner skin than adults, so their skin burns much more quickly. Burns are also more serious for babies, so they require more protection than adults. It is a known fact that sunburns at an early age greatly increase the risk for skin cancer. Whether or not the baby girl cares, many parents also like to keep their baby well-dressed and stylish. There are many options when it comes to baby girls' swimwear.
There are so many fashionable choices in swimwear for baby girls that include ruffles, bows, and feminine prints. Baby girls' swimwear and accessories are available at different venues including department stores, swimwear outlets, and online at eBay. To ease confusion, consumers should research the different types of baby girls' swimwear and accessories, and learn about UV protection and UPF ratings.
Types of Swimwear
There are a variety of types of swimwear meant for baby girls. Outdoor water activities require specific types of clothing for baby girls that offers higher sun protection. The main categories of swimwear for baby girls include: swimsuits, rash guards, and swimsuit coverups.
Swimsuits
Baby swimsuits are available in different styles including: one-piece, two-piece, or tankini. One-piece swimsuits typically have more coverage than two-piece suits. One-piece suits are also good for baby girls because they stay in place and do not require adjustment often. Two-piece swimsuits are easier for diaper changes. Tankinis are good alternatives since they offer more coverage than a typical two-piece suit, but provide the ease of a two-piece suit for diaper changes. The swimsuits are available in all colours and combinations of colours and patterns. Character-themed swimsuits are also popular for baby girls. There are also some swimsuits for babies that come with flotation devices that enhance the safety of a baby.
Rash Guards
A rash guard is a short- or long-sleeved shirt that is made of swimsuit material. The rash guard generally covers from the neck to the waist. The rash guard may go over a bathing suit or is worn in place of a bathing suit top for additional coverage. The top provides UV protection and also protects babies' sensitive skin from sand, shells, and rocks.
Swimsuit Coverups
Swimsuit coverups are meant for wear over a baby's swimsuit out of the water to provide more coverage. Coverups are typically made from terry cloth or cotton and provide additional UV protection from the sun for baby girls. Coverups, like towels, are good to put on babies after they have been in the water to keep them warm. Coverups come in a variety of different colours and patterns. They are also available with and without hoods.
Levels of UV Protection
UPF stands for ultraviolet protection factor and is used to describe the level of sun protection in clothing. UPF is different than SPF, which is found in sunscreen, and UPF clothing is not a replacement for sunscreen protection. A special dye is used in the manufacturing process that provides clothing with more UV protection. Generally, the darker the clothing, the higher amount of UV protection the material provides. Babies' skin is much more delicate and susceptible to sunburn. Therefore, baby girls require swimwear with additional UV protection. Almost all baby girls' swimwear has a UPF rating, and it is important for parents and consumers to refer to the rating scale and protection before purchasing swimwear.
UPF Ratings and Protection
The following chart illustrates how the UPF rating on swimwear corresponds to the degree of protection and per cent of UV rays that are blocked. Almost all baby girls' swimwear has a UPF rating, and it is important for parents and consumers to refer to the rating scale and protection before purchasing swimwear.
| | | |
| --- | --- | --- |
| UPF Rating | Degree of Protection | UV Blocked (per cent) |
| 15-24 | Good | 93.3-95.9 |
| 25-39 | Very good | 96.0-97.4 |
| 40-49 | Excellent | 97.5 or more |
| 50+ | Ultimate | greater than 97.5 |
Look at the UPF rating and protection of any swimwear item for a baby girl before making a purchase. The higher the rating, the better the degree of protection. It is best to choose swimwear with a rating of 40 and higher for the best protection for a baby girl.
Types of Swimwear Accessories
There are various swimwear accessories that are also essential for protecting a baby girl from the sun. These accessories, while very practical, are also stylish for a little baby girl. The most popular swimwear accessories for baby girls include hats, sunglasses, and swim nappies.
Hats
Hats, especially hats with wide brims, provide much needed coverage for a baby girl's head and neck. Babies typically do not have a lot of hair and need hats to protect the skin on the top of their heads from sun exposure. Some hats come with little straps that fasten under a baby's chin to help keep the hat in place on the baby's head. Baby girls' hats are available in a multitude of colours and styles.
Sunglasses
A baby's little eyes require protection from the sun's UV rays. This is important when any baby girl is outside, but especially when near water. UV rays reflect off of the water, which requires more eye protection. Baby girls' sunglasses come in all different colours and shapes. There are some baby girls' sunglasses that are heart- or flower-shaped.
Swim Nappies
Swim nappies are necessary for baby girls to help keep pools and water bodies safe and clean. There are two main types of swim nappies: disposable and reusable. Disposable nappies are designed like pull-ups and have stretch sides that pull onto a baby girl. As the name implies, these nappies are only used once, and then thrown into the trash. Disposable nappies are more sanitary since they are thrown away after use. Reusable nappies are made of cloth and are also worn under a swimsuit. Reusable nappies are washed after use and are more economical.
How to Buy Baby Girls' Swimwear on eBay
Now that you have decided upon the type of baby girls' swimwear that you want, it is time to start shopping. eBay offers consumers numerous options when it comes to purchasing baby girls' swimwear. Start by conducting a keyword search using the search box on any eBay page. Enter keywords describing the baby girls' swimwear for which you are looking. You may choose to use as broad or specific keywords as the search for your baby girls' swimwear requires. To get the greatest number of results, use broad keywords and input "baby girls' swimwear" into the search box on any eBay page. Next, select options that describe your ideal swimwear to reduce the number of results. Browse through the results before deciding which baby girls' swimwear to purchase. If you already know the type or brand of baby girls' swimwear that you want, use specific keywords in the search. For example, type in "one-piece Disney baby girls' swimwear", if that is what you are looking to purchase.
Consider purchasing your baby girls' swimwear from one of eBay's Top-Rated Sellers. Read the descriptions of the swimwear, and look at all of the pictures provided by the sellers. Choose a seller with favourable shipping and return policies.
Conclusion
It is fun and exciting to take a new baby girl to the beach or pool. Before a baby girl can participate in water activities, she needs proper swimwear and accessories. The most important aspect in dressing a baby for the water is safety. Baby girls' skin is very vulnerable to the UV rays of the sun and requires more protection than adults. Baby girls' swimwear offers additional UV protection and is available in many colours and patterns. Swimwear also provides practical comfort for the baby and protects the baby's skin from other irritants, such as rocks or sand. The main types of swimwear include: swimsuits, rash guards, and coverups. Each type is essential to providing a baby with maximum coverage from the sun. Although most baby girls' swimwear comes with additional UV protection, it is not a replacement for sunscreen. Keep baby girls in the shade as much as possible while outdoors. There are also a variety of swimwear accessories that offer additional protection to a baby's head and eyes. It is important that baby girls wear sunglasses, hats, and swim nappies when at the pool or the beach.
Baby girls' swimwear is practical and comes in a variety of styles to keep them looking fashionable and well-dressed. eBay offers a wide selection of baby girls' swimwear, no matter which type or style you are looking to purchase.