Your baby is close to your heart. Your baby is part of yourself , the twinkle in your eyes. From the time the baby was born all your thoughts are on the safety, security and well being your your child. You do everything you can for the welfare of the tiny tot. You decorate the room in bright and attractive colours, buy new cot, bedding and furniture, layout cuddly toys around, give the room a through clean and let the windows open for some fresh air.
And when the baby arrives home you dont want to take your eyes of this little one. Every moment , every jerk of hand attracts your immediate attention. Soon you get weary and want to rest when the baby is also sleeping in its own room. Soon you are unable to cope because there are lots of things in the house that are crying for attention and care. Your partner needs to go to work, your other children have get on with their life and even the pet dog is craving for your attention. If you think you are going to have a nervous breakdown it time to bring in some help - the gentle kind that keep track of your child behind the scene, discrete and quiet. You get on with life doing all the things you want to do and giving all things around the house the attention they are craving while at the same time be able monitor the child. Welcome the BABY MONITOR to your home.
Baby Monitors can be used at homes, hospitals, nursing homes , schools and offices in variety of applications where one needs Safety and Security KEEPING BOTH EYS OPEN ALL HOURS. But remember to use them only in Legal ways.
This article will give you information on the various types of baby monitors that are available in the market place , their features and uses , what they do and approximate price you would be expected to pay for these devices. Digital Camera technology has taken the Baby monitor to new heights and at the same time reducing the cost of a system.
Type of Baby monitors available
Audio
Audio + Video
Video 3G
Audio Types
BT Baby Monitor Plus : About £56/- This unit comes in a set of 2 units. Parent Unit and Baby unit. It comes with Digital sound clarity and security , Intercom (Parent can talk to Baby - assumes baby understands what parent says!), Temperature monitor and alarm on both units , Night Light on child unit, range to 300 mtrs, plays lullabies 5 tunes. The basis version BT baby monitor (not with plus) does not have Temperature monitor or alarm) and costs 14 £ less. Baby unit is powered by a power adaptor and Parent unit is powered by 2 AA rechargeable batteries.
Doro BM35 - About 50£ This is more versatile in its capabilities and uses something called PMR technology offering continuous or automatic monitoring - offers a range of 3Km ! with over 300 channels to prevent interruptions or hearing other baby monitors. Again this has a parent and baby unit . Parent unit has built in Torch. You can select how you monitor including automatic, periodic , continuous or on Noise/voice activation etc. Powered by NI-Mh batteries.
Tommy Walk about about £40 . They resemble a Walkie Talkie with range of up to 300 mtrs 2 portable units that can be cordless remote controlled nightlight, sound sensitive light display, out of range and low battery warning. The same brand comes with an Advance version that has additional features such as LED graph for noise levels, low battery and room temperature displays, a night light with remote control audio mute and rechargeable portable parent unit. The advance version costs about 64£. Good looks is a positive advantage
Philips Family baby monitor . Now two parents can now monitor the baby moving around the house. This configuration has 1 child and 2 parent units for monitoring 16 channels and 200 mtrs About 70£
Radio Frequency based Monitors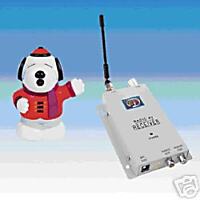 The cute Snoopy is the Remote camera that you keep at a safe distance to the baby and the RF Audio Video terminal you connect to the Television or Monitor. The monitor is runs on a DC 12 V power source through a power adaptor.
Typical technical specificaiton are as following
Transmission/Receiving Frequency 1000-1250MHZ
Transmission Power TX0050 10mW
Valid distance 30-50m
Horizontal Definition 320Line
Frequency System:PAL/NTSC
Power Adapter RC100A DC12V/500mA
BT500A:DC8V/200mA
These type of monitors are very affordable. Typically less than 50 quids. Put this in context of spending 100s of £ you shell out for a 2.4 Gz.Wireless Baby Monitors below. For some type of applications by security and survilance operations one does not need the sophistication. Using a TV monitor saves cost for the display unit.
Wireless Baby Monitors
The leaders in the Sound / Voice field seems have lagged behind in the developments for Wireless based Video monitors with additional voice facility. The recent development take the cue from advances in field of Digital Camera, Wireless, Digital compression, recording and storage such as MP3, MP4. The latest is based on wireless at 2.4 GHz. frequency. Similar to the technology used for Wireless Home Networking.
There are two types I have observed. The first one is more economic option. One of more cameras connect to a Receiving station that gets connected to the TV or other monitor. Typically you can have the camera in the children's bedroom and the receiver unit connected to the Television in the reception.

Typical specifications are:
SPECIFICATION:
RECEIVER:
Receiving Frequency: 2.4Gfrequency lock,four channel with remote control
Receiving Sensitivity:-85db
Open Distance: 50-100m
Power adapter:DC12V/500MA
Size(mm):120*100*28
CAMERA:
Image Device: 1/3" CMOS
Validity Pixel: PAL:628(H)*582(V)
NTSC:510(H)*492(V)
Horizontal Definition: 320 line
Minimum Illumination: 0 lux
Infrared light number:30PCS
Infrared distance: 18-20m
Open Distance: 50-100m
Power adpater: DC12V/500MA
Size(mm):56*60*45

The other type is One of more Wireless cameras that transmit and received by a portable receiver with its own 2.5" screen and speakers. The portable receiver is powered by Li-ion rechargeable batteries. The receiver has its own stand so you can lay it on the Kitchen table and continue to do your jobs while keeping a tab on the screen. Impressive!
Typical Specifications are :
SPECIFICATION:
RECEIVER:
Receiving Frequency:2.4Gfrequency lock, four channel,2.5'' LCD screen
Receiving Sensitivity:-85db
Open Distance: 50-100m
Power adapter:DC12V/1500MA
Size(mm):123*70*23
CAMERA:
Image Device: 1/3" CMOS
Validity Pixel: PAL:628(H)*582(V) NTSC:510(H)*492(V)
Horizontal Definition: 320 line
Minimum Illumination: 0 lux
Infrared light number:30PCS
Infrared distance: 18-20m
Open Distance: 50-100m
Power adpater: DC12V/500MA
Size(mm):56*60*45
SNAGS
Usual distance of coverage between the Camera and the receiver unit is between 75 Meters and 100 Meters.This is based on a clear line of sight between the Camera and receiver. Signals could deteriorate by upto 40% per blockage depending on the type of blockage. Concrete filters most , while wood and plaster boards filter the least. More common problem is one of Signal interference from Wireless Home Networks that broadcast on the same frequency. Any signal intereference problems can be sorted out by using a camera of different frequency or using a Frequency configurable camera with typical 500 Meter reach . WOW!
Freqency configurable Camera
Seems to me the ultimate in monitoring . With 4 channels you can have 3 additional cameras in addition to the frequency configurable camera. Loads of features and works like a song. This is really your 3rd Eye.

Price depends upon who is selling it. Established shops will sell it upwards of £250, with price getting less than £150 for the same features in Ebay
Sukumar Sivaraman
Let your Joy and Pleasure be my BLISS!