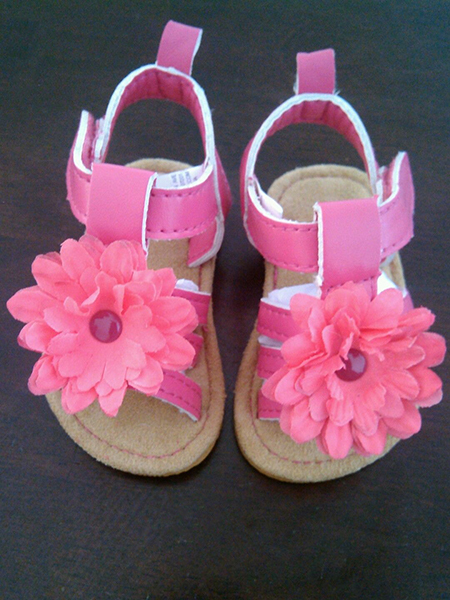 Comfortable footwear is essential for all ages because it helps people to maintain good health and feel great in all situations. Babies' feet grow rapidly, especially in the first three years, and proper footwear is thus important in order to promote healthy feet and avoid future health problems. The growing joints and bones are very fragile and require supportive, quality footwear. During the warmer months of the year, babies can wear sandals, which are both lightweight and practical. Straps on the sandals secure them to the baby's feet, so the baby does not lose them while playing.
Baby sandals are available in many different places, from high street shoe shops and supermarkets to online auction sites such as eBay. When buying baby sandals, there are a few things to consider in order to make an informed decision and get the best for the baby. The available features, as well as correct sizes, should be considered before making the final sandal choice for the baby.
Features of Baby Sandals
When buying sandals for babies, the parents can choose from an array of materials and fastenings. The choice depends on individual needs, and it is important to find comfortable sandals that are easy to put on and take off. The styles are different for girls and boys, and many colours are also available.
Materials for Baby Sandals
Babies' feet benefit most from lightweight material that breathes well and reduces sweat. Natural materials such as leather and cloth are generally the best options, while synthetic materials should be avoided. If leather sandals are preferred, the leather should be soft, because leather that is too stiff may restrain proper foot development. The soles of the sandals should not be too smooth, and should be flexible rather than stiff. Rubber is a good material for the sole of the baby sandals. If the rubber sole has ridges, it also provides good traction and prevents skidding, thus helping the baby to stay upright when making the first steps.
Fastenings for Baby Sandals
The fastenings on baby sandals largely determine how convenient the sandals are to use, and this is really important when it comes to babies. Velcro straps can be closed easily by simply pressing the two sides together, and can be opened with a simple pull. They are easy to manage and provide flexibility, because the length of the fastening can be adjusted. Velcro straps are common on baby sandals. Depending on the style, the sandals may have one or more Velcro straps. Babies may also learn to unfasten the Velcro straps by themselves. This can be both a good and bad thing, as they are then capable of putting on their own shoes, but also know how to take them off, even in situations when they should stay on.
Buckles are slightly more difficult to handle, but they usually also offer room for adjustment. Baby sandals with buckles take more time to put on, but they stay on and fit securely. Some baby sandals, particularly sandals for baby girls, have zip fasteners. And some baby sandals can be slipped on and off without having to use fasteners.
Squeaky Baby Sandals
One notable feature of some baby sandals is their squeakiness . Many baby sandals can make high-pitched sounds when the child walks in them. This make the sandals fun to wear. Moreover, squeaky baby sandals are also functional in a way. Babies who are learning to walk can be encouraged by the interesting sound to take more and more steps. Squeaky sandals also ensure that the baby places the foot properly on the surface, from heel to toe. In public places, the sound of the squeaky sandals can help a caregiver to keep track of the child's whereabouts.
Closed and Open Baby Sandals
When it comes to the toe part of the sandals, the baby sandals may be either closed or open. Different sandals are suitable to be worn on different occasions and in different places. Toes should be closed when the weather is colder, and socks should be worn inside the sandals as well. Open-toe sandals are best for summer or in hot countries.
Styles for Baby Sandals
Besides being practical and comfortable, children's footwear should also be fun. Many baby sandals come with cheerful designs featuring well-known cartoon characters. Colourful sandals are another favourite option for babies.
In the earlier months, babies do not require extra support for their little feet because they do not even touch the ground. Therefore, parents can opt for fun designs that are more for appearances than for practical reasons. For instance, barefoot sandals that leave most of the sole bare can be suitable when the baby spends most of the time in a pushchair. Crocheted and knitted baby sandals are also available, so parents can experiment with different styles.
Choosing Baby Sandals That Promote Good Foot Health
If the types, materials, and available features are considered when choosing the best baby sandals for individual needs, it is already a big step towards promoting good foot health. However, there are some further considerations that should also be taken into account. The correct size is probably the most important factor, especially in the case of closed sandals. Before babies start to walk, they wiggle their toes. As a result, extra toe room is essential. Good absorbency and ventilation are other important considerations to bear in mind, because sweat can induce blisters and cause discomfort for the baby.
Choosing the Right Size for Baby Sandals
Children's feet grow very fast, so parents should choose baby sandals that allow some growing room, but still offer a good fit and comfort for the child. First, the baby's feet should be measured in order to find out the size. If possible, the baby should stand during the measurement process, with the feet flat on the floor and the toes uncurled. Both feet are then measured from the heel to the tip of the big toe. Feet can often be different sizes, and if this is the case, the larger measurement should be used when determining the shoe size. The following chart provides the sandal sizes for different countries, as sandals are produced in many places.
| | | | |
| --- | --- | --- | --- |
| Foot Length (cm) | UK Size | US Size | European Size |
| | 0 | 1 | 16 |
| 10 | 1 | 2 | 17 |
| 11 | 2 | 3 | 18 |
| 11.6 | 3 | 4 | 19 |
| 12.3 | 4 | 5 | 20 |
| 13 | 4.5 | 5.5 | 21 |
| 13.7 | 5 | 6 | 22 |
| 14.4 | 6 | 7 | 23 |
| 15 | 7 | 8 | 24 |
| 15.6 | 8 | 9 | 25 |
| 16.3 | 8.5 | 9.5 | 26 |
| 17 | 9 | 10 | 27 |
| 17.7 | 10 | 11 | 28 |
| 18.4 | 11 | 12 | 29 |
| 19 | 12 | 13 | 30 |
| 19.7 | 12.5 | 13.5 | 31 |
| 20.4 | 13 | 1 | 32 |
The sizes are approximate and may vary by manufacturer. It is also important to note that UK and US sizes use similar numbers, but do not represent the same size. For example, UK size 5 is not US size 5, but US size 6 instead. In order to ensure the best fit, this should be considered. Also, some sandals may be sized by the age of the baby. For example, the sandals could be labelled as being for a baby who is three months old. However, as each child is different and feet can grow at different speeds, choosing the size by the age should be done with care.
Buying Baby Sandals on eBay
Buying baby sandals on eBay is convenient, because you can do it from the comfort of your own home. When staying home with the baby, this option is desirable, as it allows you to spend more time with the child. You can start your search for the perfect sandals by typing the keywords " baby sandals" into the search box that you can spot on top of any eBay page. After you receive the initial search results, you can click on related searches in order to get more specific results. If you already have a clear idea of what kind of baby sandals you are looking for, you can add the specifications into the search terms.
Once you have found suitable baby sandals, check that the size is correct. If you have any questions, you can contact the seller. You can request further information about payment methods, packaging, postage, refunds, exchanges, condition, and delivery. In order to ensure the best service, try to find top-rated sellers who have received positive feedback and high ratings. Mammas & Pappas have a great range of baby sandals to offer on eBay.
Conclusion
Proper footwear is essential for babies, whose bones and joints are still developing and require support. Baby sandals are lightweight as well as practical and can be worn during warmer months. When choosing baby sandals, a few things should be considered. Natural materials, such as leather and cloth, are breathable and best for delicate baby skin. The fastenings on the baby sandals vary from Velcro straps to buckles, while some models can be simply slipped on. Parents can also choose squeaky sandals that are both fun and functional because they encourage the baby to walk and let the parent know about the baby's location in a public place.
Determining the foot size to ensure a perfect fit is probably the most important thing to do when shopping for baby sandals. In order to find out the shoe size for a baby, both feet should be measured from the heel to the toe. Then, the bigger measurement is used to determine the size. The sandals should always have some growing room because children grow rapidly.