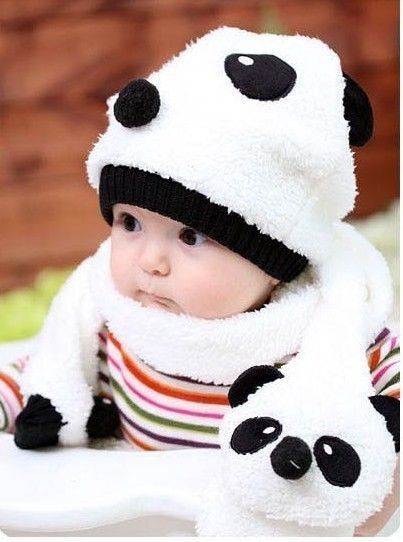 There are many reasons why a person may want to purchase a baby scarf . Most who live in cold areas want something to protect a baby's neck and shoulders, and scarves are perfect for this purpose. It is extremely important to keep a baby warm when going outdoors in the cold. Babies lose heat faster than adults, so more protection from the cold is needed, particularly during the autumn and winter months. Since most people like to visit loved ones during the holiday season, they want their babies to be protected from the cold. Many baby scarves also come in sets with gloves and mittens.
Baby scarves can be purchased at department stores, baby clothing shops, and on the online auction site, eBay. Most scarves that are meant for babies are made from a material that is safe for babies. There are some things that a parent needs to watch out for when they are purchasing a scarf for their little one. Parents should look out for the material from which it is made and how it is made because certain materials are better for babies than others. The length of the scarf and its decorations should be examined, and finally, parents should learn about other uses for baby scarves.
Materials for Baby Scarves
Just like blankets, there are materials that are good for babies and materials that may be harmful to babies. A caregiver has to think about the dangers of certain materials to which a baby may be exposed. Many people do not realise that a scarf can be dangerous in more ways than one.
Cotton and Cotton Blends
Most scarves are made from cotton or a cotton blend. These scarves have a tight weave that both keeps babies warm and safe. Cotton is the best material for a baby scarf, because with these scarves, there is almost no risk of having a baby accidentally hurt by the scarf.
Knits
A knit scarf is a great way to keep a baby warm, and often comes with accessories, such as hats and gloves. Many people give knit scarves and scarf sets as gifts to new mothers. Handmade scarves are thoughtful gifts that are extremely popular. Unfortunately, the knit has to be examined to make sure it is tight. Scarves that may be appropriate for an older child or an adult do not typically make good scarves for babies. A loose knit scarf, or the popular circular scarf, is not a good idea for small babies. Babies use their hands to explore their environment, and they may get their tiny fingers caught up in the holes of a loose knit. Since the bones in a baby's fingers are small and not fully formed, they are extremely easy to break. If a baby's fingers fit through the knitted holes, then the scarf may not be a wise choice.
It is for this same reason that loose-knitted baby blankets are dangerous. It is important to check the weave or knit of a baby scarf for places where a baby's fingers may get caught. If a baby is wearing a loose-knit scarf, then a caregiver should be extremely careful when removing the scarf to make sure a baby's fingers or toes are not caught in it.
Linen Scarves
A linen scarf may be perfect for a warmer weather scarf. Many people use them to keep a baby's neck warm when it is just a bit cool outside. A linen scarf is safe for a baby's fingers but may be too light for a cold winter day. Linen breathes well and can allow wind or cold to reach a baby's neck and shoulders.
Other Brands and Materials
It is always important to remember that babies put almost anything in their mouths. The scarf that a baby wears does need to be made from something that a baby can put in their mouths, which rules out most cashmere and exotic materials. It is important to make sure that the material is safe for babies. Just because it is meant for a baby does not mean that it is completely safe for a baby.
There are some scarves that are extremely expensive. With these scarves, it is important to remember that a baby grows quickly, and they may outgrow a scarf rapidly, which makes purchasing an expensive scarf less useful. The cost of a scarf should be weighed by the amount of use that a baby gets out of it. Most baby scarves are useful for only a short period of time due to their length.
Some baby scarves are made from other materials, such as wool or alpaca. These scarves, although safe, can be too warm or uncomfortable. Make sure that the material is not itchy and does not chafe a baby. If it does, a baby may become fussier than normal.
Length and Decoration of a Baby's Scarf
There are many elements regarding the length and decoration of a baby's scarf that can be both good and bad. Each of these things need to be considered before purchasing or putting a scarf on a baby. Many people may feel bad when they realise that a scarf that was given as a gift is inappropriate for their baby.
Length
Many scarves are too long for an infant or toddler. They can become tangled, and therefore, are dangerous. Scarves, although they may not appear dangerous, represent a dangerous strangulation hazard if they are of an improper size. For an infant or a toddler, a scarf should be just long enough to wrap around the back of a child's neck, and then be tucked into a jacket or a jumper. They should never be wrapped around a child's neck and tucked in at the back. Finding a proper fit is extremely important for both appearance and safety. The proper length depends on a baby or toddler's size.
Decorations on Baby Scarves
Decorations can be a bright and colourful way to accent a scarf for an adult. Unfortunately, when babies are dressed in scarves decorated with tassels, balls, or other dangling items, they can become dangerous. Many babies put just about everything in their mouths. A tassel or ball that is hooked to a scarf can become a dangerous choking hazard. The same goes for badges and other decorations that do not come with a scarf. Badges can come loose and poke a child, and ring slides can tighten unexpectedly and pose a strangulation hazard.
Other Uses for Baby Scarves
There are other types of scarves that are also referred to as baby scarves. These are long and wide scarves that are meant to be used to wrap a baby in a sling, rather than to be worn. These full-sized scarves double for an adult scarf and a sling for an infant. Many people use wide scarves to create a cosy pouch which an infant can cuddle into while freeing a caregiver's hands. This style of scarf must be used carefully and properly to prevent falls and other hazards.
A parent uses the scarf to wrap the infant up, and simply ties both ends of the scarf across their chest. This allows a baby to be close to a caregiver and frees the hands of the caregiver for other things. Many parents use these, and they are specially-designed scarves for this purpose. These are generally wider across than an ordinary scarf but can pass for a plain scarf if worn like one.
Buying a Baby Scarf on eBay
A great place to purchase a scarf for a baby is on the auction website eBay. Both types of scarves can be purchased here. A person just needs to input the search terms "baby scarf" into the search box, and click on the search button. This populates a list of eBay listings that match your search terms. Each of these listings can be clicked on to bring up a more detailed description of the scarf being offered.
When you click on an individual listing, take the time to read over the description of the item. If after reading the description you still have questions, there is a way to ask the seller a question from this part of the listing. Most sellers are more than happy to answer any questions that you may have.
Also on this page is the ability to access a seller's shipping and return policies. Each seller differs on these policies so they are good to know if the item received is different from the item ordered. There is also seller feedback on this portion of the listing. Seller feedback is a good way to find out what to expect from an individual seller.
Conclusion
There are many things to consider when purchasing a scarf for a baby. The first should be the safety and security of an infant. Since scarves are not often thought of as dangerous, it is a good idea to take a look at from what a scarf is made and assess any dangers that may arise. Most people who make scarves are not thinking of an infant's delicate fingers or toes and the choking hazard it may present. A dedicated parent needs to be aware of these dangers as well as the dangers of the different lengths of scarf.
Many people use scarves as slings, as well as an adult accessory. Baby scarves are a wonderful way to keep a child close, while freeing up their hands for other things. An infant receives the comfort of being close to a caregiver, and a caregiver can hold other things while still comforting an infant. The scarves used for this are wider, and generally sturdier than the average scarf.