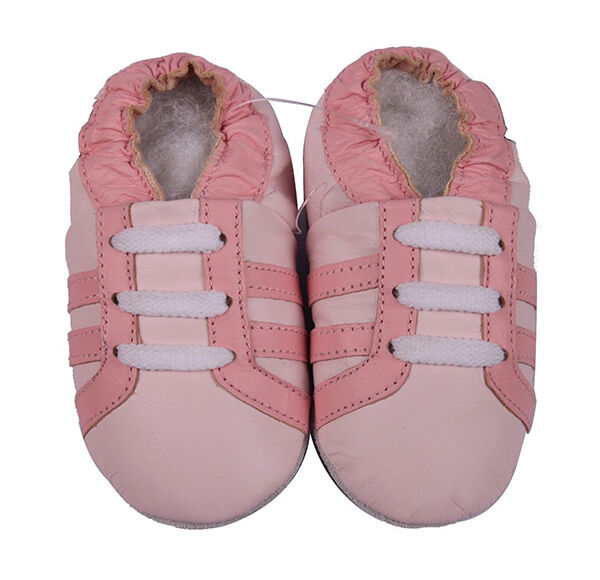 It is not until after they start walking that babies need their first pair of shoes. When learning to walk barefoot, babies learn to control their balance and stability by feeling the ground underneath their feet. Socks or booties may be worn for warmth, but going barefoot is just fine as well. However, 'baby shoes' for babies that are not walking yet are often purchased for special occasions. These shoes are usually light, flexible, slipper-like shoes. About six weeks after toddlers learn to walk, they typically require their first pair of shoes. A baby's first pair of shoes should have a flexible, non-slip rubber sole and a supportive top. These types of 'first shoes' allow the baby's muscles to develop and strengthen on their own, without having to be entirely dependent on outside support.
Baby shoes are purchased in brick and mortar stores, or online using eBay. With the large selection of baby shoes on eBay, it is easy to find shoes that are supportive, affordable, and adorable. Before purchasing baby shoes, it is important to determine the baby's shoe size, decide on the type of shoes, and understand the most important considerations for proper fitting and supportive baby shoes. Mammas & Pappas offer a great range of baby shoes on eBay.
Determine Baby's Shoe Size
Baby shoe sizes are usually determined based on the baby's age. It is extremely important to fully understand the many different shoe sizes based on the baby's age, as well as the length of the shoe. The baby shoe should always be 12-16 mm longer than the baby's big toe, and the shoes should fit snugly, but not too tight to avoid cutting off blood circulation. In addition, baby shoes should be checked every month and replaced every six to eight weeks to ensure the baby has not grown out of them.
| | | |
| --- | --- | --- |
| Baby Age | EU Size | Length |
| 0-6 months | 17-18 | 10.5 cm |
| 6-12 months | 19 | 11.6 cm |
| 12-18 months | 20 | 12.4 cm |
| 18-24 months | 21 | 13.3 cm |
After purchasing shoes, it is important to try them on the baby to ensure a proper fit. Although most babies fit within the specified size range, some may need smaller or larger sizes for their age.
Types of Baby Shoes
Aside from a proper fit, there are other considerations to consider when purchasing baby shoes. Different types of baby shoes are appropriate for different ages to ensure comfort, and by understanding the different types of shoes makes it easier to find the perfect baby shoe.
Slip-on Baby Shoes
Slip-on baby shoes are the easiest type of baby shoes to put on, and take off of a baby. Most 'baby shoes' for babies that are not yet walking are flexible, soft, slip-on shoes or booties that are easy to put on and remove as well. Baby booties are usually slip-ons made of cloth, functioning as a shoe to keep the baby's feet warm. Baby booties do not hinder the growth of the baby's feet which may happen from ill-fitting baby shoes.
Slip-on shoes are also a popular choice for baby's first pair of shoes, but may get taken or kicked off fairly easily which may result in lost shoes and cold feet. When purchasing slip-on shoes for baby's first shoes, it is important to find a shoe with a fully covered top to ensure the shoe does not fall off while the child is walking, or get kicked off and lost. Some people choose to go with training shoes, which are often slip-ons or sneakers.
Baby Sneakers
One of the most popular types of first shoes are baby sneakers. Baby sneakers are a popular choice because they have a soft rubber sole strong enough to protect the baby's feet against foreign objects on the ground. The interior most baby sneakers are soft, supportive and comfortable. Many people choose to go with velcro baby sneakers for the baby's first pair of shoes, since they are put on and taken off fairly easily.
Once the child learns to take the velcro sneakers on and off easily, many parents switch to lace baby sneakers, so the child cannot easily remove the shoes. Until the baby is older, low-top baby sneakers are recommended over high-top sneakers. High-top sneakers can hinder the baby's ankle development and growth by over-supporting the ankle. Once the child gets older and can stably walk, high-top sneakers no longer pose a problem.
Formal Baby Shoes
Mary Janes, saddle shoes, and penny loafers are among the most popular styles of formal baby shoes. Formal baby shoes are typically made of suede, leather, or satin, among other materials. Many people choose to purchase casual baby shoes for special occasions or to match more dressy outfits. It is important to choose a more flexible fabric when choosing formal shoes, as opposed to stiff leather or plastic option.
Baby Sandals
For warm weather occasions, baby sandals allow the baby's feet to stay cool and comfortable. Many baby sandals are made with soft leather or rubber, which allows for comfort and flexibility. Plastic should be avoided when choosing sandals since it can rub the baby's foot and cause a rash. Also, it is important to look for sandals that are secure to the baby's feet, so they do not fall off when the baby is walking around.
Baby Boots
For colder weather, baby boots are a popular choice to ensure the baby's feet stay warm and dry. Many people choose to go with waterproof boots, but fur boots are also a popular choice. Baby boots should have a thick, rubber, non-slip sole to provide traction and protection for the baby. Boots should also be flexible and roomy around the baby's ankle, so they do not restrict the baby's movement.
Considerations for Purchasing Baby Shoes
Regardless of the type of baby shoe, there are certain considerations to take into account before purchasing baby shoes. By understanding the characteristics of proper baby shoes, it is easy to find the right pair.
Flexibility
'Baby shoes' for babies that do not walk, should have super soft soles that can be bent and twisted every which way. It is important to choose a flexible, lightweight material such as soft leather or fabric. Stiff shoes may hinder the baby's growth and development or cause discomfort for the baby.
Baby's first shoes should have flexible, rubber soles that are thick enough to protect the baby's foot against anything on the ground.The bottom of the sole should have ridges for gripping to ensure the baby gets traction on the ground. Shoes with stiff, smooth soles should be avoided.
Breathability
Leather, suede, or canvas shoes provide the most breathability when it comes to baby's shoes. Cotton is also a popular option, but is typically less durable than most other fabrics. These fabrics also tend to be very flexible and comfortable, and provide support for the baby's feet. Plastic or other non-breathable materials may cause discomfort or a rash on the baby's feet. Non-breathable materials also may also cause the baby's feet to overheat or sweat, causing discomfort for the baby.
Roominess
Baby shoes that are too tight may cause discomfort, as well as swollen feet or legs, which is why it is important to make sure the baby's shoes are roomy enough. The shoes should easily slip on and off of the baby's foot without a problem. The shoes should be big enough to provide room, but not too big where the shoes slip off easily.
How to Purchase Baby Shoes on eBay
By understanding the different sizes, types, and considerations for purchasing baby shoes, it is easy to find proper fitting baby shoes for your little one. eBay has thousands of different types and styles of baby shoes, making it easy to find the perfect pair of shoes for everyday wear or to match a specific outfit. In addition, eBay makes it easy to shop from the comfort of your own home, so you do not have to cart the baby from store to store or spend money on a babysitter.
To begin your search on eBay, you can start with the use of keywords on the eBay home page. To browse different types and styles of baby shoes, you should start with a broad search, such as 'baby shoes'. If you already know which style or type you would like, you can narrow your search, and use keywords such as 'penny loafer baby shoes' or 'leather baby shoes'. eBay also allows you to narrow the results by material, colour, or baby's shoe size.
Conclusion
About six weeks after babies begin to walk, they are ready for their first pair of shoes. Although it is tempting to choose the cutest baby shoes, there are many considerations to ensure the baby's shoes fit comfortably, while providing proper support for the child. The wide selection on eBay makes it easy to find a pair of baby shoes that are both supportive and adorable. To ensure the baby's shoes are the proper size, patterns are usually available to print out and measure the baby's shoe size.
After purchasing the shoes, it is a good idea to test that the baby is able to comfortably walk in them. After the baby has worn the shoes for a few minutes, check to see if the baby has any red marks from an ill-fitting shoe. When the baby walks, the shoe should never slip off, which means the shoe is too large. If the baby is walking towards the front of the shoe on their toes, this also means the shoe is too large. Since babies grow rather quickly, it is important to check the shoe fit every month. Children usually outgrow their shoes within six to eight weeks. With the help of eBay, purchasing a baby's first pair of shoes or a pair of replacement shoes is both quick and easy.