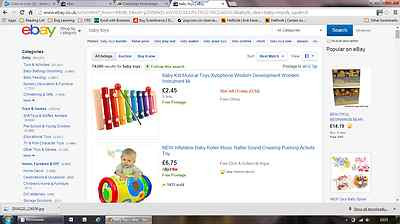 How to make the most of eBay deals when shopping for a new arrival!
I am a savvy saver, and I love the flexibility of eBay. So when I found out i was pregnant, I naturally turned to eBay to help me start decorating the nursery, and buy things for the baby. I mean let's face it, having a baby can be costly, but stick with this guide and hopefully you can save money for other things.

Firstly, to anyone who is pregnant, congratulations! I would recommend taking it easy for the next couple of months, and make the most of your sleep!

Secondly, register for advice and free gifts on company websites. A few worth mentioning are: Mamas and Papas, Aptamil, Cow and Gate, Mothercare, Emma's Diary, Bounty, Nuk, etc.

They also give you a great list on essential items that you will need when baby arrives. These include clothing, nappies, cot, bath tub, feeding etc (I have added a full list below). The best thing is that majority, if not all, of the items can be found on eBay, new or used at a much cheaper price!

Nursery:
Moses basket and stand/ crib
Cot or cotbed and mattress
Bedding for moses basket, crib, cot or cotbed
4 fitted mattress sheets
Wardrobe and drawer/ other furniture
Room thermometer
4 top sheets
2-3 blankets
Cot mobile

Bath time:
Bath
Top and tail bowl
Baby nail scissors
Bath thermometer
Bath support
Baby towel

Nappies
Nappy bags
Changing bag
Changing mat
Cotton Wool balls/ wipes

Feeding:
Nursing bras
Breast pump
Nipple cream
Breastfeeding pillow
Breast pads

Sterilising equipment
4 feeding bottles
4 teats
Bottle and teat brush
Bottle warmer
High chair

Clothes:
2 baby hats
6-8 sleepsuits
Jacket/coat
6-8 bodysuits
Booties
2 cardigans
2-3 pairs of socks

Out and about:
Car seat
Pram/ pushchair
Raincover
Footmuff
Carrycot
Changing bag
Tips and tricks
We didn't find out the sex of the baby, and one of the most difficult things I have experienced is the difficulty in finding something neutral without it being too boring. For example, the bedroom decor always seemed to be either girly or boyish, and I wanted something that could last with the baby growing up. I used alphabet and numbers washi tapes as borders on the walls, which came in nice bright multi colours.
I have found cot bed size blankets, 2 for £10, when it usually costs £13 for one! The quality is just the same as you would find in Mothercare, or Asda.
Toys and games for a pound are also very common on eBay if you look carefully.


I would recommend that you search and watch items regularly, so you can compare buyers and prices.
Don't be afraid to use the refine button. It helps filter out a lot unwanted items that have made their way in to the search.
Don't always think that auction items are always cheaper. For Christmas, I bought Frozen dolls for my niece for £7 on a buy it now price, however auction bids went well over £12!
Look through the seller's other items as sometimes they focus on certain products for certain things (kitchenware, children's clothing). Also don't forget to contact them and ask if they can offer a discount if you buy more than one of the items they are selling. They may also offer combined postage discount.