Many people email us and ask how easy to use are baby hands and feet home casting kits. We offer a range of home lifecasting kits to suit not only tastes but also budgets. Having a baby is an expensive time, having four children between us we know from experience. When I had my first child there was only one or two casting kits around on the market and they were expensive with little success. Jo and I set up Creative Casting to achieve a market brand without comprising on quality,design and choice. We've spent four years perfecting the product with many newcomers following suit (we feel flattered we have it right)
.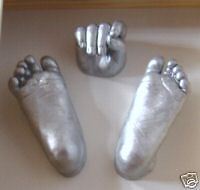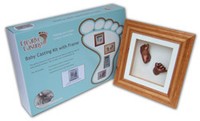 Baby casting is not the easiest activity in the world, it's a bit like baking a cake, the more you do the better they turn out. Lifecasting is no exception. There's not many activities you can share as a family with a newborn but casting can certainly be alot of fun and very memorable in itself.
There are many ways to capture a cast:
Salt dough - easy and quick to make with ingredients from around the home. You won't achieve the detail that you get with any of the other items.
Air Drying Clay - Any air drying clay from modelling shops will provide you with an imprint of your baby's hand or foot. It's very easy to do and results are quick to achieve. Some clays can require you to press quite hard to get a good imprint. We have tried and tested many of the brands including super sculpey and found that to much pressure needs to be applied to get a good hand or foot print imprint. We feel we have found a really good detail clay using a very soft clay.
Alginate - Most commonly used to take impression of the mouth at the dentist. A very safe non toxic material that sets very quickly so it makes it ideal to use with babies. You can either use a chromatic (colour change) or standard alginate. Again using the tried and tested method, we've found that although the chromatic changes colour to indicate the mixing, casting and setting process it's not as great in detail or rigidity. Casts can often discolour which is no good if you prefer to just varnish them.
Whatever kit you choose to buy, ensure you read the instructions carefully and make sure your in the right frame of mind and as relaxed as you cna be with a new baby. If after your practice and a couple of attempts on the baby we suggest you contact your agent for assistance if you are not having any luck. This way you can talk through your problems to ensure you achieve your desired results.
We have a variety of kits from the introductory starter kit range right through to large frame cast kits suitable in capturing your babies 1st year. The kits make great gifts from baby showers right through to 1st birthday presents.
All of our home casting kits come with comprehensive instructions but here's some of the details to give you a sneak preview into the wonderful world of lifecasting.
Making your mould using alginate: It is important to get a feel for this before attempting to make a mould with your child & so we recommend mixing a small practice amount to begin with. Remember, you only have 2 minutes from adding the water to setting, making time of the essence. Add your water to the powder, mix quickly for about 30 seconds to achieve a smooth fairly thick paste. Ideally you should have two adults working together on a calm/distracted baby/child. One person holding the child and the other mixing and applying the mixture. Transfer your paste into the vessel you are going to use and push the limb into the mixture. Once the mixture sets remove the lib by wriggling the limb out being careful not to tear the mould. Now all that's left is to cast the mould. Mix up and pour in the casting mix to the suppliers mix quantities. This is the opposite way to making the mould as you need to mix slowly to avoid putting too much air bubbles into the mix. Pour the mix into the cast slowly and fill the mould to the top. Once the cast has dried, remove the mould by peeling away the alginate in small pieces and leave your cast to dry out completely. Once it's dried it's ready to paint and finish how you wish.
Happy casting ! It's addictive !
We hope this guide has been useful and given you an insight into baby casting. Please feel free to have a look at our products in ourEbay Shop and email us if you have any further questions or would like a bespoke piece of work to suit your personal requirements.
Here's some of the kit examples to give you some ideas of what you can produce: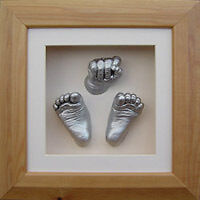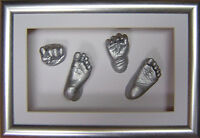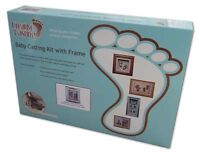 Our framed casting kits all come in these beautiful presentation boxes