What is a Back To Wall Toilet?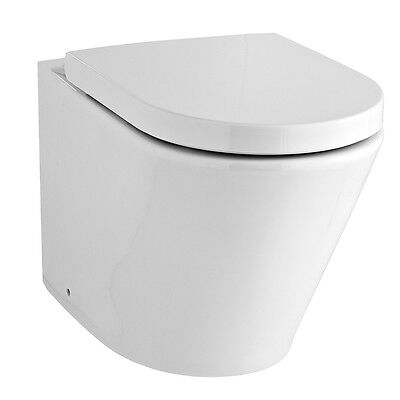 When we say 'back to wall toilet' what we mean is a toilet without a close coupled cistern. We mean just the pan that a person sits on and not the mechanism for controlling the flush. These generally sit close to a back wall or to a piece of vanity furniture. They come in all designs from the sculpted curved affair to the left to simple D-Shape pans like on the image below as well as
modern square design BTW pans.
They are usually ceramic in construction with a plastic toilet seat fastened to the top. Quality and construction varies from model to model so we thought we'd write a guide on what to look out for when making a purchasing decision.
Is Price Everything?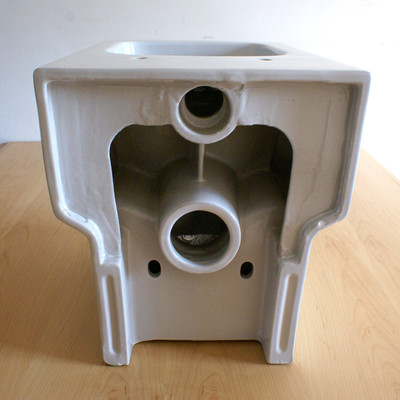 This will largely depend on who you are and why you are buying. If you're a plumber looking to fit for a client then you may want something cheap and cheerful to make a fast buck. A homeowner will have different priorities.
When purchasing any kind of toilet why would you want to buy something for £50 that's expected to last you potentially 20 years? It makes no sense at all. An average family of 4 might use the toilet 20 times a day between them, that's 7300 times per year! Yet a £50 unit is expected to be reliable for ever more...
Spending a little more on something made from a good quality ceramic, that's comfortable with good components will pay dividends. Cheap ceramic tends to be bumpy across flatter areas and components like the hinges on soft close seats tend to be plastic. On occasion the molding can be so poor on cheaper units that the water inlet and waste outlet holes on the rear are not properly rounded meaning a water tight connection is problematic.
So What Do You Get For Your Money?
Under £100 - Should be considered a budget model and care should be taken when buying on Ebay especially when considering retailers have to factor into the price the cost of the item, delivery cost if advertising for free, Ebay fees and of course making a profit!
£100 - £200 - Quality should improve in terms of the ceramic and usually they weigh a little more. You should also get some brand names selling in this price bracket.
£200 + - Look out for heavyweight Vitreous China fired models with metal hinged soft close seats and more adventurous designs. Good quality should be standard.
Short Projection Designs For Small Bathrooms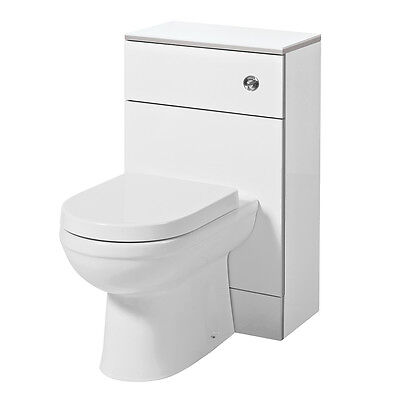 Of course one of the main reasons people buy back to wall WC's is because of their size. Even within the masses on offer there are smaller designs often described as short projection models such as the
Phoenix Emma
shown in the image to the right. The projection is the distance from the rear of the pan to the front which is shorter in the case of some BTW toilets. A compact unit makes perfect sense in a smaller bathroom where the concealed cistern can be housed either in a back wall or in a back to wall vanity unit like the one shown on the image to the right. This means the space used by the cistern also doubles as a piece of matching furniture, it's also clean and attractive and the push button of the flush can be mounted on the front.
Luxury Touches To Look Out For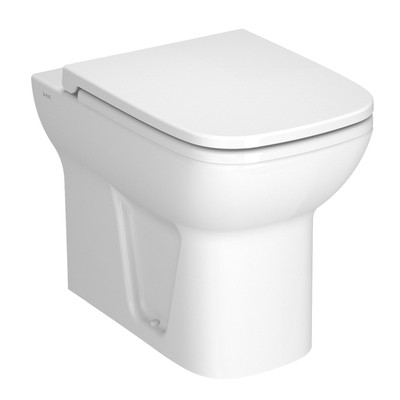 As with anything you get what you pay for so if money is no object what should you look out for in terms of luxury?
Brand - Buying a branded product ensures you are purchasing from a company with a recognisable set of standards rather than a no name from some far flung place.
Soft Close Seats - Even the most cheap and cheerful BTW WC's seem to have a soft or slow close mechanism but they aren't made equally. The cheaper flimsier ones aren't going to impress your customers and certainly won't last very long in a busy family environment. Look out for heavier grades of plastic and models with metal hinges and soft close mechanisms.
Ceramic Cast/Moulding - Perhaps the most important aspect of the whole products construction. Cheaper casts are light, have a tinny sound when you tap them and flatter designs tend to show lumps and bumps and imperfections. Glazing is particularly a problem on the internal U-bend, if not glazed well then this will discolour and go brown over a short period of time. Look out for Vitreous China models with fired clay construction as in the Vitra model to the left, the best!
BTW Toilet Summary
You do get what you pay for but that's not to say you can't get a
Back To Wall toilet
bargain on Ebay. Just buy from a reputable Ebay seller with good feedback and perhaps those that sell a range of the product you're purchasing, that would suggest they know a little about the product. Then look out for the features discussed above and if the price is too good to believe then it probably is!