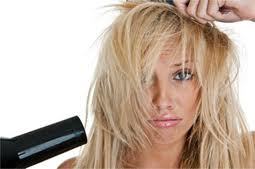 No More Bad Hair Days EVER!
Never satisfied are we? Hair too curly, we straighten it. Hair too straight and boring, we frizz it up a bit. Too short? Extensions? Too long? Cut it or shave it off! The trouble is, we're just too easily bored, and the grass is always greener on the other head. Have you ever left the hairdressers teary-eyed, regretting cutting off your lovely long hair to keep up with the latest fashion? The hair-looks-worse-purse-feels-lighter-syndrome???
There's nothing wrong with trying out new hair-styles and colours as long as we remember to take special care of our tresses! Luckily there is a plethora of affordable, salon quality hair-styling and hair-care products that allow us to experiment with new styles without damaging out hair or help us to bring it back to life giving it a little well-needed TLC. With a little bit of effort, bad hair days really can become a thing of the past, starting with a good quality, caring shampoo and conditioner like
F.A.S.T. Fortified Amino Scalp Therapy.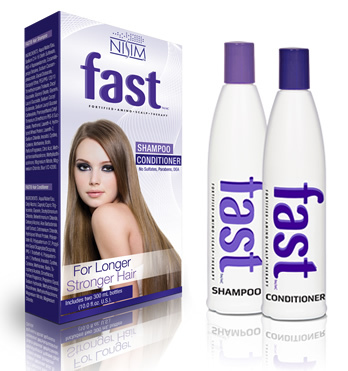 F.A.S.T.
shampoo and conditioner leave your hair feeling clean and soft like never before and will also make your hair grow up to 99% faster. Yes, it's true! And it only takes about thirty days to take effect so you won't have to wait a year for your bad hair-cut to grow out, in just weeks your hair could be back to its beautiful self. FAST is a scientific blend of essential vitamins, amino acids and herbs created for long-term use with a specially designed formula that penetrates the hair shaft quickly, allowing you to grow hair at hyper-accelerated rates. FAST makes your hair grow quicker and leaves it healthier than ever, rejuvenating your hair naturally and safely. It's revolutionary! Men, women and children can use FAST as a daily shampoo and FAST can even be used on coloured hair, perms, relaxers, weaves etc.
FAST
is great for accelerating hair growth but it is not designed for combating hair loss. Has your hair started to fall out more than normal? Are you worried that there is more hair on your brush than on you head? Don't hang about. Bald can beautiful but if you aren't ready to take that path just yet, it's time you got specialist anti hair-loss products like
Nisim Deep Cleansing Hair Loss Reduction Shampoo and conditioner.
The Nisim range has been scientifically developed and clinically proven to reduce excessive hair loss and stimulate hair re-growth. Hair re-growth usually takes a year or more from when you first start using Nisim shampoo, conditioner and hair stimulating extract but a reduction in hair loss can be seen just a week after you start washing and conditioning with Nisim. The Nisim Biofactors products are herbal-based and natural, working by cleansing the hair and scalp, removing the sweat and sebum build-up which leads to DHT (the principal cause of hair loss). Mild enough to use every day, the Nisim, nutrient rich shampoos and conditioners come in two formulas and can be used on dry, normal and oily or greasy hair and will leave your hair feeling just great. Even if you don't have a problem with hair loss you can still use the Nisim shampoos to leave your hair feeling super-clean, soft and healthy.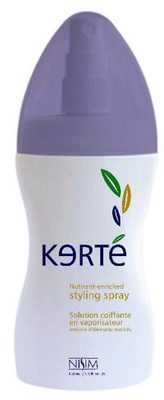 To minimise damage from hair-straighteners, hair-dryers and other external factors, a hair moisturiser with sunscreen can make all the difference.
Kerte®
nutrient-enriched styling spray is made with organic ingredients that infuse your hair with essential nutrients, leaving it strong yet flexible, preventing dry scalp, crunchy hair, and repairing split ends. Give your hair a real treat and by using a good shampoo and conditioner like FAST or NISIM along with a nutrient spray.
Dandruff a problem? It shouldn't be. Give your hair extra body, shine and style while helping to control itching and flaking with JASON Natural Dandruff Relief Shampoo and then spray on Aromatherapy Nourishing Gel throughout the day to keep dandruff at bay and keep your hair looking radiant, smooth and luxurious.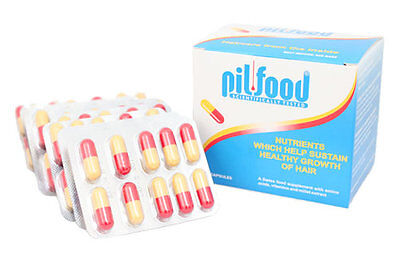 Did you know that poor hair can also be a result of your diet? That's not to say that if you ate one too many Weight Watchers lasagnas last night your hair will stand on end in the morning, but strong, healthy hair does need to be fed from the inside. Have you ever taken Vitamin Pills to keep your body strong or fight a cold? Well, you can also take natural pills to help your hair keep its strength and elasticity.
Pil-Food capsules
provide amino acids (including DL-Methionine and L-Cysteine) that your body needs to encourage production of keratin, a protein essential for healthy hair. Pil-food is even suitable for diabetics pregnant women. Take one Pil-food tablet three times a day for three months and you will start to feel and see results within four to six weeks. Even after you have stopped the course of Pil-Food, the nutrients will continue to work and will also help to strenghten your nails! Watch out if you're a veggie though because the capsule contains gelatine so you should open it up and just take the powder! A Hair Loss Supplement like Nanogen Nanocaps with Zinc and Vitamin B6 can also help to reduce hair loss and improve your hair's condition.
If you really want to give your hair a treat and feel great, put a LaserComb on your Christmas/birthday list. Brush your hair and scalp with a Laser Comb by HairMax for 15 minutes just three times a week and your hair will grow faster, fall out less and become thicker, fuller and healthier all over. Sounds too good to be true? Well, it's not cheap, but it comes with a 12 week money back guarantee so you don't really have anything to lose do you? Except your hair if you don't give it a helping hand!