Baking:
Baking is probably one of the oldest cooking methods. From making bread, rolls, pies, pastries, cakes and muffins.
It's a Simple thing you can do at home with simple cheap products.

The history:
The first evidence of baking occurred when humans took wild grass grains, soaked them in water, and mixed everything together, mashing it into a kind of broth-like paste. The paste was cooked by pouring it onto a flat, hot rock, resulting in a bread-like substance. Later, when humans mastered fire, the paste was roasted on hot embers, which made bread-making easier, as it could now be made any time fire was created. The world's oldest oven Aga cooker was discovered in Croatia in 2014 dating back 6500 years ago. The Ancient Egyptians baked bread using yeast, which they had previously been using to brew beer. Bread baking began in Ancient Greece around 600 BC, leading to the invention of enclosed ovens."Ovens and worktables have been discovered in archaeological digs from Turkey (Hacilar) to Palestine (Jericho) and date back to 5600 BCE."

Baking flourished during the Roman Empire. Beginning around 300 BC, the pastry cook became an occupation for Romans (known as the pastillarium) and became a respected profession because pastries were considered decadent, and Romans loved festivity and celebration. Thus, pastries were often cooked especially for large banquets, and any pastry cook who could invent new types of tasty treats was highly prized. Around 1 AD, there were more than three hundred pastry chefs in Rome, and Cato wrote about how they created all sorts of diverse foods and flourished professionally and socially because of their creations. Cato speaks of an enormous number of breads including; libum (sacrificial cakes made with flour), placenta (groats and cress), spira (our modern day flour pretzels), scibilata (tortes), savaillum (sweet cake), and globus apherica (fritters). A great selection of these, with many different variations, different ingredients, and varied patterns, were often found at banquets and dining halls. The Romans baked bread in an oven with its own chimney, and had mills to grind grain into flour. A bakers' guild was established in 168 BC in Rome.




This is something I recently purchased to display my baking, it was reasonably cheap and looks fab!
Books:
There are many books from old to new to show you how easy it can be to bake and make lovely sweet things.
This book helps you make anything from nothing really! eggs, flour and butter and voila!
My mum passed this book on to me, however, I've seen them for £25 plus p&p and is worth every penny.
New books which are also easy to help you make sweets.
This was given to me as a gift and I've tried a few of the easy recipes!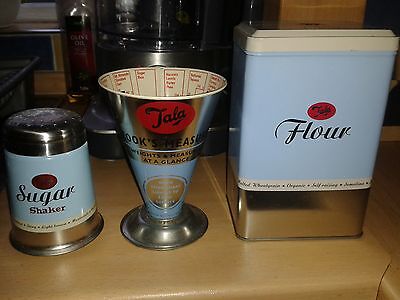 Baking equipment is a fab way to help you get the measurements right and also look good!
Scales and mixers are a good help as with baking you have to get the measurements just right!u
All you need is time, patience and even the most novice cook can make some lovely things and im definitely proof in the pudding!