Ballantine's Illustrated History of World War II
Between 1968 and 1975 Ballantine Books published an extensive series of military history books. This guide gives a brief background to the series, and lists all the titles and authors.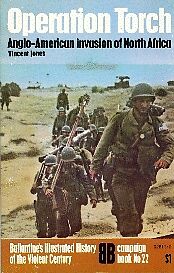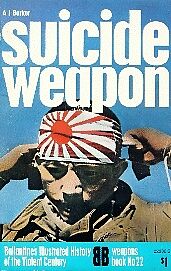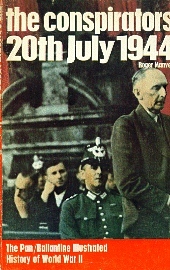 Ballantine's Illustrated History of World War II, later re-titled Ballantine's Illustrated History of the Violent Century, was a series of paperback books printed in both the USA and UK. The series deals with all aspects of Twentieth Century conflict, and each volume has a wealth of detailed information and illustrations. Many of the titles were written by well-known military authors, including Anthony Farrar-Hockley and Peter Young.
The Ballantine Publishing Group is a major American book publisher, now part of the Random House group. It was founded by Ian Keith Ballantine (1916-1995), a pioneering American publisher who had set up the distribution of Penguin Books in the United States during the Second World War. In 1945, with his wife Betty, he was involved in the formation of Bantam Books, becoming the first president of Bantam.
The Ballantines formed Ballantine Books in 1952, and quickly gained a reputation as one of the leading publishers of paperback science-fiction and fantasy. Their military history series Ballantine's Illustrated History of World War II/the Violent Century consists of 156 titles. Each book is a 5¼ by 8¼ inch volume with around 160 profusely illustrated pages.

Editor-in-Chief for the series was journalist, author and editor Barrie Pitt. After active service in both Europe and the Middle East during the Second World War, Barrie had written several successful military history books. He had also edited, under the overall editorship of Sir Basil Liddell-Hart, Purnell's History of the Second World War. This was a 96-instalment mass circulation series launched in 1966 at the Imperial War Museum. Barrie was therefore ideally qualified to become Editor-in-Chief of the Ballantine's Illustrated History series, and proved an unfailing source of support for the younger historians on the series.
The 156 books in the Ballantine's Illustrated History of World War II/the Violent Century themselves are organised into six different colour-coded groups: the Campaign Series - Beige/khaki; the Battle Series - Red; the Weapon Series - Blue; the War Leader Series - Purple; the Politics In Action Series - Black; the Human Conflict Series - Yellow, plus two Special Colour Series titles.
The full list of titles and authors is:

Campaign Series - Beige/khaki
1 Afrika Korps: Kenneth J Macksey
2 The Raiders, Desert Strike Force: Arthur Swinson
3 Sicily, Whose Victory?: Martin Blumenson
4 Breakout, Drive to the Seine: David Mason
5 Defeat in Malaya, The Fall of Singapore: Arthur Swinson
6 France, Summer 1940: John Williams
7 Bomber Offensive, The Devastation of Europe: Noble Frankland
8 The Nuremberg Rallies: Alan Wykes
9 Japan, The Final Agony: Alvin D Coox
10 Normandy Bridgehead: H Essame
10 Liberation of the Philippines: Stanley Falk
11 Barbarossa, Invasion of Russia 1941: John Keegan
13 New Guinea, The Tide is Stemmed: John Vader
14 Guadalcanal, Island Ordeal: Graeme Kent
15 New Georgia, Pattern for Victory: D C Horton
16 Fall of the Philippines: Ward Rutherford
17 Schweinfurt, Disaster in the Sky: J Sweetman
18 Carpathian Disaster, Death of an Army: Geoffrey Jukes
19 Opening Moves 1914: John Keegan
20 Tanganyikan Guerilla, East Africa Campaign 1914-18: J R Sibley
21 Pacific Onslaught, 7th Dec 1941 / 7th Feb 1943: Paul Kennedy
22 Operation Torch, Anglo-American Invasion North Africa: Vincent Jones
23 Over the Hump, Airlift to China: William Koenig
24 The Winter War, Russia Against Finland: Richard W Condon
25 Pacific Victory: Paul Kennedy
26 Tobruk, The Siege: James W Stock
27 Six Day War: A J Barker
28 Bloodiest Victory - Palaus - America's Pacific Offensive 1944: Stanley Falk
29 Yom Kippur War: A J Barker
Battle Series - Red
1 D-Day, Spearhead of Invasion: R W Thompson
2 Their Finest Hour, The Battle of Britain 1940: Edward Bishop
3 Stalingrad, The Turning Point: Geoffrey Jukes
4 Bastogne, The Road Block: Peter Elstob
5 The Siege of Leningrad: Alan Wykes
6 Battle for Berlin, The End of the Third Reich: Earl F Ziemke
7 Kursk, The Clash of Armour: Geoffrey Jukes
8 Tarawa, A Legend is Born: Henry I Shaw Jr
9 Airborne Carpet, Operation Market Garden: Anthony Farrar-Hockley
10 Pearl Harbor: A J Barker
11 Leyte Gulf, Armada in the Pacific: Donald MacIntyre
12 Okinawa, Touchstone to Victory: Benis M Frank
13 The Defense of Moscow: Geoffrey Jukes
14 Raid on St Nazaire: David Mason
15 Anzio, The Bid for Rome: Christopher Hibbert
16 Cassino: Dominick Graham
17 London's Burning: Constantine FitzGibbon
18 Kasserine, Baptism of Fire: Ward Rutherford
19 Battle of the Reichswald: Peter Elstob
20 Midway, The Turning Point: A J Barker
21 Battle of the Ruhr Pocket (WWII Series): Charles Whiting
22 Beda Fomm, The Classic Victory: Kenneth Macksey
23 Bir Hacheim, Desert Citadel: Richard Holmes
24 Salerno, Foothold in Europe: David Mason
25 Armoured Onslaught, 8th August 1918: Douglas Orgill
26 Vimy Ridge 1914-18: Kenneth Macksey
27 Rhine Crossing: James W Stock
28 Argonne 1918, The AEF in France: Barry Gregory
29 Rotterdam, Invasion of Holland: Wilhelmina Steenbeck
30 Ploesti, Oil Strike: John Sweetman
31 Zeebrugge, 23rd April 1918: James W Stock
32 Iwo Jima: Michael Russell
33 Dien Bien Phu: John Keegan
Weapon Series - Blue
1 U-Boat, The Secret Menace: David Mason
2 Panzer Division, The Mailed Fist: K J Macksey
3 Aircraft Carrier, The Majestic Weapon: Donald MacIntyre
4 ME109: Martin Caidin
5 German Secret Weapons, Blueprint for Mars: Brian J Ford
6 Spitfire: John Vader
7 Commando: Peter Young
8 SS and Gestapo: Roger Manvell
9 Zero Fighter: Martin Caidin
10 The Luftwaffe: Alfred Price
11 The Guns, 1939-45: Ian V Hogg
12 Airborne: Charles MacDonald
13 PT Boats: Bryan Cooper
14 Pacific Hawk, Kittyhawks: John Ward
15 Tank Force, Allied Armor in World War II: Kenneth Macksey
16 Waffen SS, The Asphalt Soldiers: John Keegan
17 B29, The Superfortress: Carl Berger
18 Barrage, The Guns in Action: Ian V Hogg
19 Allied Secret Weapons, The War of Science: Brian J Ford
20 Rocket Fighter: William Green
21 T-34, Russian Armour; Douglas Orgill
22 Suicide Weapon: Alan Baker
23 Hitler's High Seas Fleet: Richard Humble
24 Mosquito, Wooden Wonder: Edward Bishop
25 Infantry Weapons: John Weeks
26 P51 Mustang, Bomber Escort: W N Hess
27 The Guns 1914-18: Alan Baker
28 Trench Fighting 1914-18: Charles Messenger
29 Flying Tigers, Chennault in China: Ron Heifernan
30 Lancaster Bombers: D B Tubbs
31 Merrill's Marauders: Alan Baker
32 German General Staff: Barry Leach
33 Japanese High Seas Fleet: Richard Humble
34 Chindits, Long Range Penetration: Michael Calvert
35 Condor Legion: Peter Elstob
36 Indestructible Jeep: D Denfeld & M Fry
37 Grenades & Mortars: Ian V Hogg
38 Wellington Bomber: Edward Bishop
39 Hitler's Bodyguards, SS Leibstandarte: Alan Wykes
40 B17, Flying Fortress: W N Hess
41 German Armour: Douglas Orgill
42 Midget Submarines: J Gleason & T Waldron
43 Gas: Ian V Hogg
44 DC3: Arthur Pearcy
War Leader Series - Purple
1 Patton: Charles Whiting
2 MacArthur: Sydney L Mayer
3 Hitler: Alan Wykes
4 Stilwell: D D Rooney
5 Bradley: Charles Whiting
6 Mountbatten: Arthur Swinson
7 De Gaulle: Phillipe Masson
8 Göring: Roger Manvell
9 Eisenhower: Martin Blumenson
10 Tito: Phyllis Auty
11 Skorzeny: Charles Whiting
12 Slim: Michael Calvert
13 Mussolini: Christopher Hibbert
14 Himmler: Alan Wykes
15 Student: A H Farrar-Hockley
16 Churchill: David Mason
17 Goebbels: Alan Wykes
18 Lawrence of Arabia: Douglas Orgill
19 MacArthur in Japan: Sydney L Mayer
20 Guderian: John Keegan
21 Stauffenburg: G S Graber
22 Heydrich: Alan Wykes
23 Churchill 1914-18: David Mason
24 Yamashita: A J Barker
25 Rundstedt: John Keegan
26 Halsey: Benis M Frank
27 Rommel: J R Sibley & M Fry
28 Zhukov, Marshall of the Soviet Union: O Chaney
29 Montgomery: R Thompson
30 Tojo: Alvin D Coox
31 Stalin: Rose Tremain
Politics In Action Series - Black
1 The Conspirators: (Pan/Ballantine Version) Roger Manvell
2 The Blackshirts, Fascism in Britain: David Shermer
3 The Reichstag Fire, Ashes of Democracy: R John Prichard
4 Rape of Ethiopia: A J Barker
5 Warsaw Rising: Gunther Deschner
6 Hitler Youth, The Duped Generation: H W Koch
7 Night of the Long Knives: Nikolai Tolstoy
8 Nuremberg Trials: Leo Kahn
9 The Fight for Freedom for Women: Rose Tremain
10 Berlin Blockade: John Man
Human Conflict Series - Yellow
1 Olympiad 1936, Blaze of Glory for Hitler's Reich: Judith Holmes
2 Lidice, Sacrificial Village: John Bradley
3 Death Railway: Clifford Kinvig
4 Genocide, The Jews in Europe 1939-45: Ward Rutherford
5 Bloody Ulster: A J Barker
Special Colour Series
1 Nazi Regalia: Jack Pia
2 SS Regalia: Jack Pia
Although some of the titles in the series are now nearly 40 years old, the wealth of detail and sheer number of illustrating photographs makes them a valuable addition to your military library today.