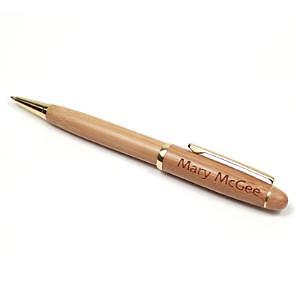 Every day, millions of ballpoint pens are manufactured and sold worldwide, many of them on eBay.
Originally created and regarded as a more reliable, cleaner alternative to the fountain pen and quill, ballpoint pens have become the principal writing tool around the world.
This guide offers you some useful tips and general guidance on how to choose from the abundance of ballpoint pens available to buy.
A Brief History
The ballpoint pen was first patented in 1888 by John J. Loud, who wished to make an instrument that could write on leather. Similar to contemporary ballpoint pens, the pen had a steel ball that rotated in a socket. However, these pens were not suitable for writing on smoother surfaces like paper.
Through the early years of the 20th century there was much experimentation in an attempt to create reliable, economical types of pen. In the mid-20th century Hungarian newspaper editor László Bíró, from which the common pen name 'biro' is derived, successfully created a viable ballpoint pen. The pen could write efficiently on paper using ink similar to the quick-drying type used in newspaper printing.
Following the Second World War, several companies strove to produce a commercially viable ballpoint pen design of their own. Towards the end of 1945, entrepreneur Milton Reynolds acquired an American patent and released the 'Reynolds Rocket' in America. This quickly became the first commercially lucrative ballpoint pen..
In the 1950s, Italian-born Marcel Bich released another ballpoint pen in America, licensed from Bíró. In 1953 Bich shortened his name to Bic, creating what is now the world's most popular brand of ballpoint pens.
The 1950s and 1960s saw the rise of many dominant names in the ballpoint pen industry, including Parker Pens and Paper Mate.
The components and ink formulas of ballpoint pens have been developed and refined over time, yet the principal technology is much the same as it was at the start of the 20th century.
In more current times, gel-ink and liquid-ink rollerball pens are also commonplace, yet the ballpoint pen remains the most popular sort of pen. Even with the recent prevalence of notebook PCs and digital assistants, there is still a widespread need for the ballpoint pen in all walks of life.
Ballpoint Pen Design
Although the specific designs of ballpoint pens will vary between different brands, the basic components are universal. The ballpoint pen has an internal reservoir filled with a viscous ink and a small, freely-rotating metal ball housed in a socket to distribute the ink. The ball is typically made of brass, steel or tungsten carbide and the socket is made of brass.
The oil-based ink used in ballpoint pens is usually contained in a narrow plastic tube. The ink is forced towards the tip of the pen by gravity. A typical ballpoint pen can generate between 1,500 and 3,000 metres of continuous ink and has a shelf life of roughly two years.
The ink is dispensed at the tip of the pen through the rotational action of the ball, and dries almost immediately after coming into contact with the writing surface. The principles of this process are mirrored on a larger scale in the actions of a roll-on deodorant. The revolving ball allows ink to flow whilst sealing air out from the main reservoir, preventing it from drying out.
Types of Ballpoint Pen
There are two common types of mass-produced ballpoint pen:
Disposable: Disposable ballpoint pens are commonly made of plastic. They are designed to be discarded after the ink in the reservoir runs out, without the possibility of refilling. Disposable pens are inexpensive, and you will often find them available to buy in multi-packs.
Refillable: Refillable pens are commonly made using a combination of plastic and metal to ensure a longer lifespan. The ink reservoir and ballpoint tip are replaced as a single unit, making refilling the pen simple and efficient. Refillable pens are available at a wide range of costs, but are typically more expensive than disposable pens.
The 'refills' themselves, are often standardised so that they will fit into a wide range of ballpoint pens. The D1 refill, for example, is a standard refill used in most multi-function pens, measuring approximately 67mm in length and 2.3mm in diameter. Each brand will have a range of suitable refills to fit their range of ballpoint pens.
You will also find that a great number of ballpoint pens are retractable. Although some retractable pens are disposable, the majority of them are refillable. Retractable pens prevent the ink from coming out where it's not wanted, whilst protecting the pen from drying out without the need for a separate lid.
Ballpoint Pen Options
Colour: The most common colours of ballpoint pen are blue and black, although you will find a wide range of different ink colours available.
Size: The majority of pens are roughly 15cm in length so that they sit comfortably in the hand. There are also 'miniature' types of ballpoint pens available, which may be useful to store as an 'emergency pen' in a pocket or bag. You will also find a variety of widths, particularly with more premium pens, which may affect how comfortable you find the pen is to hold.
Material: Whilst the majority of cheaper ballpoint pens are made from plastic, more premium pens can be made of metal or wood, or a combination of materials.
Ballpoint Width: The thickness of the line that a ballpoint pen draws is defined by the width of the ballpoint itself. You will typically find ballpoint pens with a width of between 0.2mm and 1.6mm. The width of the pen may also be written in word-format, such as 'ultra-fine', 'medium' or 'broad'. You should expect the measurements to be specified by sellers. If not, just ask the seller.
Barrel: The main chamber or barrel of a ballpoint pen may be square, hexagonal or round. Many pens also come with a rubber finger grip to ensure a non-slip grip on the pen. Many ballpoint pens have a transparent barrel, enabling you to monitor the level of ink in the reservoir.
Personalised: Some sellers allow you to personalise your ballpoint pen. This may involve laser-engraving of a name, or including a company logo to promote your business.
Ballpoint Pen Limitations
Writing Upside Down: The majority of ballpoint pens are incapable of writing upside down, due to their dependence on gravity for ink flow. There is a pen developed by Fisher pens in America that can write upside down, however. This is known as the 'Space Pen'; it uses a pressurised reservoir to force ink towards the tip.
Surfaces: Whilst being very versatile and reliable, the technology of ballpoint pens means that they are incapable of writing on plastics and shiny surfaces such as glass. They are also unable to write on wet or oily surfaces.
Ballpoint Pens as an Art Medium
Ballpoint pens have proven to be a flexible art medium for both professional artists, such as James Mylne, as well as amateurs. The low cost and wide availability of ballpoint pens has made them a convenient and popular art tool.
Whilst some artists prefer to use ballpoint pens alone to sketch and draw, others combine them with other mediums in mixed-media works.
Buying Ballpoint Pens
Purpose: There are a wide range of options to consider when purchasing a ballpoint pen. The intended purpose of the pen is the most important thing to consider. For example, you may be wishing to buy a set of cheap disposable pens for general use, or a premium ballpoint pen as a gift.
Brands: There are many brands of ballpoint pen to choose from. Brands such as Bic and Pentel offer cheaper options of pen, whilst brands like Cross and Parker offer more premium ballpoints. Brands such as Staedtler and Paper Mate may offer ballpoint pens at both ends of the price scale.

Quality

:

The tip of a ballpoint pen is often the difference between a high-quality and low-quality ballpoint pen. Premium pens will have smoothly rotating balls, sometimes made of stainless steel, to prevent ink clotting at the tip.
Other Considerations: When selecting a pen, you should also take into account the cost of accessories, such as cases and ink refills. For high-cost pens, you may also like to consider warranty options available to protect yourself from financial loss.
Buying Ballpoint Pens on eBay
You will find a vast selection of ballpoint pens to suit every need on eBay. Whether you are looking to buy a premium ballpoint pen as a gift, or a multipack of disposable pens for the home, you are bound to find something suitable.
First of all, you should navigate to the Stationery & School Equipment link under the Home, Furniture & DIY category heading.
You should then select Pens & Pencils from the list of options on the left of the page. You can narrow your search results further by selecting "Ball Point Pens/ Biros" from the "Sub-Type" option.
You will find several other options available to you on the left of the page, such as "Ink/ Lead Colour" and "Brand". You can use these to narrow your search results further.
There are many sellers offering multipacks from a variety of brands. In order to get a better idea of which seller is offering the best value for money, you may wish to work out the cost per pen in a multipack.
You should bear in mind that many sellers may not specify which of the various category options their listings belong to. You may like to browse the Pens & Pencils category to appreciate all of the relevant listings that are on offer.
Keyword Search
You may also narrow your results more specifically using the Keyword search bar at the top of the page.
For example, if you wished to purchase a multipack of Bic Crystal ballpoint pens, you would simply need to type "Bic Crystal multipack" (without quotation marks) into the search bar.
You can also select "Include Description" to expand your search results. Visit eBay's Search Tips page for more tips on searching with keywords.
If you can't find exactly what you're looking for, try browsing eBay Stores or tell the eBay Community what you're looking for by creating a post on Want It Now, or save a search on My eBay. eBay will then email you when a matching item becomes available.
Buy Ballpoint Pens with Confidence
Make sure that you know exactly what you're buying and understand how eBay and PayPal protect you.
Know Your Item
Read the details in the item listing carefully.
Remember to add delivery costs to your final price. If you're buying a high value item, check that the seller will insure it until it is delivered to you.
If you want more information, click the "Ask seller a question" button on the seller's profile or the "Ask a question" link at the bottom of the item listing page.
Always complete your transaction on eBay (with a bid, Buy it Now or Best Offer) otherwise you will not be covered by eBay Buyer Protection.
Never pay for your eBay item using an instant cash wire transfer service like Western Union or MoneyGram. These are not safe ways of paying someone you do not know.
Know Your Seller
Research your seller so that you feel safe and positive about every transaction.
What is the seller's Feedback rating?
How many transactions have they completed?
How many positive responses do they have?
What do buyers say in their Feedback?
Are they positive about the seller?
Most top eBay sellers operate like retail shops and have a returns policy.
Do they offer a money-back guarantee?
What are their terms and conditions?
Buyer Protection
In the very unlikely event that you do not receive your item or it is not as described, eBay Buyer Protection covers your purchase price plus original delivery cost.