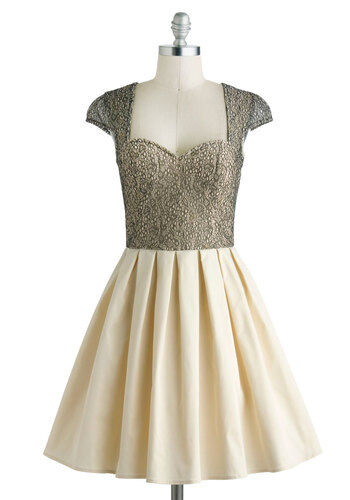 Ballroom dance attire is an essential part of a ballroom dancer's performance. Elegant dresses are designed to follow the flow of movement, complementing the dancer's graceful lines while adding drama. In order to find the right dress for her, a ballroom dancer should know what to look for.
Quality materials are important if the dress is to perform well and stand the test of time. Therefore, buyers should look for well-made dresses and tights in dedicated dance fabrics with high-quality decorative elements. Choosing a style depends on the dancer's personal style, the dance style, and possibly any skill weaknesses that she wishes to conceal. Sizing is also a crucial part of the buying process, and general sizes may need to be altered for an optimal fit. Finally, when shopping for a dress, dancers should know how to identify experienced, reliable dressmakers who can provide a well-made product and a high level of customer service. This is true whether they are purchasing a ready-made, second-hand, or custom-made dress. With some basic knowledge about ballroom dance dresses and tights, dancers can shop with confidence and look their best on the dance floor.
Ballroom Dresses
A ballroom dress needs to look as elegant and graceful as the dancer wearing it. Buyers should look for quality materials and a style that works with the aesthetic and mood of their own dancing.
Materials
Satin is the most commonly used fabric for ballroom dresses. Inexpensive satin may be affordable, but it is unlikely to perform well or to last very long. It is better to look for high quality, dedicated dance materials. Whereas materials used for party or evening dresses often do not move with the dancer, fabrics for ballroom dancers are designed to follow the movement in a graceful, flowing line. Examples include blends of 95 percent polyester and 5 percent spandex, or 90 per cent Acetate and 10 percent Lycra. Other materials include taffeta, silk, and chiffon. Whatever the materials selected, they should be durable, flexible, and form-fitting.
The quality of the decoration should not be overlooked. Swarovski crystals are the highest-quality stone and widely used at the professional level. Other common stones are Preciosa, which are less expensive than Swarovski but also high quality, and Korean. The quantity of stones used on a dress is indicated by gross, where one gross equals 144 stones.
High-quality materials can make a dramatic difference in the way a dress performs, with elegant lines and eye-catching stones. Moreover, quality materials tend to last longer, meaning that the dress can be worn several times, or resold. Therefore, investing in high-quality materials may be a more economical choice in the end.
Styles
The range of ballroom-dress styles is seemingly limitless, from long, full skirts, to short, flirty dresses. They may be decorated with stones, fringe, ruffles, or any number of decorative accents. When deciding on a style, buyers can take inspiration from other dancers, manufacturers' catalogues, or simply by searching through online images.
Dresses should draw attention to the dancer's best features, but they can also be used to conceal weaker technical areas. The following chart outlines some common skill issues and dress features that can help detract attention from them.
| Skill Issue | Dress Suggestions |
| --- | --- |
| Slouched spine | Create drama with a long chiffon scarf attached to the neck or shoulders; avoid dresses that overly expose the back |
| Weak hip movements | Look for fringe or flouncy skirts; A-lines work particularly well; avoid tight-fitting skirts |
| Weak frame | Use wide sleeves or a scarf that attaches to the sleeve |
| Protruding bottom | Conceal problem with multi-layered skirts; avoid mermaid styles |
In addition, dancers should take their personal style into account: the style of the dress should complement the frame and spirit of the dance they are performing. Finally, some competitions have thematic costume requirements, so the fine print should be read before deciding on a dress.
Comfort
In order for a dancer to perform her best, a ballroom dress should always be comfortable. Buyers should beware of factors such as hems that are too long, shoulder straps that are loose, or overly-constrictive waists. The dress should move with the dancer. A comfortable dress is key to minimizing distraction, feeling confident, and performing with joy.
Sizing for Ballroom Dance Attire
Proper fit is essential in a ballroom dress. A dress that is too large may result in excess material that bunches or wrinkles, which distracts the eye from the dance and may interfere with performance. A dress that is too small may be constrictive or even tear during performance.
In the case of custom-made ballroom dresses, the dressmaker asks for a number of specific measurements. However, when purchasing ready-to-wear dresses, the sizes may be general: XS, S, M, L, and XL. In that case, it may be advisable to spend the extra money to have a tailor make adjustments to the dress so that it conforms to the individual dancer's shape.
Sizing varies depending on the manufacturer, and it is always a good idea to verify recommended sizing for whichever brand one is considering. However, the following chart outlines some of the most common sizes.
| UK Size | Dance Garment Size |
| --- | --- |
| 8 | XS |
| 10 | S |
| 12 | M |
| 14 | L |
| 16 | XL |
The sizes above apply to dresses as well as tights, which are discussed below.
Buying Ballroom Dance Clothes
When buying a ballroom dance dress, dancers have the choice between buying a ready-made, second-hand, or custom-made garment. In addition to checking for quality materials and the right fit, as outlined above, buyers can use the following guidelines to help them during the shopping process.
How to Buy Ready-Made a Ballroom Dress
When purchasing a ready-made ballroom dress, it is important to find a seller that is experienced and specialised in constructing ballroom dance attire. Companies that have been in business at least five years are more likely to be knowledgeable and conscientious about making high-quality dresses. If searching online, it is possible to verify the website's domain age through external sites.
Buying directly from the manufacturer can be significantly less expensive than from a company that resells dresses.
Buyers should verify that the manufacturer is producing dresses from scratch, rather than "upgrading" dresses of lesser quality by adding decorative accents.
If buying online, it is also highly recommended to buy from a seller that guarantees the garment's fit and quality and offers a full refund if the customer is not satisfied.
How to Buy a Second-Hand Ballroom Dress
Buying second-hand ballroom dresses can be an affordable way to find a high-quality item. When doing so, the buyer should get as much information as they can about the dress. In addition to basic questions about material quality, the buyer should ask the seller the following questions:
How old is the dress? How many owners has it had, and how many times has it been worn?
Who made the dress?
What is the garment's current condition?
Does the dress have a full body suit?
What are the seller's measurements? Include bust, hip, waist, under the bust, 20 centimeters below waist, and skirt length from waist.
The buyer should compare the measurements with her own; if alterations are anticipated, she should contact her tailor for an estimate. Finally, she should ask for detailed pictures of the exterior and interior of the dress, checking for any stains, tears, or stretched areas.
Before money is exchanged, the buyer and seller should have a written agreement outlining the terms of sale and refund policy.
How to Buy a Custom-Made Ballroom Dress
Buying a custom-made dress can be a good way to get a perfect fit in the right style.
The first step is to find an experienced, reliable, and communicative dressmaker. Shoppers can ask for references from other dancers, or browse local listings and websites. If there are testimonials from satisfied customers on the site, read those. Look for one who specialises in ballroom dance attire and has been in business for at least five years. As noted above, the age of web domains can be verified through external sites. Next, call or send an email to the dressmaker, noting how quickly they respond.
Dancers should take their measurements, or have a tailor take them. The following are often required for making a ballroom dress:
Neck circumference
Length from centre shoulder to waist
Length from centre shoulder to bust
Bicep circumference
Sleeve length, shoulder to wrist
Shoulder seam (length from one shoulder tip to the other)
Bust circumference: upper (across chest at underarm height), mid (fullest part of bust), and lower (just under bust)
Waist circumference
Top hip circumference (across hip bones)
Full hip circumference (widest point)
Length from waist to knee
Length from waist to floor without shoes
Total height without shoes
The dancer can work together with the dressmaker to bring their ideas to life in a flattering, customised fit.
Ballroom Dancing Tights
As with ballroom dresses, ballroom tights should fit properly, without bunching or sagging. High-quality, well-fitting tights help the dancer achieve clean lines and can add extra support if needed. Tights may be matte, shimmery, or fishnet, and commonly come in flesh tones.
How to Buy Ballroom Dance Clothes on eBay
eBay has a broad selection of custom-made, second-hand, and ready-to-wear ballroom dance attire. To begin, go to eBay's home page and type in keywords, such as "red ballroom dress", in the search bar. eBay allows you to narrow your search results by size, colour, and other limiting factors. eBay Shops is yet another convenient way to shop online.
Be sure to read the product description carefully before bidding on an item. It should contain vital information about materials, size, and the seller's return policy. It may also be convenient to find a local seller who can help first-time buyers feel secure in their transaction, as well as provide an easier, faster way to resolve any fitting issues. To do so, enter your postcode in the "Distance" bar on the search results sidebar.
Buyers should also get to know a bit about the seller by looking at the their positive feedback rating and reading comments left by those who have previously bought ballroom dresses from them. This helps ensure the seller is reliable and experienced. Top-rated sellers consistently provide the highest level of customer service.
Conclusion
Ballroom dance dresses are an important part of every dancer's performance. The dress should complement the frame and lines of the dance by following the dancer's movement. In addition, it can draw the viewer's eye with details like rhinestones. Buyers should look for fabrics that are dedicated for dance, and high-quality decorative accents. Quality materials ensure that the dress will look and feel its best for a long time. Dress styles vary significantly; the dress style should match the dancer's personal style, accentuate her positive attributes, and potentially conceal skill weaknesses. A good fit is essential; there are certain steps buyers can take to make sure their dress looks right on their body. Dance tights should also be high-quality and fit well.
When buying a ballroom dress, it is possible to look for a ready-made, second-hand, or custom-made dress. It is important that dancers know what to expect during each buying process in order to find a reliable seller and well-made dress. eBay has a wide selection of all kinds of ballroom dance attire on its online auction website. Informed buyers can use their knowledge of ballroom dance dresses and tights to find beautiful, quality ballroom clothes.