Who is Bandalasta?
Bandalasta is the trade name of a type of plastic ware which was manufactured in Birmingham, in England. This type of plastic ware was produced from the 1920's by a company named Brookes and Adams.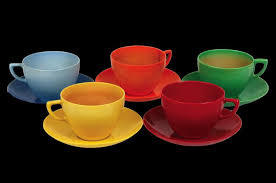 What is Bandalasta ware?
Brookes and Adams used a synthetic resin with a suitable filler and then added a required colour to produce the desired design. The product was then moulded or shaped under a pressure of 2 tons to the square inch in hardened and beautifully polished steel dies, hydraulic machinery giving pressures up to some hundreds of tons being used.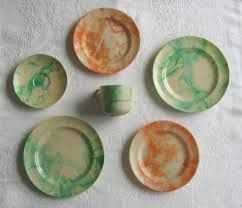 Why is Bandalasta special?
Bandalasta ware was famous for their use of bright colours and typically for their marbled effect in their plastics. The products are extremely lightweight and an advantage of their products over other companies were that each product is suitable for in doors and outdoors.
History on Bandalasta
In 1925, The British Cyanides Company exhibited their synthetic resin syrup at the Wembley Exhibition. Samples of the resin distributed at the exhibition were contained in small glass bottles each with a coloured label showing a Beetle as the Company's trade mark. Customers would refer to the resin as "that Beetle resin of yours", and so the name stuck.

Some years later, when production of "Beetle" tableware began, it was believed that customers were not too happy about tableware being associated with the name of an insect. The name was therefore changed to BEATL and the story goes that this name was suggested by a shareholder and was a contraction of the phrase "BEAT ALL".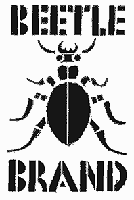 Do I have Bandalasta Ware.
Usually, if you have a genuine Banadalasta product it will have the word printed within the resin i.e if you have a tea set it is usually printed on the bottom of the cup.
Below are a few examples of the types of logos / prints they used.