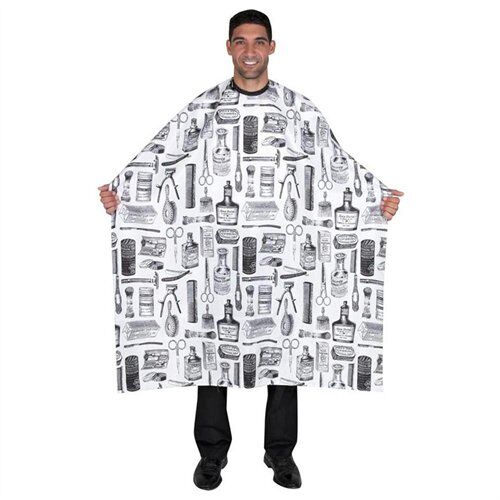 Whether you are a professional barber or hairdresser, or prefer styling at home, the tricky cleaning up process of wet hair can be made even worse when the hair falls and settles in clothing and on furniture. eBay's range of barber capes can eliminate this age-old problem by proving a purpose-built surface for the hair to slide down, whilst preventing any stains from hair dying going on the client's clothes or skin. The client getting their hair cut remains stray-hair-free, whilst the barber cape can be used over and over again for mess-free hair styling every time.
What Are Barber Capes?
Barber capes are often considered synonymous with styling capes or hair capes, as their basic principle is the same: a large, lightweight covering that is worn by the person getting their hair cut or styled. Barber capes are usually designed so that the barber, hairdresser or hair stylist can put it on and take it off the client with ease. Better barber capes are adjustable for the wide variety of clients a barber or hairdresser may serve.
It is designed to be comfortable and non-restrictive for the wearer who is able to move their arms freely under the cape, and bring their hands out from under the cape to hold a magazine or a drink. The Barber cape helps keep clothes dry, clean and free from hair when cutting, prevents staining of clothing and skin when colouring hair and prevents the client getting wet after having had their hair washed, pre-haircut.
Materials and Specifications
Barber capes are usually made of tightly woven synthetic (man-made) materials and include fabrics such as seersucker nylon, which is water resistant, or polyester-nylon blends. Synthetic materials are used, as they are easier to wash and dry. Some fabrics are chosen because they air-dry easily without any need for machine drying, which saves electricity, money and time.
The fabric chosen usually has a slick, smooth texture, with a shiny finish, which allows hair to slide off it easily, preventing clumping and any embedding of the hair onto the fabric. Non-crinkle fabrics are usually chosen to eliminate any unsightly clumping of fallen hair during use.
Some capes are made with rougher finishes for their superior moisture absorbance, which can prevent large pools of water forming under the barber chair, and are usually used for dry styling. However, rougher finishes can cause small pieces of cut hair to adhere to the material, which can cause a prickly feeling for the client.
The cape typically ranges from 45 inches to 58 inches, which should be long enough to reach past the wearer's elbows and knees when they're in a sitting position. If the cape is shorter than this, hair may accumulate in elbow bends and on the wearer's lap, which can be uncomfortable.
Barber Cape Features
The following are some barber cape features, which can be found in barber capes, either individually or in combinations:
Waterproof: almost all barber capes are waterproof to prevent the client's clothes from getting wet during and after hair washing, and during the haircut or hair styling itself. A barber or hairdresser may have a separate waterproof plastic cape for use during shampooing and chemical treatments, as they provide a barrier for moisture and chemicals, keeping the client's clothing dry and free from staining and bleaching.
Adjustable neck closures: allows a comfortable fit for clients of any size, preventing entry of any stray locks, without being too tight. Neck closures usually go from 12 inches to 24 inches, which is usually enough to fit even the largest of necks.
Machine washable: some barber capes are machine washable on a gentle cycle, whilst others can be washed with a sponge or cloth.
Chemical-resistant: Most barber capes are waterproof, colour proof (meaning it will not stain due to hair dying), and may even be bleach proof.
All-around draping: some barber capes have a seam at the back due to the two ends meeting, which can create a gap for hair and hair colour to permeate the wearer's clothes and skin. All-around draping by cape makers such as CloccaCapes eliminates this gap by the ends of the cape doubling back and being secured at the front of the client, instead of behind their neck. It can be a common complaint that the seam interferes with scissors, shears or comb, resulting in the accidentally snipping of the cape itself when cutting longer hairstyles.
Longer nape (back) area: Ensures the cape stays surrounding the chair, preventing hair from falling onto the back of the chair if a client leans forward. Whilst a large barber chair can prevent hair from falling on the client's back, it restricts the client's movements, as they will have to ensure they remain leant back on the chair for the duration of the haircut.
Anti-dirt: some capes have an anti-static coating to prevent dirt, short hairs and lint clinging to the cape, aiding cleaning and hygiene.
Types of Barber Capes
Barber capes on eBay come in a variety of styles, sizes and colours. The following are some possible variations on barber capes that can be found on eBay:
The most common available colour is black, but other colours include: white, red, pink, orange navy, blue, royal blue, pistachio green, green, magenta, burgundy, grey, gold and combinations of these colours.
Some specialised sellers may include the option to brand the cape with a logo or design before dispatch, which can be a great way of customising the cape for a barber shop or hair salon.
Disposable plastic capes capes can be quite cheap, but are not very durable.
Neck closure type:
Many older model barber capes need to be fastened using a barbering clip, which may pinch the wearer and can be inconvenient. Newer models introduce different types of neck closures that eliminate this need, including magnets, Velcro or snap closures and ties.
The stitching along the edging, which holds the closures together, may fray with time, causing the closures to come apart. Short of buying a replacement cape, or a replacement closure, a barbering clip may be necessary for further use of the cape.
Velcro closures work in a hook and loop design, where two fabric strips that grip on to each other are stitched on to the place that needs to be closed. Velcro closures are easy to use, enabling quick securing of the closure and quick release. However, they are prone to becoming clogged with hairs, which can weaken their grip over time and can be difficult to clean out. Attempts at clearing out all the hair may even damage the strips, weakening their attaching ability. The thickness of Velcro closures may introduce a gap between the cape and the client's neck.
Snap closures attach to each other using magnetic buttons, which can be a quick process. They can be very secure, and work well with salon towels for overall protection, but if they break, they can be irreparable.
Magnetic closures use magnets to keep the cape together, which if demagnetised will have to be replaced. However, this happens rarely.
How to Buy Barber Capes on eBay
There are two routes you can take to search for barber capes on eBay:
Use the search bar on the top of the screen to type in either 'barber cape' or 'barbers cape'. Both of which will yield relevant results.
Use the 'Shop by Category' drop-down menu at the left of the search bar to scroll down to Health and beauty, then find Hair Care & Styling from which you can either type in 'barber cape' in the search bar, or choose from Other Hair Care & Styling, Brushes & Combs, Hair Colourants and Bands, Clips and Styling Accs (Accessories), all of which may host barber capes.
Salon towels are usually used with barber capes for extra security and comfort for the client. They can also be bought on eBay, either by the search bar method, or by clicking through to the subcategories mentioned above.
Buying Considerations for a Barber Cape
The following are some things to consider before buying barber capes:
Barber cape prices on eBay can range from as little as £0.99 (excluding postage) to over £100 (excluding postage).
Expensive capes can be more durable and last longer than less expensive brands, whilst it may be possible to achieve the same longevity by buying several of a cheaper brand and rotating the use of them.
Washing and proper maintenance of a cape is important regardless of the purchase price.
Regularly wash and dry the cape according to manufacturer's instructions.
Regularly cleaning the cape with some rubbing alcohol and a cloth or sponge can also keep any stains from building up.
Conclusion
With the large variety of barber capes on eBay, it is easy to find a barber cape suitable for your needs. Barber capes can be bought in a variety of colours, with customisation options such as logo printing, and a choice of neck closures, lengths and materials.
eBay hosts a flexible range of barber capes for the established barber shop or hair salon owner, or for the home-stylist, ensuring a clean, mess-free hair cutting or styling session for even the most inexperienced stylists.