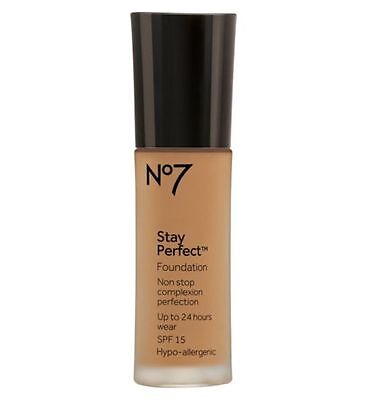 My usual foundation
Firstly, I was asked to write one of these lovely guides for Bzzagent - but (sadly) didn't get any free make up, so you know for sure that this is all my own opinion. :P

As you were.

Hello dear reader, I'm assuming you're here because you either don't know if BareMinerals powder make up is worth the hype, or you're blooming obsessed with the stuff and just read anything about it.

If it's the second option, er, I can't help you. Enjoy my ramblings about your favourite product though. If, however, it's the first, never fear. I'm here to help!

I bought the BareMinerals starter kit a while ago, as the nice lady at the counter made it sound like the holy grail of all foundations, and who doesn't want to look flawless?
Just in case you were worrying; I'm incredibly happy with my current foundation, the Stay Perfect range by No7 – the colour match service (despite my doubts) was spot on, and it's a lovely foundation with that necessary SPF that I always seek out. However, I was tempted by the promise of pore-less, perfect skin that didn't feel like make up, and all that jazz that the lady at the BareMinerals counter told me.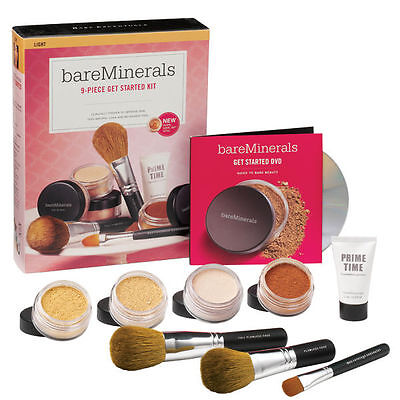 Onto the BareMinerals...
Anyway, so though I'm not supposed to have new make up currently…but I don't have any *powder* foundations…so I figure? In the kit you get 2 shades of their mineral foundation, their Warmth powder (mineral bronzer, I think), and the Mineral Veil powder. You also get 3 brilliant full size brushes and a mini version of their Prime Time primer. So although the kit is about £50 new, if you can justify it, you get a lot for your money. And I'm fully aware that there are bargains to be had on ebay.

The primer is pretty awesome, it's almost silicone/gel-like, and I have noticed that my make up lasts a lot longer. I've also tried it out with my usual/current foundation and have noticed the difference! And the foundations do blend beautifully (I went for Pale – so got 'Light' and 'Fairly Light' as my shades), but my goodness, it's a lot of work. You can find various videos on YouTube on how to use this and they all seem to suggest the same thing: tiny amount of product, lots of blending/buffing motions with the brush.

And it does work, my skin looked pretty much flawless, very smooth, not entirely pore-less but as close as I've ever had. However, all that buffing takes a long time, each layer of make up needing to be blended carefully and well for that 'perfect skin' look. If you don't, it's clumpy or quite orange (trust me on that one!)


The verdict...
As someone who can get away with using most foundations, and is usually running late of a morning, this one is going to be reserved for weekends, and when I have enough time to put thin layer after thin layer of powder on. However, I gather if you have specific skin issues, such as redness, acne or such; this product can be amazing. The layering up of…er…layers, can apparently cover up any blemishes perfectly without feeling heavy or overly made-up. I'd recommend talking to someone at one of their counters, to find out more!

Wow, that was actually a bit make-up-y and a review and everything! Look how professional.