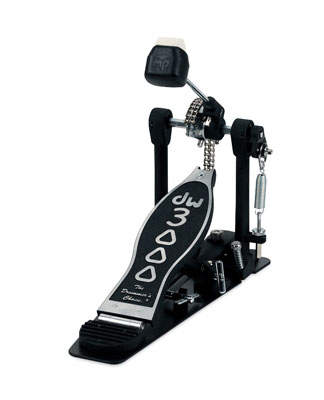 The choice of Bass drum pedal will ultimately depend on who is going to be using the pedal and how much they have to spend. An entry level pedal will be perfectly adequate for a novice player to use for practice. On the other hand, a professional drummer will be able to use the speed, and appreciate the reliability, offered by the flagship model of a top name brand. Modern bass drum pedals are deliberately over engineered, meaning that even the cheapest branded models can be found working faultlessly many years after purchase. With the vast range of makes and models on offer, it definitely pays to do a little research before buying the bass drum pedal to ensure the best choice is made.
Types of Bass Drum Pedal
Bass drum pedals all work in a very similar way. A footboard moves the drum beater by actuating a cam located on an axle connected to the beater itself. The drum pedal is usually mounted to an electronic or acoustic drum, but it can also be used to play more unusual instruments such as a cowbell. Most manufacturers offer several different classes of pedal from entry level, through intermediate, to professional. It is worth getting to know the differences between these models to ensure that the match between drummer and drum pedal is a good one.
The main choice to be made when deciding on a new drum pedal is between the single or a double pedals that are available. A kit is sometimes available to retrospectively convert a single pedal into a double one. Almost all double pedals allow the pedal directly attached to the bass drum to be set up on its own and played as a single pedal. A drummer who is looking to play a double pedal at some point in the future should consider these two options carefully to decide which one is right for them.
The Single Pedal
The most common bass drum pedal on the market is the single pedal, which a drummer usually plays only with their dominant foot. A single pedal has few moving parts, meaning it is a device which will rarely go wrong; an important consideration when playing live. Single pedals also have the advantage that they are fairly compact and, therefore, easy to handle, position, and transport. They also take up very little floor space which can be an advantage in more crowded situations.
A single bass drum pedal is a good choice for a novice to intermediate player. Learning to play on a double pedal kit can lead to the player becoming overly reliant on the double pedal, rather than developing a good single pedal technique. Even if a drummer ultimately aspires to play a double bass drum pedal, they will still find it easier to learn to play correctly by initially only using a single pedal.
The Double Pedal
Double pedals allow the bass drum to be played with both feet. The dominant foot still plays a near conventional pedal attached directly to the drum. The other foot plays a remote pedal which activates a second beater via a complicated linkage. With the additional versatility comes extra complexity, meaning there is more to go wrong. That is not to say that double pedals are unreliable, just that they should not be seen to be equally as reliable as a single pedal. They are more unwieldy to move and set up and also take up significantly more floor space than a single pedal. That said, a double pedal still offers a considerable space saving over a double bass drum kit.
Ideally a player upgrading to a double bass drum pedal should first attempt to gain a reasonable level of competence playing with a single pedal. A double pedal should not be seen as a short cut to compensate for lack of technique.
Anyone deciding to buy a double bass drum pedal will also need to purchase an additional piece of equipment known as a drop clutch. This allows the high hats to be easily closed, so that they can be played at the same time.
Drum Pedal Innovations
Several manufacturers have introduced innovations to the double pedal design. For example, triple beater double pedals are now available and also offset double pedals, with a pair of central beaters located between two outer pedals. Other innovations include the use of more exotic materials, such as titanium, and the introduction of models with longer footboards. Such advances tend to occur with the flagship models, so anyone considering a top of the range double pedal needs to look out for any new products that have been recently introduced.
Choosing a Drum Pedal
There is no doubt that buying a used pedal will offer the best value for money. However, it is important that anyone buying a used pedal is able to correctly assess its condition and value. When purchasing a used pedal that is for sale locally, it can be a good idea to ask to inspect and, if possible, play the pedal in person. Should this not be possible, it is important that the buyer ensures they properly understand the condition of the pedal by asking the seller for additional information and photographs if required.
Buying a New Drum Pedal
Buying a new drum pedal should ensure that the pedal will be in perfect working order, possibly with a case, and a complete set of spares and accessories. The pedal should also have a warranty, useful in the unlikely event that anything should go wrong with it.
If reliability and peace of mind are paramount, then buying a new pedal makes good sense. However, as drum pedals are such dependable pieces of hardware it can be worth considering a good used pedal, particularly if this means the budget will now stretch to a superior model.
Buying a Used Drum Pedal
There are some considerations which are applicable to buying used items than are true for new. With a used drum pedal, it's important to check that the pedal action is smooth and that the beater and footboard move in unison. Ensure that all the components of the pedal are present. Test the pedal clamp and spring adjusters move easily and that their threads are not stripped. Check for any cracks or dents to the stand or footboard, as these are expensive components to replace. Test for play in the axle by attempting to lift it, while at the same time moving the footboard. The pedal may just require replacement bearings, but if play is discovered, it is worth further investigation.
When purchasing a double pedal, ensure that the linkage works correctly and that all the screws that connect the linkage together are present. Move the pedals independently and together, while gently pulling at the axle and linkage to check for play, which would indicate excessive wear. Check the pedal body where it meets the linkage for damage caused by mishandling the pedals.
If the drum pedal was originally supplied with a case or bag, ask if this is available and can also be included. Drum pedals are often come with a box of spares, so it can be worth finding out if the vendor can locate these.

The easiest way to determine the value of a used pedal is by checking the selling price of similar models that are advertised for sale.
Find Bass Drum Pedals for Sale on eBay
To purchase a new bass drum pedal, navigate to the eBay homepage. Open the All Categories menu and click on Musical Instruments, and then Percussion. Then, in the Type section, click on Accessories. Next, expand the Sub-Types by selecting on Choose More and then tick the Pedals option, before finally clicking Go. A search can be focussed on any additional criteria with the options on the left. One possibility is to use these to select only the bass drum pedals which are within a particular price range. They also allow the search to be narrowed to show only the brands or types of bass drum pedal of interest. Alternatively, entering search information directly into the search funtion at the head of any eBay page will find an individual bass drum pedal of interest. One example of this is would be that in order to locate an DW bass drum pedal, all that is required is to type "DW bass drum pedal" into the search box.
Conclusion
Level of playing experience and budget are the two most important factors in determining the correct choice of bass drum pedal for a particular drummer. It can be difficult for a novice to resist the temptation to buy the more complex double pedal, but their playing will develop better if they are able to do so. The more experienced player will almost certainly find the upgrade to a double pedal a useful way to progress. For a professional, the variety and innovation amongst the flagship models can offer a chance to take their playing in a new direction. Bass drum pedals are robust and reliable pieces of drum hardware and so, particularly for those on a budget, buying a used drum pedal may well be a good choice. If buying a used pedal, the buyer must be able to fully assess the condition and value of the pedal before committing to the purchase.