Bathroom light pulls
Read on to find the perfect solution to prevent the grubby bathroom light cord pull problem!
---------------------------------------------------------------
Bathroom light switches are fixed to the ceiling for safety reasons. The switch needs a light cord pull that hangs down to turn the light on and off.

New switches are often supplied with a thin white cord with a tiny plastic acorn at the end which you look to replace straight away. Often selected to replace the little plastic end is the tassel type pull that is a breading ground for germs and looks grubby all too soon.



The other type often chosen is a heavy metal weight that swings around smashing in to the tiles and paintwork like a ball and chain on a demolition site.

We have found that the most suitable light cord pull for the bathroom is the Wooden bell acorn with a brown practical coloured cord. Both acorn and cord are easy to clean.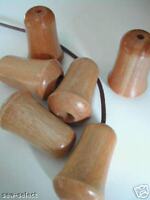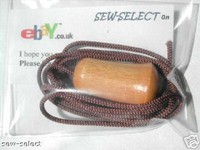 To replace cord pull you will have to join the new cord to the old cord up near the switch. To do this easily and neatly you need a cord connector