Battery Powered LED Fairy Lights - Christmas, Weddings and Bedrooms
LED battery lights are perfect for those situations where you want a simple solution or you have no power sockets. When choosing battery lights, bear in mind that different colour LEDs use different amounts of power, so white and blue will use more battery power than red and green. If you are mixing your colours on your tables you will get great battery life from quality batteries, but after the 40 hour mark you may find your white lights will start to dim as the batteries have been working a bit harder than those in the red or green sets. This usually isn't a problem for 99% of people as most events are no more than 8 hours, but if you find some of your lights are dimming earlier than others, this is the reason!
Clear cables are the norm for battery fairy lights. A customer asked us if we did cable colour to match the bulbs and was shocked to find out we didn't. The reality is that not many manufacturers do, because a clear flex is generally easier to hide and will carry the colour of your LEDs anyway. If you have a green LED then your clear cable will transmit the colour easily, and also if you have your lights in a display with different materials a clear cable will blend in so much easier.




The Benefits of LEDs for Fairy Lights
Our new battery LED fairy lights from just £2.99 are now available in a wide range of colours. We have white, warm white, blue, blue and white, red, green, pink, and we also have them available in different styles and shapes. Superb value and good quality - in stock and delivery possible worldwide.
All our LED battery fairy lights are made from third generation LED bulbs, giving an even spread of colour and a consistently bright light throughout the whole set. Being LEDs rather than traditional, dimmer rice bulbs, they are bright enough to be seen during the day or in the evening and are great for enhancing any floral or tree decoration where power is not available. Great for dinner parties, weddings, Christmas decorations, bedrooms and hundreds of other uses.
LED battery lights never ever get hot; they always stay cool to the touch, and therefore can be used around fabrics and delicate Christmas decorations without the fear of fire or damage.









Battery Floral Lights for Weddings and Christmas
Lights4fun battery powered fairy lights have been chosen by prestigious hotels and restaurants around the world in preference to candles for table decorations. They look great wrapped in wreaths, in vases, in garlands, twirled around twigs - use them as wedding decorations, in bouquets of flowers, or even wear them. At Lights4fun we also stock long-stemmed floral lights. Designed in conjunction with a top UK florist (Friday Flowers), these 20 strands of specially designed rigid wired battery LED fairy lights will easily hold any shape you wish and are ideal for longer floral arrangements such as lilies. They have the same discreet battery box as all our other battery operated fairy lights and are very popular with florists and wedding co-ordinators.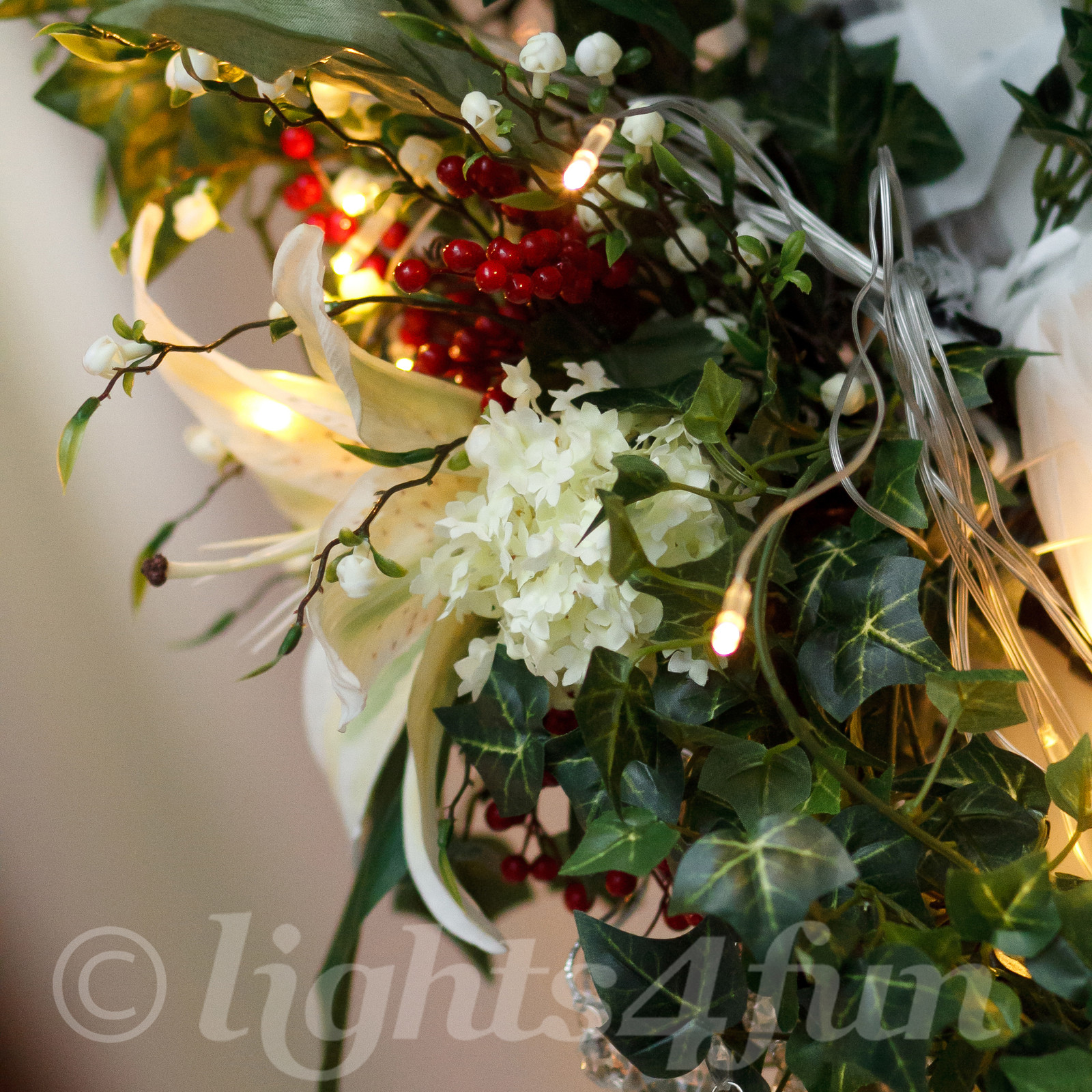 All our battery lights are tested to European and British Standards so are super safe to use around pets and children.
Shop Battery Fairy Lights »