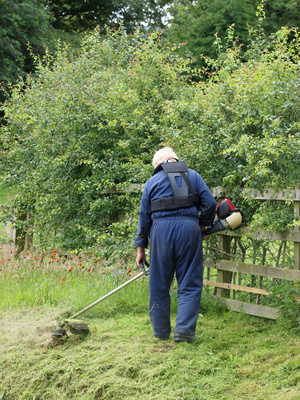 Although the most common type of strimmer used in the average garden is powered by mains electricity via a power cord, an increasingly popular alternative is the self-contained 'cordless' battery-powered strimmer. These strimmers have seen significant design and operating improvements in recent years, and they are steadily becoming a more common choice among owners of small to medium gardens.
About Battery-Powered Strimmers
Battery-powered strimmers are completely self-contained. The power source is a rechargeable battery that forms an integral part of the strimmer unit and, when fully charged, provides around 45 to 60 minutes of operating time. After that it needs to be recharged, an operation that takes a good seven hours to complete. The battery can also be replaced by a spare battery for extended operation of the strimmer while the original battery is being recharged.
Advantages and Disadvantages of Battery Strimmers
No type of strimmer is perfect. Each has its advantages and disadvantages. Battery strimmers are no exception as the following table shows.
| Advantages of Battery Strimmers | Disadvantages of Battery Strimmers |
| --- | --- |
| Unrestricted Movement | Limited Power |
| The most obvious advantage of battery-powered strimmers over electric corded strimmers is freedom of movement over an unlimited range. There's no trailing cord to snag on, or become tangled around, various garden objects or plants, or limit the distance that the strimmer can operate. Battery strimmers can be taken and operated anywhere. Petrol-driven strimmers, like battery-powered strimmers, are also completely self-contained and have the advantage of being more powerful, but they are heavier, noisier, bulkier, more expensive to buy, and also more expensive to run due to replacement fuel costs. | Despite recent advances, output power still tends to be somewhat limited when compared to high-end corded electric strimmers and also to petrol-driven strimmers. Battery-powered strimmers don't normally have sufficient power to clear coarse patches of brush and dense, tough vegetation effectively. Although they are ideal for lawn 'edge and border' grass trimming and also for cutting grass that is too long for a lawn mower, they aren't designed for such heavy clearing jobs. |
| Safety | Limited Battery Life |
| As the power source is an on-board battery, there are none of the potential hazards associated with electric corded strimmers. Mains electricity, especially when used outdoors, is a potential hazard that doesn't apply to battery-powered strimmers. Similarly, they have none of the potential hazards associated with petrol-driven strimmers, for which inflammable fuel is a necessary component. All strimmers are made to high standards of safety, of course, and when used sensibly are completely safe to use. Battery-powered strimmers, however, are the safest of all. | The length of time that the strimmer can be operated is limited by the remaining power in the battery. Typically, a fully-charged battery can supply enough power for most of the typical strimming jobs in small to medium-sized gardens. It may not be sufficient for longer jobs in larger gardens, however. A spare fully-charged battery can solve the problem to an extent and enable another hour of uninterrupted strimming. Otherwise, any job that isn't completed before the power runs out has to wait for around seven hours at least while the drained battery is being recharged from the mains supply. |
Battery Types
Traditionally, rechargeable batteries for strimmers have been 'ni-cad' (nickel-cadmium) batteries. However, advances in lithium-ion battery technology have seen them increasingly being used by manufacturers of battery strimmers as the standard power source. Lithium-ion batteries are a more efficient type of battery and produce a more stable current supply right up until the batteries charge is exhausted. There's no noticeable reduction in performance until the battery finally runs out. In addition, they can be recharged many more times than ni-cad batteries before needing to be replaced. Lithium-ion batteries are also a lot lighter than their bulkier ni-cad counterparts. This weight-saving gain means that strimmer models can be produced that are lighter and more easily operated by hand.
Buying a Battery-Powered strimmer
Gardening centres and 'High Street' retail outlets that sell garden power tools usually have a reasonable selection of battery-powered strimmers on display too. Online retailers also have a wide range of models available and include full details of each model's specifications along with price and delivery information on their respective websites. Famous brand names are usually well represented, but some lesser-known makes and models are also making a name for themselves producing strimmers that are equally reliable and, in many cases, more affordable too. As with all types of strimmer, off-season discounts often apply during the 'non-growing' period of autumn and winter every year. Manufacturer-refurbished strimmers can also be purchased for significantly less than the original model price. They are repaired and rebuilt to full working order and required specification and can be a serious cost-cutting alternative to a new model. All manufacturers have websites detailing their various products. These give precise information about the specifications of each model as well as information on what the strimmer should and shouldn't be used for. The information, of course, may be accurate but is naturally biased. Retailers also have websites that give useful information on the various strimmer models that they sell. Like the manufacturers, retailers are also guilty of a certain amount of bias in describing their various strimmer models. However, some of the larger outlets have customer community pages where customers can report their personal experience with particular models that they purchased in the past. These reports are often useful and, for the most part, objective too. There are also many independent review websites that provide user experiences of just about every model of battery strimmer. Entering the model number of any strimmer into any search engine will return more than enough results to help anyone get a better insight into any particular model's performance ability and reliability.
Finding a Battery-Powered Strimmer on eBay
One of the best known online sources of new, refurbished, and second-hand garden strimmers of all types is eBay. Strimmers advertised on eBay by retailers as well as private sellers are conveniently categorised according to their various features, including the type of power the strimmers requre, how powerful they are, their brand, condition (new, used or refurbished), and price range. Battery-powered strimmers are listed together under: Home & Garden, then Garden, then Power Tools, then to Strimmers and, finally, Battery Strimmers. The search term 'battery strimmers' can also be entered directly into the homepage search box, which returns a list of battery strimmers available with their prices displayed alongside the strimmers' descriptions. If purchasing on eBay for the first time, a registration will be required first. The sign-up process is simple, secure, and straightforward. As eBay is primarily an auction site, many of the strimmers advertised can be obtained by online bidding. With luck, some great bargains can be had this way. For those not wishing to engage in 'bidding wars', there are also plenty of battery strimmers listed under eBay's Buy It Now purchase scheme. Purchasing under that scheme simply involves clicking the Buy It Now button listed with every item and then following the instructions regarding payment according to the seller's stated payment requirements. The most popular payment methods are Paypal and credit or debit card, although the seller may offer other options too, including payment by personal or business cheque or a postal order. Expect the new (or second-hand) strimmer to arrive within a few days after paying for it. If paying by cheque, there may be a delay until the cheque clears before the seller will send the strimmer. Often, it's possible to find a suitable battery-powered strimmer advertised on eBay that isn't too far from the home location. The strimmer can then, in many cases, be picked up in person (or delivered by the seller). This avoids the few days waiting period while the strimmer is being delivered by a professional delivery service arranged by the seller.
Conclusion
With both advantages and disadvantages, battery-operated strimmers have their fans as well as a fair number who find that one of the other strimmer types, such as corded electric or petrol-driven is better suited to their particular needs. That's really the deciding factor overall: suitability. It's always best to do some research and weigh up the particular advantages and disadvantages of any battery-powered model and assess how important or relevant they are. Obviously, it will vary from person to person, or garden to garden, and it comes down to individual choice, preferably based on some advice and research.