Touching and sweet aren't qualities you generally associate with vintage war toys – the likes of
Action Man
and
GI Joe
tended to be more about ammo and carnage than hugs and tickles.
But the hilarious new ad for
eBay Local
manages to tug the heartstrings as well as tickle the ribs, as we witness a rugged toy soldier being reunited with his long-lost nemesis after years apart.
Overwhelmed, the two share a heartwarmingly bromantic moment – before picking up exactly where they left off and beating seven bells out of each other.
"The idea began when I was playing with my son. We'd bought some toys from eBay that I played with when I was a kid but I only bought the 'good guy' and realised that something was missing, the story wasn't complete. Without the 'bad guy' our hero couldn't rise up and save the day," says Faisal Alani, eBay UK's Social Media and Content Marketing strategist.
"I loved the idea of a co-dependent relationship between two toys whose only purpose in life was to fight one another. Decades apart, minutes away from each other."
"When building the narrative, we felt the humour worked well to keep viewers engaged but really wanted to get the human, emotional side of these toys across. That coupled with the nostalgia I felt makes this something that I think everyone can relate to."
The film also highlights the simplicity and ingenuity of the newly launched
eBay Local
, which allows you to search for and bid on items in your local area, then pick them up in person.
"So the ad is about two objects that, unbeknownst to anyone, had been just around the corner from each other for years," says Faisal. "They belonged together and deserved to be reunited. So it's all about discovering items that could be just up the road from you, and you had no idea."
The filming and video production was by Rubber Republic. They are the same team that shot the promo for Radiohead's 'Burn The Witch', a startling re-imagining of the classic stop-motion- animated kids show 'Trumpton' that's become the most buzzed-over music video of the year.
"We wanted to tell our story using real vintage toys we'd bought on eBay, so stop-motion animation was the obvious answer," says Matt Golding from Rubber Republic. "There's something magical about animation done with real objects. There's a quality to it that you just don't get with polished CGI."

That classic stop-motion feel comes at a price, however. "Oh, it can be a grind," sighs Matt. "It's a drawn-out, painstaking process, although the animation team were obviously used to that. You're getting just seconds of footage per day."

The film's human stars proved more of a challenge than its plastic ones. "The hardest part was 'animating' the real-life child," Matt explains. "The humans were animated in a similar way to the toys – we'd take hundreds of photos of them performing their actions very, very slowly.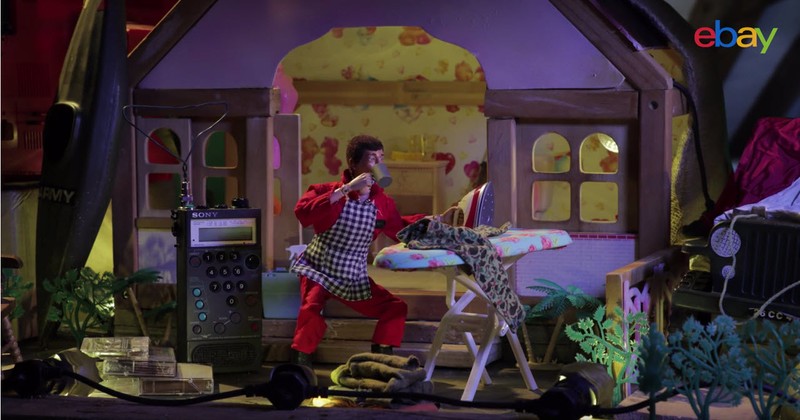 We'd originally intended to use an eight-year-old child, but it turned out they were far too tall for peeping over the table. So we ended up using a three-year-old who, obviously, didn't understand what the hell was going on [laughs].

"That was the biggest challenge of the whole project, trying to explain the mechanics of stop-motion animation to a three-year-old!"

The project's breakneck turnaround added an extra layer of trickiness. "We did it so, so fast," says Matt. "The whole thing – storyboarding, making the models, filming, editing – was crammed into just three weeks, which is truly crazy for an animated film. The animation itself was done over just six days, which was very intense – the animators pulled a few all-nighters to get it done!"
While our hero is a genuine Action Man – albeit customised – his long-lost nemesis is a total one-off.
"The Red Claw is an original creation, not available in the shops! We bought a few vintage toys on eBay, stripped them down for parts and then reassembled them to create a fully customised new character."
So if your kids have watched the eBay Local ad and are now pining for a Red Claw of their own, you can go one better: Hit up a few
action-figure listings
, grab a
Stanley knife
and some
super glue
, and set about Dr Frankenstein-ing up your own unique creations.
Overall, Faisal hopes the film inspires people to find new and welcoming homes for long-forgotten items. "Toys are timeless and imagination is something every child possesses. So let's be honest," he says. "Your old action figures, retired up in the loft, is probably a lot less happy than back when he was out discovering the world in an adventure."