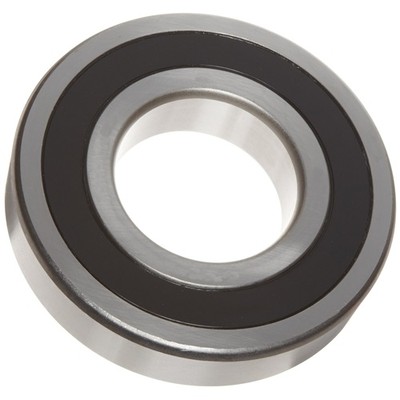 Bearing Identification
Most bearings come etched with a designation number either on the outer raceway or stamped on the seal if the bearing is either rubber or metal shielded. These numbers give information on it's type, size, seal arrangement, raceway clearance and other suffixes that can indicate other internal raceway changes.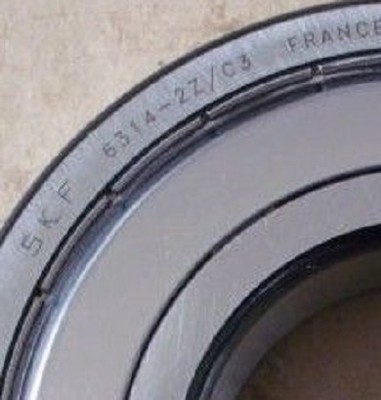 Bearing Designations
This bearing indicates that it is manufactured by SKF and it is from the 6300 series.

The 6314 tells you that it a Metric Deep Groove Radial Ball Bearing measuring 70 x 150 x 35mm


The 2Z indicates it has two metal shields installed, this can also be referenced to as ZZ, 2ZR or Z depending on manufacturer.

Rubber shielded bearings can be referenced as 2RS, RS, 2RS1. DDU or 2RSR, again depending on manufacturer they indicate the same two rubber sealed arrangement.

And the C3 indicates the bearing is of C3 clearance, which is of greater raceway clearance than standard to suit faster running or slightly higher operating temperatures.

If you have any questions regarding your bearing selection, please contact us for technical assistance.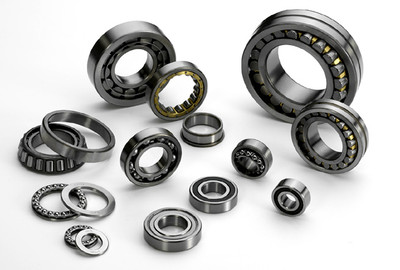 Bearing Types
Below is a basic table that tells you the the bearing number designation system. This is basic information for reference only. This will hopefully help you identify which type of bearing you need. For detailed bearing dimensions and coding please contact us. Please note there are many more codes especially on Imperial bearings
| Bearing Type | Series Coding |
| --- | --- |
| Deep Groove Ball Bearing | 600 - 6000- 6200-6300-16000-16100 |
| Deep Grove Thin Section | 6800-6900 |
| Double Row Deep Groove Ball | 4200-4300 |
| Angular Contact Ball | 7200-7300 |
| Double Row Angular Contact Ball | 3200-3300-5200-5300 |
| Four-Point Contact Ball | QJ200-QJ300 |
| Self Aligning Ball | 1200-1300-2200-2300 |
| Cylindrical Roller | NU-N200-300-400-1000-2200-2300 |
| Cylindrical Roller | NJ-NF200-300-400-1000-2200-2300 |
| Cylindrical Roller | NUP200-300-400-1000-2200-2300 |
| Taper Roller | 30200-30300-32000-32200-32300-33000-33100-33200 |
| Spherical Roller | 21300-22200-22300-23000-23100-23200-23900-24000-24100 |
| Thrust Ball | 51100-51200-51300-51400-52200-52300-52400 |
| Imperial Bearings | LJ, KLNJ, MJ, R Series, RMS, RLS, NLJ etc Please contact us |