Don't Be Caught Out
Many people look for a PC or laptop bargain but can be caught out with one of the main things to look out for....... The Microsoft Operating System Product Key. This key is important as it is what you use to verify your operating system is genuine, and without it you can't re-install Windows or update it for security purposes and applying the latest patches.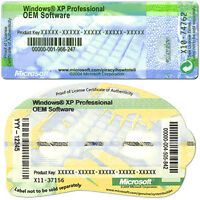 There are quite a few sellers on eBay who remove, or sell PCs or laptops without the license/product key stickers on the PCs or laptops (as shown above). If your purchasing a working PC or laptop and somewhere along the line it goes wrong you will be stuck without the product key and you will have to purchase a new Windows Operating System disk for either Windows XP or Windows Vista. Windows XP still costs around £100 so that bargain might not turn out to be such a great deal after all.
Before you go ahead and make a bid or purchase a PC or laptop make sure it has the Product Key intact. If someone is selling a PC or laptop as spares or repair remember that if you get the unit working it will be no good without the genuine product key. When you are looking for a bargain always make sure that there is a product key sticker on the PC base unit or laptop as shown above.