This guide does what it says on the tin, it's a GUIDE and is not set in stone, if you have different ideas then please pass them on!
Cross stitch embroidery is really very simple. It is a means of transferring threads on to fabric by reading a chart or pattern. It is made up of 2 diagonal stitches laying one on top of the other.
I started cross stitching about 15 years ago. Before that I had done lots of different types of freehand embroidery and tapestry but NOTHING grabbed my total attention like cross stitch so prepare to be hooked!! Time just flies by as you take in the chart, sort your colours, ooh and ahh at your choice of kit or chart. It's very therapeutic and sometimes I think it should all be available on the NHS!!
So read the guide and have a go...you won't regret it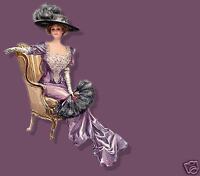 *Celtic*Rose*
Threads
Use a good quality sewing thread like DMC or Anchor 8m 6 Stranded Skeins...they are colourfast to a high temperature, good quality, mercerised to make them smoother and generally easier to stitch with and will make your design look fab. As a general rule, most designs call for the stitcher to use TWO strands of the SIX stranded threads and ONE strand for the backstitch. I always find a length of thread about 18" is fine for using at any one time, make sure you separate the two strands and then put them together again, this makes your sewing easier leading to less tangles. I sometimes use a thread conditioner like 'Thread Heaven', this is a silicone block which you run your thread through, this cuts down on fraying and actually makes the thread easier on the fingers for sewing.
http://stores.ebay.co.uk/Celtic-Rose-Needlecraft
Needles
Tapestry Needles are used for Cross Stitch. This is because the ends are unlike ordinary sewing needles, they are blunted for ease of use. If they were sharp they would just get stuck into the material without going through the hole properly. There are 2 general sizes of needles most used in cross stitching. Size 24 and Size 26. Size 24 is for 14ct Aida or 28ct Evenweave and Size 26 is finer and for 16ct Aida and 32ct Linen. Use a special beading needle for adding beads to your stitching. Size 10 is the thickest and size 16 the finest for different size beads, your local needlework shop will explain to you how beads are sized just ask.
http://stores.ebay.co.uk/Celtic-Rose-Needlecraft
To use a Frame or Not use a Frame - thats definitely the question!
I personally don't use a frame to hold my embroidery in at all. I just prefer the feel of the fabric in my fingers and that way a) I can take it wherever I go and b) I don't get icky fold marks either! If you fancy using a frame then the following is for you. An embroidery hoop is generally made out of wood. They come in different sizes for different projects. It's usual to have a few in your work box. They are made up of 2 wooden rings, one fits inside the other and tightens on the outside with a brass screw. Always try and buy a good quality hoop. Cheap hoops distort very easily and can make your sewing much harder. Place your material over the smaller hoop. Now lay and push down the larger hoop over the top. Tighten up the material with your hands until it forms like a surface on a drum but be careful not to over stretch it. Then tighten the screw until you have an even look and feel. It is possible to use bias binding tape to put between the material and the hoop to stop it rubbing, and always keep your hands clean or you will have a beautiful finished design with a whacking great greasy mark through it! Some people use stand alone Embroidery frames, q-snap frames (plastic and very easy to use), other's use just their hands and find it difficult to use anything. You will soon know which suits you best.
http://stores.ebay.co.uk/Celtic-Rose-Needlecraft
Charts or Patterns
I think here in the UK we tend to call them Charts. Each chart should contain the following as a minimum: Colour picture, Thread Key which should include the make of Thread i.e. DMC Anchor,Venus etc and the specific number of the manufacturers thread, and instructions for sewing any special requirements, which size/colour/type of material is required to work on, black and white or colour graph to follow to make your design become reality. Black & white symbols are the best in my book, you are allowed to photocopy the chart and enlarge it for your own PERSONAL use only and every time I fill in a stitch I mark it off with a pencil. This makes it easier to keep track of where you are, and enables you to keep your precious cross stitch chart in tip-top condition for your stash! Another good idea is to laminate each piece of your chart and use a marker instead. Each square on the chart represents one WHOLE cross stitch. It's best to start from the middle of the chart, sometimes this is actually shown on the chart and makes it easier to find.
http://stores.ebay.co.uk/Celtic-Rose-Needlecraft
Fabric
The most popular fabric to stitch on is called
AIDA: Aida comes in a variety of sizes which are all called COUNTS. 14ct is 14 COUNT. Count simply means that it has 14 holes to any one inch, 16 holes to any one inch and so on and so on...the smaller the number the less holes to the inch. Beginner's would be better off starting on 11 or 14ct Material. I started on simple kits on the front of Cross Stitch Mags which you can start on straight away. They are very easy to do and are explained in a way a beginner can understand and include your thread, chart & material for an instant start!.
EVENWEAVE: This is a much softer material and is simple to work on, don't be put off by the fact that it is called something like 28ct Evenweave, Jobelan, Linen or Lugana! This is just the type of fabric. Jobelan and Lugana are the easiest to use and linen is the finest if you want a more professional 'feel' or an antique sampler look. Each whole cross stitch is stitched over TWO threads missing out a whole in each direction. When you see the words ONE OVER ONE (like Heaven and Earth Designs) this just means you use ONE STRAND of your thread and you work it over ONE STRAND of fabric. This makes your design actually a quarter of its original size by doing it over two strands.
Cross Stitch fabric comes in a whole multitude of different colours, sparkly etc keep a few in your sewing box for when the urge takes you and don't be afraid to experiment, it really is worth it.
http://stores.ebay.co.uk/Celtic-Rose-Needlecraft
Starting to stitch.
I use the following method: Tie a knot at the bottom of your thread. With the knot on the front side of your material pass the needle through the material a few stitches away from where you want to actually start stitching. Start your cross stitches, working your way towards the knot, once the thread is secure you can snip the knot away. NEVER start with a knot without doing this method! There is also the 'Loop' method. All our charts give the explanation for this method with a diagram.

BASIC CROSS STITCH
Imagine a X now as you start to stitch....
1) Bring your needle up through the Aida in the bottom right hand of the X then down through the top left hand of the X.
Thats half your stitch done.
2) Next, bring your needle up through the bottom left of the X and down into the top right of the X that's your 1st complete cross done!
It's as simple as that! You can work whichever way you want, top to bottom, bottom to top but ALWAYS make sure you have your top stitch going the same way or your design will look messy. Get into a method that suits you and stick to it.
HALF CROSS STITCH
If your chart calls for a HALF Cross Stitch it is simply that. Make half a cross whichever way the pattern shows you.
BACKSTITCH
Alot of charts all for backstitch to give a design definition (none of ours do)
Say a Winnie the Pooh chart for example may give Winnie some outside edges! It's like runner stitch, up in one hole and down in the other to form a continuous line, it is usually clearly marked on the chart and NEVER do any backstitch until you have FINISHED all your other cross stitches as it is for definition only.
HINTS & TIPS
Work in GOOD light to avoid eye strain. Buy a lovely daylight bulb and specialist lamp from a good needlework shop like Siesta Frames if you're having trouble, they are worth their weight in gold in the long cold dreary winter months!

Tape the edges of your fabric with masking tape or I oversew mine in ordinary cotton. This prevents fraying and alot of temper tantrums!

Always remove your fabric from your hoop at the end of your stitching day, this helps prevent dirt on your fabric.

If you're using dark fabric, place a white sheet underneath your stitching to see the holes more easily.

Store your stitching rolled up rather than folded over. Kitchen roll tubes are an excellent way of keeping both charts AND material!

Thread a few needles up with different colour threads at any one time. This makes sewing your project quicker and less fiddly

Don't trail threads along the back of the picture. Work in shorter lengths, keep in smaller blocks, although you don't see the back so don't worry about it, life's too short to worry about things like that!
Once you are totally hooked, take regular breaks by stashing chocolate in various parts of the sitting room. Honestly you really will have to take breaks
Change needles regularly. I recommnd gold plated needles for ease of use and lasting ability.
Have a go at beading, it really does make the whole design just stand out amongst the crowd.
Use a bead caddy to stop those 'Argh I've dropped my beads! Heeeelp' type moments.