Ben Affleck Birth Data
Birth Name: Affleck-Boldt, Benjamin Geza
Birth Date: 08/15/72 (August 15, 1972)
Birth Time: 02:53 (2:53 AM) PDT (+7:00)
Birth Place: Berkeley, CA
Latitude / Longitude: 37 N 52 / 122 W 16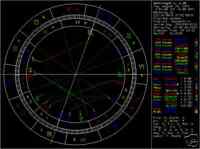 A Glance:
1. Venus conjuncts ascendant and trines moon. Very handsome for sure.
2. Mars square Neptune: The nature of your sex life and sexual desires is likely to be distorted to some degree. No wonder the sexual accuser's case in 2003. Check out below.
Huge Success in 1997
We take a look at tertiary progression. The progression Jupiter conjuncts the Middle Heaven in early 1997!! What a huge sign for fortune in career success. Many people live their whole life without having this sign in their progression.
1997 was an incredible year for Ben, an Academy Award winner for his screenplay in Good Will Hunting in 1997. He had since established himself as a Hollywood leading man.
(…to be continued)

Add Astrology Master's page to your favorites and enjoy more
http://search.reviews.ebay.ca/members/astrology.master_W0QQuqtZg