Berkeley T60
This is one of many illustrated classic car guides I've created for the community. I hope you enjoy it. If you wish to find out more about the classic bubble and micro car art featured in this guide please click here.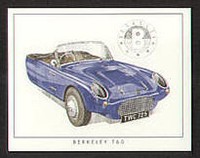 The three-wheeled Berkley T60 effectively became an updated Morgan in the late 1950s. Initially a 4-wheeled sports version, Lawrie Bond modified the rear-end to create an instant success with genuine sports-car ability. The 328cc Excelsior engine gave a possible top speed at 60mph, and 1850 were built in just over two years. The marque died in the late 1960s with the collapse of its parent caravan market but faithful enthusiasts still keep many on the roads using the original moulds as the re-introduced Bandini.
If you would like to see more guides on bubble and micro cars please click!
Thank you for reading my guide and I hope you found it interesting!