Every artist knows their work is only as good as their pens, and with many great brands like Berol and Stabilo on the market, choosing pens is sometimes a challenge. Rather than trying to decide which brand is better in general, it is sometimes easier to consider the types of products made by the top brands and then decide on the best pens for particular projects. For example, colouring pens with broad tips might be better for the office than for art, depending on the creation.
Berol Handhugger Colouring Pens
The Berol Handhugger pens feature tough, broad, fibre tips that are durable and great for children. They come with triangular shaped barrels that help kids and adults hold the pens properly. The tips are average size and best for general use with colouring books and drawing paper. Berol colouring pens usually come in sets of 12 with various colours or in sets of 36 with three pens in each colour. The colours include all the basic colours.
Berol Broad Portrait Pens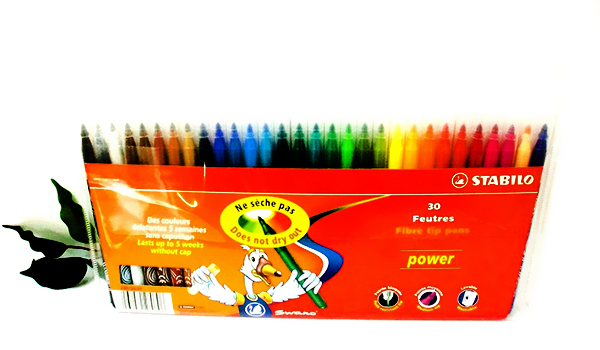 This collection of colouring pens comes with specific colours that are more unique. The sets include peach, mahogany, olive, almond, ebony, and other pastels. According to Berol, the pack is best for children who want to draw people because of the skin-tone colours included. The Berol felt-tip pens are available in sets of 12 or 42.
Berol Brush Colour Pens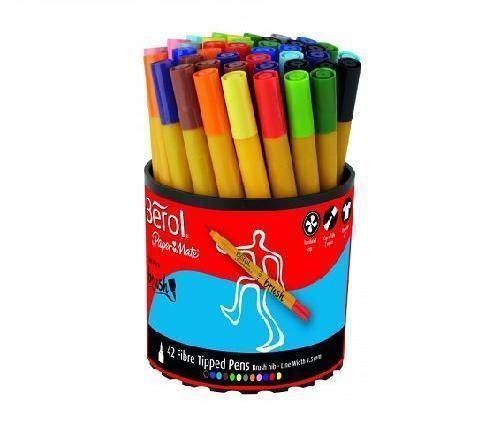 For more sophisticated artwork, the Berol Brush Colour Pens simulate the effect of an artist's brush. The tip of each pen is wide with a bunch of fibres that leave fine lines on the paper similar to the marks of a paint brush. The tip is about 1.5mm wide, and the pens work for sketching or filling in large areas. Because the inks are washable, the pens are also appropriate for children. The set consists of 12 colours, or artists can choose packs of 42 to ensure they have plenty of the most common colours.
Stabilo Pen 68 Colouring Pens
The Stabilo Pen 68 is a versatile pen that comes in all sorts of variety packs. It is a sturdy fibre-tipped pen that is odourless and lasts up to 24 hours without the cap. The medium-sized tip is ideal for drawing lines or colouring in large areas, and it is appropriate for professional artists as well as children. The pen comes in 40 colours, and shoppers can choose pastel sets, vibrant sets, general sets, or sets with all the colours.
Stabilo Power Colouring Pens
Kids are sometimes rough on their art supplies, and the Stabilo Power colouring pens help with that issue. The fibre-tip is push-resistant and lasts up to five weeks without the cap on before drying out. With more than 30 colours to choose from and four different colouring pen sets, parents can find the perfect kids' colouring pens that last.