"Berry spoons" appear in the Antiques/solid silver/cutlery section. They are usually in pairs, often dated mid to late 1700s and bidders fight over them! £60 to £100+ bids are commonplace, so it is worth considering them further. They are often serving spoon sized, with lesser numbers of desert spoons and then tea spoons.Their bowls are often gold-washed to protect the silver from fruit acid. The fluting around the bowl rim and the embossed images of fruit etc. (from which their name originates) result from them being pressed in purpose-made dies. Finally, the stems and terminals are treated to varying degrees of bright-cut engraving. Put "berry spoon" in the search box to see several examples.
I know you will find them because they were made in the thousands. Fruit had become available to everyone, thanks to the expansion of empire and a new, fashionable accessory was needed to serve it and eat it. The machine-age enabled mass production and the Victorians loved the new, modern engravings. But did I not say that these 'berry' spoons are often dated in the late 1700s? Victoria was not crowned until 1831, so what is going on?
Don't ignore the Victorian entrepreneur! Just like today, if the public wanted it, someone would provide it - (or something like it). The craving for modernity left any number of 'old spoons' lying about. Perhaps we do pay a lot for them today, but they were old junk then. Why not rework the rims, straighten the stems and whack the bowls under a press? Gold wash the bowls, and then you only need some machine cut engraving to make them look just like the newly made ones ... but cheaper! So, are these reworked ones 'fakes'? Some might consider them more interesting, with a double dose of history and with unique hallmarks. This is a very subjective area.
How do you tell a reworked 'old' spoon from a 'real' berry spoon? The first clue is the date. Anything dated before, say 1835 -40 is almost certainly reworked. After that time, it is equally certain to be an 'original', as made, berry spoon. Although this one is not a 'berry' spoon, compare the decoration and the crisp bowl edges on the front of this teaspoon with the heavily rubbed and worn underside. Both sides would show equal wear if it was an original piece. The makers' mark is long gone and it is dated 1808 (London). The reworking is very similar to what would have appeared on a spoon of this date but it is sparklingly new! It was probably done 50 years later. The metal is now so thin, you can see where the design has almost come through on either side of the hallmarks!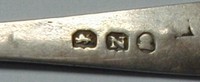 These desert spoons are black with age, but Richard Crossley had nothing to do with what these have become- he died in 1815. One can see where the stem has been straightened and the engraved pattern goes right across his initials. But what gorgeous engraving it is! This is high quality, late 1800s professional workmanship - complete with genuine 1785 hallmarks and incuse duty marks.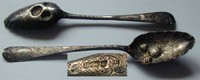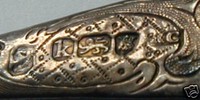 The question of fake or genuine is a hard one to decide when faced with items like these. EBayers seem to buy the 'fakes' as avidly as they do the 'genuine', so perhaps it comes down to the old, old, collectors' question ....
"Do you
like
it?" ......... If your answer is, "
Yes
, I do." then perhaps you can add, "even more so, now that I understand it better!" And if that is so,
please
click 'YES' below!